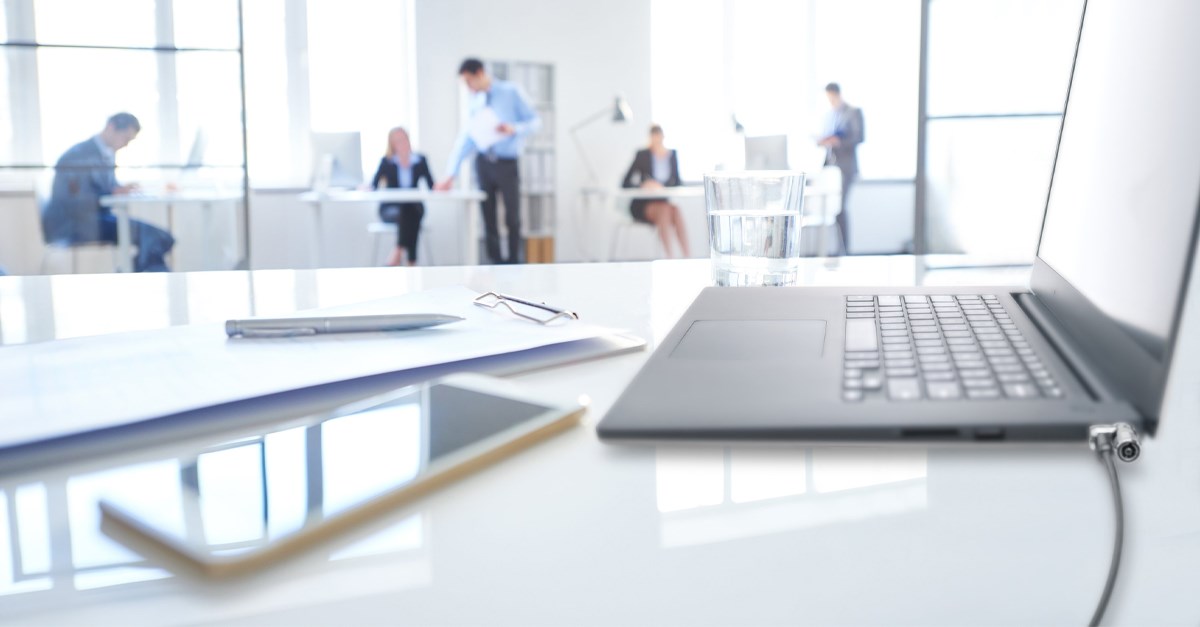 Device security is a major concern in any public space, however, even controlled environments such as your processing center or classroom need physical security. Kensington pioneered physical device security when we invented the Security Slot in 1992, and it's been an industry-standard security protocol for nearly 30 years on almost 30 million products.
Over one billion devices around the world currently have a Kensington Security Slot, securing laptops, monitors, printers, and projectors from theft. But that's not where we stopped.
Next-gen technology requires next-gen security, access, and management methods. We've been innovating next-gen security solutions for modern devices that are thinner, smaller, and have advanced capabilities such as NFC and biometric authentication.
Regardless of the equipment your business is using, Kensington's security solutions, combined with our Register & Retrieve™ Program, help ensure it'll stay within your business.
Evolving Device Lock Slots and Docking Stations
If you haven't seen one in a while or weren't around back then, laptops in 1992 were massive compared to today's sleek, SSD-powered, minimalistic ID designs. We evolved the Kensington Security Slot with the times, introducing a smaller form-factor Nano Slot, that works with locks like our NanoSaver™ Portable Keyed Laptop Lock. We also introduced our Microsaver 2.0 lock that supports our Hidden Pin™ technology, provides a smaller lock head for 5mm keying systems, all while still working with our Standard Kensington security slot.
Locks for Multiple Devices
Businesses using Microsoft Surface Pro or Surface Go tablets can secure them with either our Keyed Dual Head Cable Lock; which is great for securing the Surface Pro or Surface Go as well as a secondary device like a monitor. Another option is our Keyed Single Cable Lock which is ideal for securing just your Surface Pro or Surface Go. Whichever option you choose, our tough non-invasive locking technology is designed and certified exclusively for Microsoft Surface.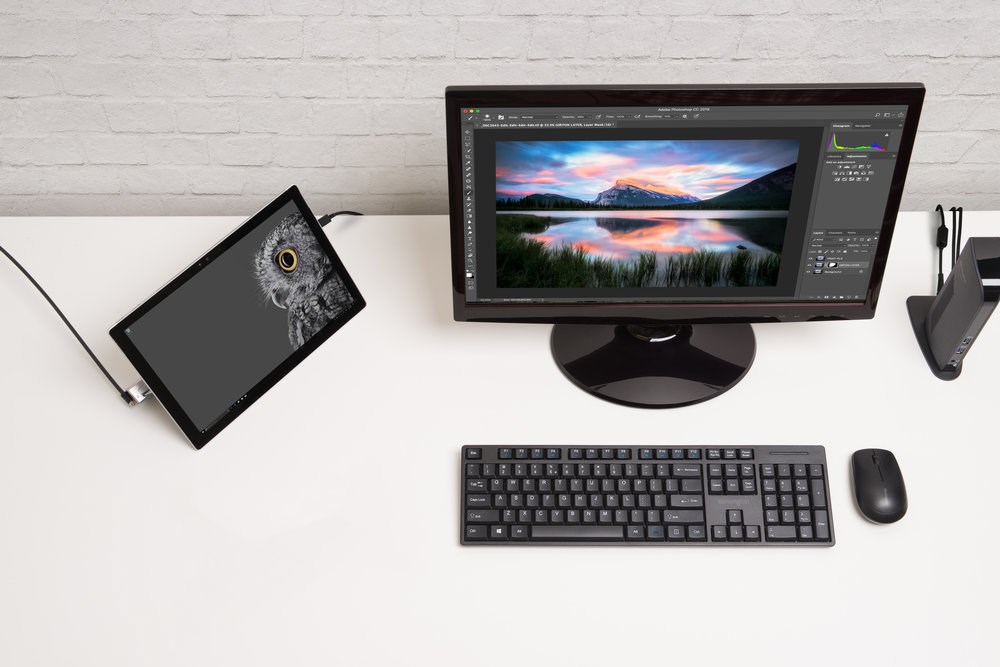 In fact, Kensington offers a variety of custom keying solutions to match any setup. Supervisor-keyed locks help healthcare facilities and academic institutions secure vital tech infrastructure, limiting access only to the IT manager. Like-keyed locks are ideal for police departments and libraries, where employees check out shared equipment.
Speaking of peripherals, our Desktop & Peripherals Locking Kit 2.0 is available with master-keying which provides on demand  administrative access to all locks while each individual employee/business unit can access their individual devices. This is crucial in controlling access while allowing for easy key/device replacement.
Introducing Electronic Locking for Enhanced Device Security
Kensington's physical device security adapts to both evolving device design and changing office environments. The 2017 State of IT report Kensington commissioned found user compliance is the key challenge to enforcing a lock-and-key policy, and the associated costs from loss of a physical key can be high. Electronic locking is removing the friction to unlock a new level of security.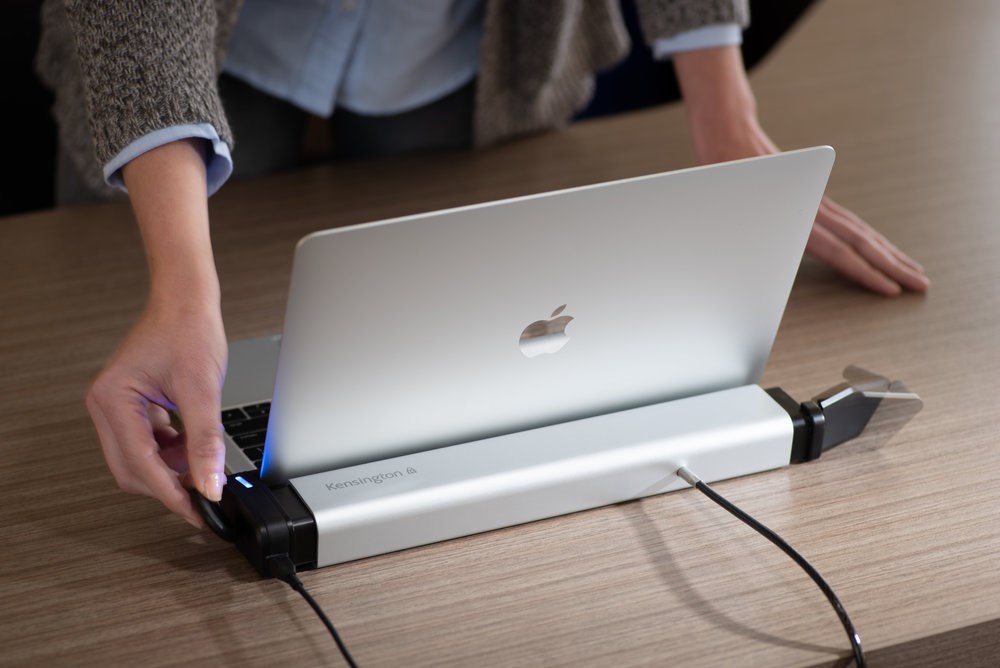 Electronic locking is an electronic system that uses a digital vs mechanical key. Originally developed for numeric codes entered through a keypad, Kensington's K-Fob™ Smart Lock technology is changing the game by further evolving Electronic locking for physical device security.
K-Fob™ pairs military-grade AES-128 encryption with built-in NFC to control device access via an electronic locking system. Each fob is programmed to the frequency of a reader's transmitter, and multiple fobs can be deployed with access levels based on your organization's IT needs. Furthermore, K-Fob™ technology supports all standard and multi-user locking structures, making it a great solution for single user deployments, hot-desking or environments with mixed laptop deployments.
An added benefit is that K-Fob™ technology eliminates NFC battery failure all together by not using batteries, saving you time and money. Because of all these benefits, electronic locking is the best option for secure facilities.
Lock and Dock
Of course, today's devices are much sleeker with even fewer ports. Organizations that need more power and connectivity can benefit greatly from our LD5400T Thunderbolt™ 3 and LD4650P USB-C™ Docking Stations with K-Fob™ Smart Lock. No matter what your preferred laptop is, these secure, universal docking stations help you lock it, dock it, and rock it as a single-user or multi-user hot desk workhorse.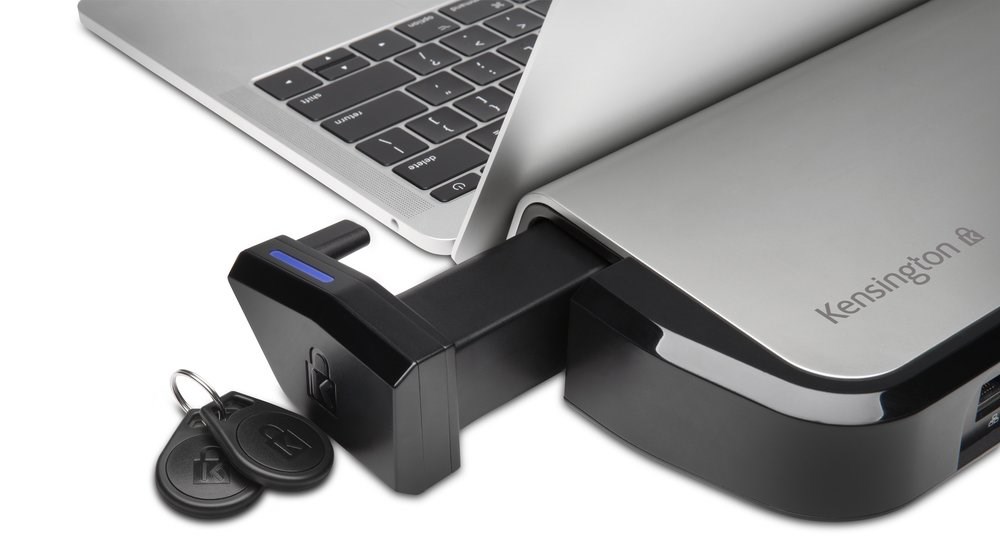 Our lock slots are standard in traditional office set ups, but your mobile workforce needs a new solution. Hot desks, open offices, hotel and field work are common in today's business world, and it's easy for devices to get lost in the shuffle.
If you don't need the extra power, our Laptop Locking Stations provide the security of electronic locking without the dock.
Kensington Security Solutions support GDPR Compliance Organizations which have two primary concerns in today's digitized environment – security and compliance. It's become clear that government regulations like the European Union's General Data Protection Regulation (GDPR) is blending the two by standardizing security measures.
Kensington's IT survey found that organizations are using a variety of physical security devices, from fingerprint readers and cable locks to keyed locks, USB port locks, combination locks, and device security alarms. In addition to user compliance, IT leadership reported budget constraints, lack of support from upper management, and devices that aren't supported by standard lock slots as primary concerns in physical device security.
In addition, the "traditional" workplace has been joined by flexible schedules and offices that require more creative security solutions. Hot desking, for example, became a trend in the 2010s, as companies shifted toward more collaborative environments.
Electronic Locking in Flexible Workplaces
Shared workstations and equipment maximize internal resources while reducing internal spend, as multiple employees or even business units can share devices throughout the day. Studies from everywhere from Columbia University to Citrix find this office setup increases worker productivity and morale while optimizing organizations using it full-time or as a mixed deployment.
Electronic locking is the ideal solution for tracking physical device security in these environments where both workers and customers are changing every day. It's just one part of the full 360-degree device security you truly need though. That's why we include Register & Retrieve™ on every Kensington security device.
Register and Retrieve Your Devices
No matter which security solution you choose from Kensington, the Register & Retrieve™ lock management portal registers locks for individuals or groups, to enable powerful key management. Users can order replacement keys or retrieve stored combination codes, while IT administrators can manage master-keyed, like-keyed, or single/supervisor-keyed programs.
In addition, lock ownership, reporting, and reassignment can all be managed within the platform, reducing the time and expense involved in the security implementation. This register-and-retrieve system was created to add the final layer of end-to-end physical security needed for your devices across your entire organization.
Office devices have evolved immensely over the past 30 years, as has the modern office. We're no longer stuck in endless mazes of cubicles full-time. The modern workforce works on flexible schedules in a variety of workplaces. Businesses that adapt to this new normal are best-positioned to sustain success moving forward.
Contact Kensington today to learn how our best-in-class solutions can be customized to fit your organization's security needs.