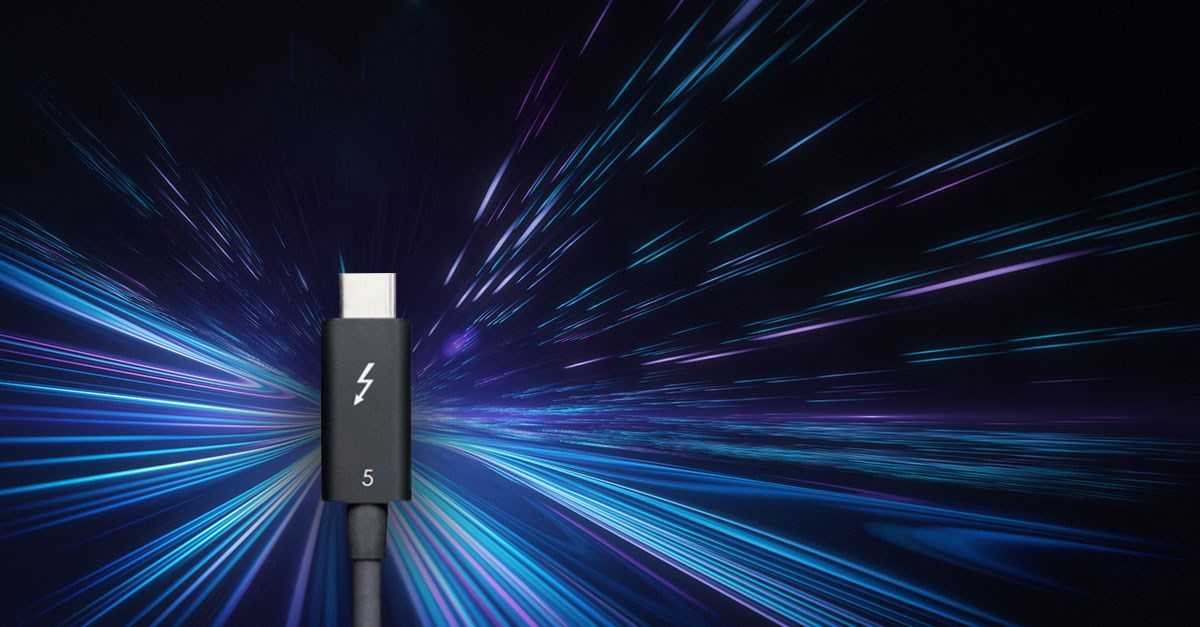 Major benefits of Thunderbolt™ 5
1. Bandwidth Boost for the Best Display Experience
Thunderbolt™ 5 is on the horizon, ready to revolutionize the way we connect and interact with our devices. Building on the impressive capabilities of Thunderbolt™ 4, Thunderbolt™ 5 brings significant improvements to bandwidth, video capabilities, data transfer speeds, and power delivery to enhance the overall user experience. Intel's official public announcement of Thunderbolt™ 5 and its features took place this month and Kensington is already planning on releasing its first Thunderbolt™ 5 docking station very soon. So, let's explore the major benefits of Thunderbolt™ 5, and take a sneak peek into the exciting possibilities this cutting-edge technology brings.
Bandwidth Boost for the Best Display Experience
With Thunderbolt™ 5, Intel has doubled its bandwidth to 80Gbps in each direction and introduced a "Bandwidth Boost" that allocates an additional 40Gbps in one direction to enhance video when needed. This Bandwidth Boost enables Thunderbolt™ 5 to carry an impressive 120Gbps to support the best display experiences, including multiple 8K monitors, up to 540Hz refresh rate on a single monitor, and up to triple 4K@144Hz. Thunderbolt™ 5 eliminates the need for professionals to compromise between resolution and refresh rate, delivering an unparalleled experience that seamlessly combines high-resolution visuals with smooth, ultra-responsive refresh rates. This means professionals can work with crystal-clear images, intricate details, and smooth motion without sacrificing either aspect. And, gamers visual experiences will become more immersive and engaging.
Blazing-Fast Data Transfer
Thunderbolt™ 5 takes data transfer speeds to unprecedented levels. With blazing-fast speeds of up to 80Gbps, Thunderbolt™ 5 will enable professionals to transfer large files, stream high-resolution content, and run resource-intensive applications with ease. In addition, gamers will benefit from gaming sessions with minimal lag, enabling them to stay ahead of the competition. Say goodbye to long waiting times and hello to instant productivity. Thunderbolt™ 5 improves data transfer speeds by supporting PCI Express Gen 4, which has the capability to achieve 64Gbps via the PCIe Gen4x4 interface. This advancement enables users to connect high-end SSDs in external enclosures, taking advantage of their exceptional performance. Furthermore, Thunderbolt™ 5 enhances its support for external graphics cards by increasing the throughput speed from 32Gbps to 64Gbps.
Enhanced Power Delivery
Prepare for a power revolution! Thunderbolt™ 5 takes power delivery to new heights, offering remarkable advancements for your devices. Supporting USB-C® PD 3.1, Thunderbolt™ 5 surpasses Thunderbolt™ 4's 100W minimum requirement, ensuring even more robust performance. Manufacturers can further customize Thunderbolt™ 5 to provide an impressive maximum power delivery of up to 240W, and the minimum will be 140W. While full adoption of the USB Power Delivery's 240W mode by laptop manufacturers is still underway, Thunderbolt™ 5's support for this feature signals a promising development. This enhanced power delivery specification proves especially advantageous for high-performance workstations/gaming laptops hungry for increased power levels. Plus, Thunderbolt™ 5's enhanced charging capabilities eliminate the need for additional DC barrel connectors, streamlining power delivery across various devices.
High-Speed Networking
Not stopping at revolutionizing display capabilities, data transfer, and power delivery, Thunderbolt™ 5 takes connectivity to new heights with its super-fast networking speeds. Intel has doubled the networking speeds from the previous generation, going from 32Gbps to an impressive 64Gbps. This significant boost unlocks a world of possibilities for professionals, gamers, and anyone who relies on fast and reliable network connections. Whether you're collaborating with remote teams, participating in bandwidth-intensive video conferences, or engaging in online gaming, Thunderbolt™ 5 setups will ensure that your networking performance is unhindered.
Versatile Connectivity
With Thunderbolt™ 5, a single port will be all you need to connect to a vast array of devices. Supporting a wide range of protocols, Thunderbolt™ 5 will allow you to connect to multiple displays, high-speed storage, external GPUs, and a plethora of USB accessories simultaneously. You'll be able to simplify your workspace and streamline your workflow with Thunderbolt™ 5's versatile connectivity options.
Seamless Compatibility
Thunderbolt™ 5 will be broadly compatible with previous versions of Thunderbolt™ and USB, ensuring seamless connectivity across a wide range of devices and accessories. Whether your setup includes Thunderbolt™ 4, Thunderbolt™ 3, USB4®, USB-C® 3.2, or DP2.1 accessories, you can upgrade to Thunderbolt™ 5 at your own pace, knowing that your docking station technology is future-proofed.
You can learn more about unlocking the benefits of increased bandwidth, enhanced power delivery, and a world of exciting accessories by downloading Intel's Thunderbolt™ 5 Press Deck. 
Conclusion
Exciting times lie ahead with the imminent arrival of Thunderbolt™ 5. This next generation of connectivity promises blazing-fast data transfer speeds, incredible video capabilities, enhanced power delivery, versatile connectivity, and seamless compatibility with your existing Thunderbolt™ devices, USB4®, and USB-C® devices and accessories. Whether it's for boosting productivity or taking gaming to new heights, Thunderbolt™ 5 sets a new standard in connectivity and unlocks limitless possibilities. Stay tuned for the release of Thunderbolt™ 5 products, and in the meantime, explore how Kensington's Thunderbolt™ docking stations deliver consistent, industry-leading capabilities for connecting laptops to data, video, and power, with the simplicity of just one cable connection. 
Maximize your productivity with Kensington's Thunderbolt™ Solutions.