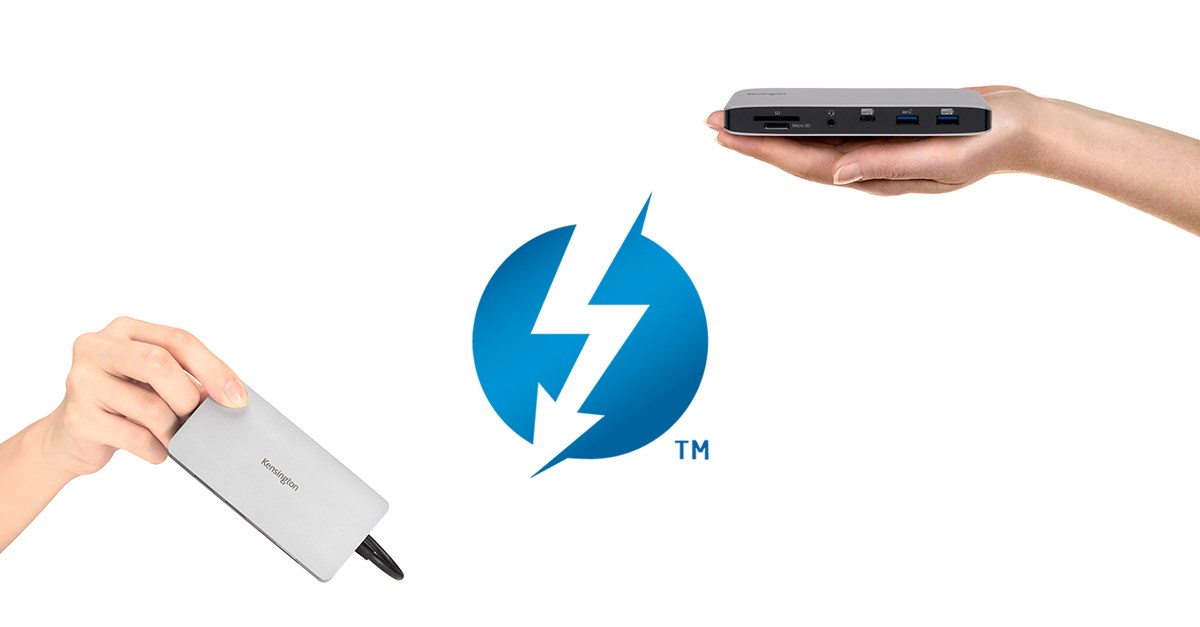 As laptops get thinner and lighter, the number of ports they offer is decreasing—with some only offering 2 USB-C ports.  This is happening while the number of devices we want to connect to, such as multiple monitors, smartphones, tablets, and external drives is growing—leaving many searching for solutions to connect all the accessories they need without cluttering their workspaces with dongles and adapters. 
For those wanting to get the most from their Thunderbolt-enabled laptops, it's a choice between a Thunderbolt™ docking station or a Thunderbolt™ hub.  If you're not sure which one to get, you've come to the right place.  There are some key differences that support the significant price gaps between, and within, the two options.
What is the Main Difference Between a Thunderbolt™ Dock and a Thunderbolt™ Hub?
This is a confusing question to answer because many web-based retailers have mistakenly started calling all docking stations—hubs. So, let's clear that up.  While both docking stations and hubs allow you to connect multiple devices to your computer, docking stations are much more than hubs.  In other words:
If you simply want to expand the number of Thunderbolt™ ports available for external drives or other devices, a Thunderbolt™ hub will be enough to expand the capabilities of your Thunderbolt-enabled laptop.
If you need something with more power that can accommodate a wider variety of connections, such as USB-A ports, SD card readers, Ethernet, headphones, triple screen displays, HDMI® or VGA connections, and more, you will want a Thunderbolt™ docking station.
A Thunderbolt™ hub is smaller and works more like a power strip for your laptop. It does not require a dedicated power source. It will draw power from the Thunderbolt-enabled laptop and some hubs will provide power pass through to connected Thunderbolt-enabled devices. 
A Thunderbolt™ docking station will require a dedicated power source—or DC power in. Since it is independently powered, it has the capability of charging the laptop and powering the diverse array of any connected accessories. It is an ideal selection for desktops and work-from-home professionals.
Is There a Difference in Power Delivery Between a Thunderbolt™ Dock and a Thunderbolt™ Hub?
Yes, Thunderbolt™ docking stations supply more power than hubs.  This is important if you want to experience rapid charging while connected and working.  While this can add to the cost, it also adds to the convenience of being able to disconnect and go with a full charge in a shorter period of time. 
Can You Add Multiple Thunderbolt™ devices to a Thunderbolt™ Hub?
For now, only Thunderbolt™ docking stations provide you with the ability to add multiple Thunderbolt™ devices to create up to three independent chains. 
What is the Difference Between a Thunderbolt™ 3 and a Thunderbolt™ 4 Docking Station?
The main differences between a Thunderbolt™ 3 and a Thunderbolt™ 4 docking station are the minimum bandwidth and display capabilities.  A Thunderbolt™ 4 docking station increases the minimum bandwidth available for data transfer from 16Gbps to 32Gpbs.  In addition, Thunderbolt™4 allows for four additional Thunderbolt™ ports, improved daisy-chaining, and support for Dual 4K @ 60Hz monitors.  These incremental benefits apply to both Macs and PCs (if the host device also supports Thunderbolt™4 of course).  Thunderbolt™ 4 is backwards compatible with all previous versions of Thunderbolt, so if you're looking to future-proof your setup, a Thunderbolt™ 4 docking station is a good investment.
If you're looking for a high-quality Thunderbolt™ 4 docking station, Kensington offers the SD5700T Thunderbolt™4 Docking Station. It provides four Thunderbolt™ 4 ports, four USB-A ports, one Gigabit Ethernet port, and one UHS-II SD 4.0 card reader. It also supports 90W Power Delivery, up to Single 8K @ 30 Hz or up to Dual 4K @ 60Hz video, 40Gbps data transfer speeds, and more.
In conclusion, Thunderbolt™ hubs are typically smaller and more portable, making them less accommodating to the needs of extended desktop setups, but very suitable for travel and casual daily use.  Thunderbolt™ docking stations are more powerful and have more connectivity capabilities, making them more suitable for professionals.  For both, you'll want to be mindful of the quality of the accessory and seek options that provide useful productivity features and meet the unique needs of your setup.