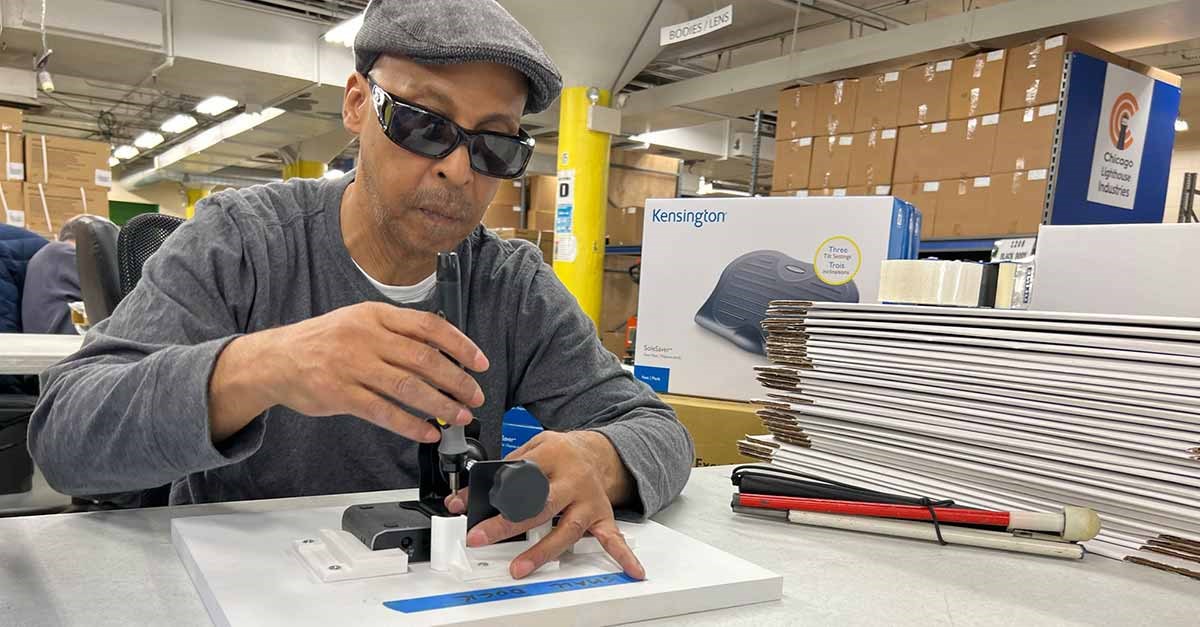 BURLINGAME, November 14, 2023 — Kensington, a leader in innovative office solutions, is proud to announce a partnership with The Chicago Lighthouse, a world-renowned social service organization dedicated to serving the blind, visually impaired, disabled, and Veteran communities. This impactful collaboration has resulted in the creation of a range of office products, including universal docking stations, monitor arms, backrests, and footrests. The Kensington® Universal Docking Station, a standout product from this partnership, is set to launch in October.
The Chicago Lighthouse has over 45 years of exclusively fulfilling federal contracts and is an emblem of empowerment for individuals with disabilities. This organization, one of the last major clock manufacturers in the U.S., has produced an astonishing 7 million clocks, all crafted by individuals with legally impaired vision.
Under the AbilityOne program, a $4 billion annual initiative, The Chicago Lighthouse offers assembly, packaging, and distribution services into the government channel. This program plays a pivotal role in supporting individuals with disabilities by providing them with meaningful employment opportunities and enabling small businesses to achieve socio-economic independence. Legally blind individuals face a staggering 70% unemployment rate in the United States, underscoring the vital importance of organizations like The Chicago Lighthouse.
Every sale resulting from this collaboration contributes to much-needed employment opportunities and helps fund more than three dozen essential programs and services for The Lighthouse's clients. Kensington's dedication to this cause is not new, as they have previously partnered with The Chicago Lighthouse with the development of office ergonomic products such as computer monitor arms, backrests and footrests.
This partnership marks a significant stride towards Kensington's renewed commitment to Diversity & Inclusion, and its philanthropic endeavors. By supporting The Chicago Lighthouse and the AbilityOne program, Kensington is not only enhancing its product offerings but also actively participating in the cultivation of socially responsible industry partnerships.
About Kensington:
Kensington is a leader in providing innovative office solutions designed to enhance productivity, improve ergonomics, and promote workspace efficiency. With a strong commitment to diversity and inclusion, Kensington is dedicated to making a meaningful impact in the communities it serves.
About The Chicago Lighthouse:
Serving the blind, visually impaired, disabled, and Veteran communities through innovative education, rehabilitation, employment, assistive technology, and other programs, The Chicago Lighthouse is one of the nation's most comprehensive social service organizations. For additional information, visit www.chicagolighthouse.org.
About the AbilityOne Program:
The AbilityOne program is one of the largest sources of employment in the United States for individuals with disabilities. It supports a wide range of disabilities, provides essential products and services to the Federal Government, and fosters economic independence for small businesses, all while contributing to reducing unemployment among people with disabilities.
Kensington® is a trademark of ACCO Brands. All other registered and unregistered trademarks are the property of their respective owners.
© 2023 Kensington Computer Products Group, a division of ACCO Brands. All rights reserved.