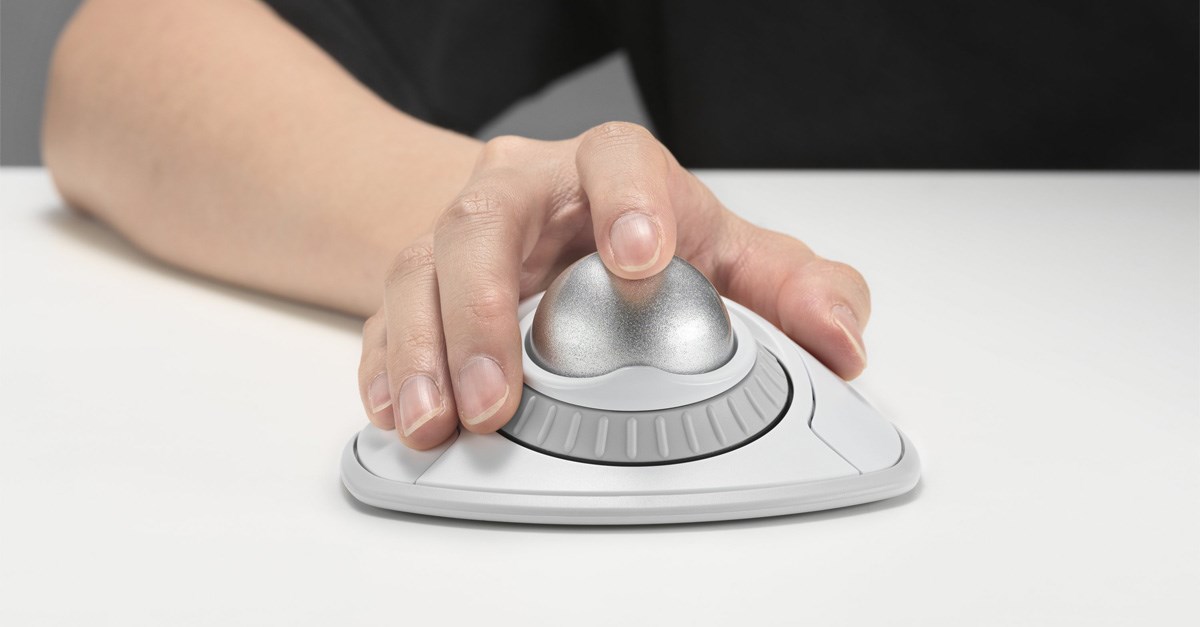 New Trackball Adds Wireless Connectivity to a Popular, Proven Platform Designed to Deliver Everyday Precision, Productivity and Comfort to Professionals
SAN MATEO, Calif. – September 7, 2021– Kensington®, worldwide leader in laptop security locks, desktop computing and mobility solutions for IT, business, and home office professionals and The Professionals' Choice, today expanded their industry-leading portfolio of trackballs with the launch of the Orbit® Wireless Trackball with Scroll Ring. Available in black (K70990WW), white (K70991WW) and Space Gray (K72675WW), the new trackballs provide a highly-anticipated wireless option to the company's popular Orbit Trackball with Scroll Ring.
Compatible with both Mac and PC, the plug-and-play Orbit Wireless Trackball with Scroll Ring provides high-precision cursor control for applications such as graphic design and photo editing, and is ideal for use in work areas with limited desktop space. Designed for ease-of-use by both right- and left-handers, the trackball features an ergonomic design that reduces elbow and wrist movements to help alleviate pain and muscle stress.
Features and Benefits:
Dual Wireless with 128-bit AES Encryption – The Orbit Wireless Trackball provides maximum flexibility enabling users to connect wirelessly through Bluetooth 3.0/5.0 or via the included 2.4 GHz wireless Nano receiver (USB Type A).  Government-grade 128-bit AES encryption ensures secure data transfer between the trackball and computer.
Scroll Ring and Medium Ball – The patented scroll ring enables users to scroll up and down web pages or documents with ease. The 40mm ball is specifically designed as a perfect sphere to provide precise tracking and control.
Customizable for Superior Accuracy – Cursor speed is easily adjusted (400, 800, 1200 or 1600 dpi) to adjust the cursor speed to fit the preferences of the user. Lower dpi settings can be selected for precision editing, while higher dpi settings are ideal for word processing or casual browsing. Optical tracking technology delivers precise cursor movement, reducing hand movement and improving productivity and efficiency.
Designed for Comfort – The Orbit Wireless Trackball features an ambidextrous design for use by both right- and left-handed users, reducing wrist and hand movement to ease repetitive-stress injuries. The detachable wrist rest provides ergonomic support for the hand and wrist for pain-free productivity during extended periods of activity on the computer.
KensingtonWorks™ Customization – The free downloadable software enables users to customize the Orbit Wireless Trackball by providing the ability to assign a variety of functions (including shortcuts) to the buttons, and adjust cursor and scrolling speed.
The Kensington Orbit Wireless Trackball with Scroll Ring - Black (K70990WW), White (K70991WW) and Space Gray (K72675WW) are backed by a three-year limited warranty and are available now at a MSRP of $49.99 USD through the Kensington Store and its partner sites.
Resources:
Follow Kensington on:
About Kensington
Kensington is a leading provider of desktop and mobile device accessories, trusted by IT, educators, business, and home office professionals around the world for more than 35 years. Kensington strives to anticipate the needs and challenges of the ever-evolving workplace and craft professional-tier award-winning solutions for organizations committed to providing peak professionals the tools they need to thrive. The company prides itself as The Professionals' Choice, and on its core values surrounding design, quality, support, and sustainability.
In office and mobile environments, Kensington's extensive portfolio of award-winning products provides trusted security, desktop productivity innovations, and ergonomic well-being.
Headquartered in San Mateo, California, Kensington is the inventor and worldwide leader in laptop security locks. Kensington is a division of ACCO Brands (NYSE: ACCO), one of the world's largest designers, marketers, and manufacturers of branded business, academic, and consumer products, sold in more than 100 countries across the globe.
Kensington is a registered trademark of ACCO Brands. Kensington The Professionals' Choice is a trademark of ACCO Brands. All other registered and unregistered trademarks are the property of their respective owners.
© 2021 Kensington Computer Products Group, a division of ACCO Brands. All rights reserved.