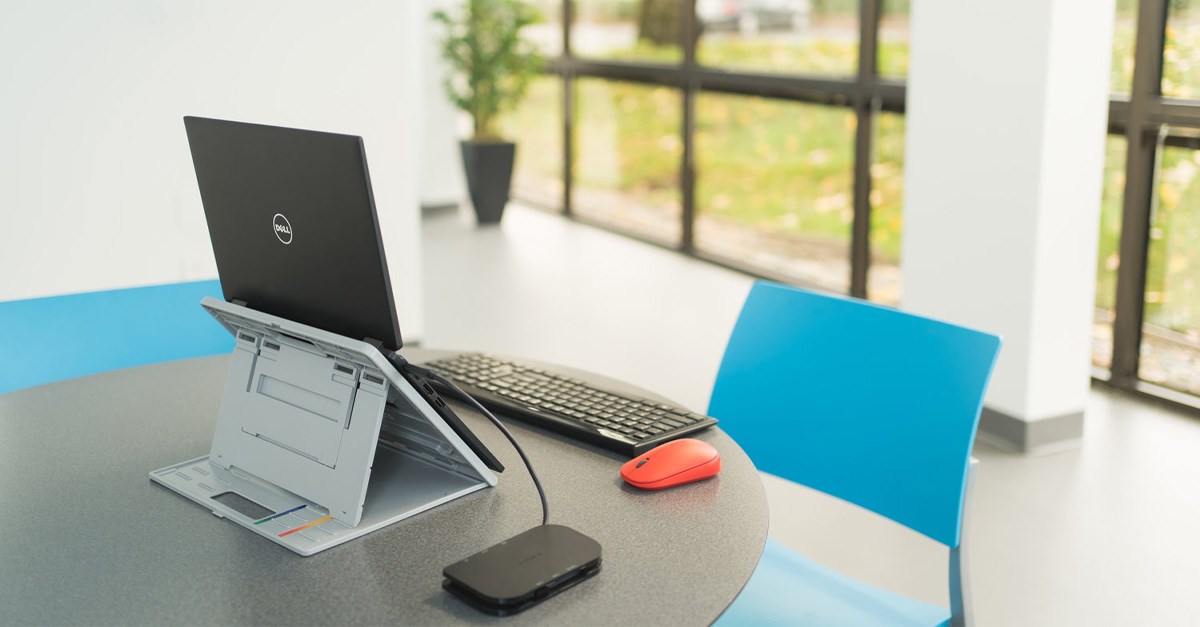 With 66 Percent of Students in the U.S. Expected to Learn from Home this Fall, Using the Right Products Can Help Boost Productivity and Aid in Wellness
San Mateo, CA – July 29, 2020 – Kensington®, the worldwide leader of desktop computing and mobility solutions for IT, business, and home office professionals and The Professionals' Choice, announced a recommended Top 10 List of the Best Virtual Learning products that can aid K-12, college and even professionals as they learn and work from home this fall.  A survey published earlier this month by The Harris Poll, reported that two-thirds of parents in the U.S. say their kids will learn from home this fall as the COVID-19 pandemic continues. 
Not all households have desks and chairs that are suitable for working on a laptop, which means that students are likely sitting at the kitchen table or counter in a chair that is not ideally suited to them. In areas where virtual learning has become the required mode of education this school year, establishing and properly designing a designated workspace in the home is critical to improving productivity, wellness and comfort for students. The use of ergonomic accessories like seat rests, back rests and laptop/monitor stands, enables users to easy adapt existing workspaces to provide a more comfortable and healthier workstation with a relatively small investment.
Kensington recommends the following ten products which can be used to reduce eye strain, improve posture, mitigate neck, hand, arm and back issues, reduce fatigue and optimize the use of computers and/or laptops. 
"Our recommended products include ergonomic solutions that improve posture and proper hand positioning while sitting at computers or laptops, productivity solutions to maximize device connectivity, and even rugged cases to keep tablets protected from occasional falls," said Lisa Schuiteboer, a certified ergonomic expert and ergonomic category manager at Kensington. "When used correctly, many of these recommended products can help reduce injury such as carpal tunnel, neck strain and other body aches."
In addition to using products that help improve wellness, there are activities that students can do to help reduce fatigue.  Looking away from their screens for 20 seconds every 20 minutes can significantly reduce eye strain, and stretching their hands, wrists and legs at regular intervals can reduce strain and extend productivity over long periods at the computer. The Kensington Stretch Guide provides some great recommendations for easy, quick exercises to do throughout the day.
Kensington recently hosted a webinar on utilizing the proper ergonomic principles to increase comfortability and productivity while learning from home.  View the webinar, titled "Ergo 101 – How Ergonomics Can Help Students with eLearning."
All ten recommended virtual learning products are immediately available and can be found on the Kensington website or at online retailers such as Amazon. 
Follow Kensington on:
About Kensington
Kensington is a leading provider of desktop and mobile device accessories, trusted by IT, educators, business, and home office professionals around the world for more than 35 years. Kensington strives to anticipate the needs and challenges of the ever-evolving workplace and craft professional-tier award-winning solutions for organizations committed to providing peak professionals the tools they need to thrive. The company prides itself as The Professionals' Choice, and on its core values surrounding design, quality, and support.
In office and mobile environments, Kensington's extensive portfolio of award-winning products provides trusted security, desktop productivity innovations, and ergonomic well-being.
Headquartered in San Mateo, California, Kensington is the inventor and worldwide leader in laptop security locks. Kensington is a division of ACCO Brands (NYSE: ACCO), one of the world's largest designers, marketers, and manufacturers of branded business, academic, and consumer products, sold in more than 100 countries across the globe.
Kensington is a registered trademark of ACCO Brands. Kensington The Professionals' Choice is a trademark of ACCO Brands. All other registered and unregistered trademarks are the property of their respective owners.
© 2020 Kensington Computer Products Group, a division of ACCO Brands. All rights reserved.