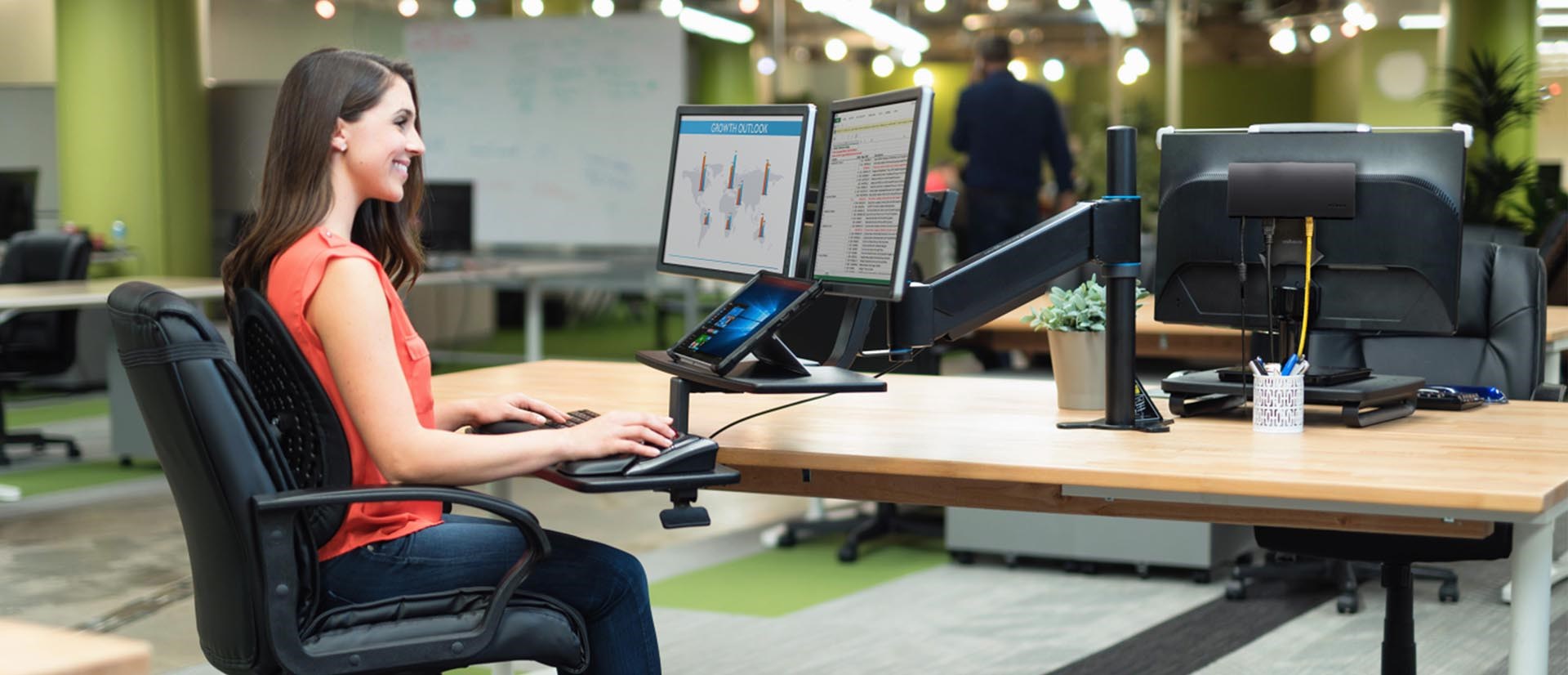 If you're going to be spending your entire working day – and that can be around eight hours – in one chair, making sure it's right for your body type really can make all the difference. You don't need to search hard to find studies that show how dangerous sitting in a chair for long periods of time can be, particularly if you already have a health condition. The wrong kind of chair can aggravate neck or back pain.
While you may not have the money to spend on an expensive chair, there are plenty of things you can do to improve your seating situation, and consequently, your productivity health, and comfort. You can choose to add an ergonomic back rest to your existing chair to give the spine and lumbar maximum support. Kensington's SmartFit® Conform Back Rest features fully articulating and ventilated sections that dissipate heat, keeping you comfortable and in a supported position all day. Four independent springs move freely and provide support for your back when you move around in your chair. You can also pair it with the very affordable SoleSaver Footrest, which supports your feet and legs while promoting proper positioning to decrease muscle fatigue.
If you decide to go ergonomic with your office chairs, it's important to make sure the seat you choose features properties that encourage the right posture, or that you can choose chair accessories to provide the same benefits. Here are the top 5 features to look for:
1) A five-point base with casters
2) A curved back rest to support the small of the back
3) Arm rests with adjustable width and height
4) A padded or coil-spring seat
5) Hydraulic height adjustment
If a conventional office chair doesn't appeal to you, you may want to consider some of the alternatives on the market. There's a growing demand for furniture where the focus is on making the chair work for the user, rather than the user work for the chair.
Sit/Stand Chairs
Sit/Stand Chairs are designed to work with Sit/Stand workstations. While this sort of desk has been around for at least 25 years, it's only recently started to increase in popularity. With workers benefiting from improved posture, better muscle tone and a faster calorie burn, it's shown that the upright position is better for stimulating mental activity. With increased energy comes improved productivity and engagement.
Yoga Chairs
If you're looking for something completely different, take a look at yoga chairs. These wide-based chairs are designed around the principle that human beings historically sat cross-legged, and by sitting like that on a chair, you'll be able to reconnect with the earth. With support focused on your legs, the back and hips are encouraged to relax, improving circulation, energy levels and mental health. The relaxed body benefits from a lowered heart rate and better digestion, with a freer diaphragm for healthier breathing. When you're ready to take a break from your cross-legged position, the chair arms pop back up, allowing you to take a more traditional seated position. Keep up the comfort level with one of Kensington's memory foam topped SoleMate Comfort Footrests, with an adjustable angle which will keep those legs slightly elevated, and take pressure off your lower back.
Are you sitting comfortably? If not, you now know how to get started on making your seating experience the best it can possibly be.