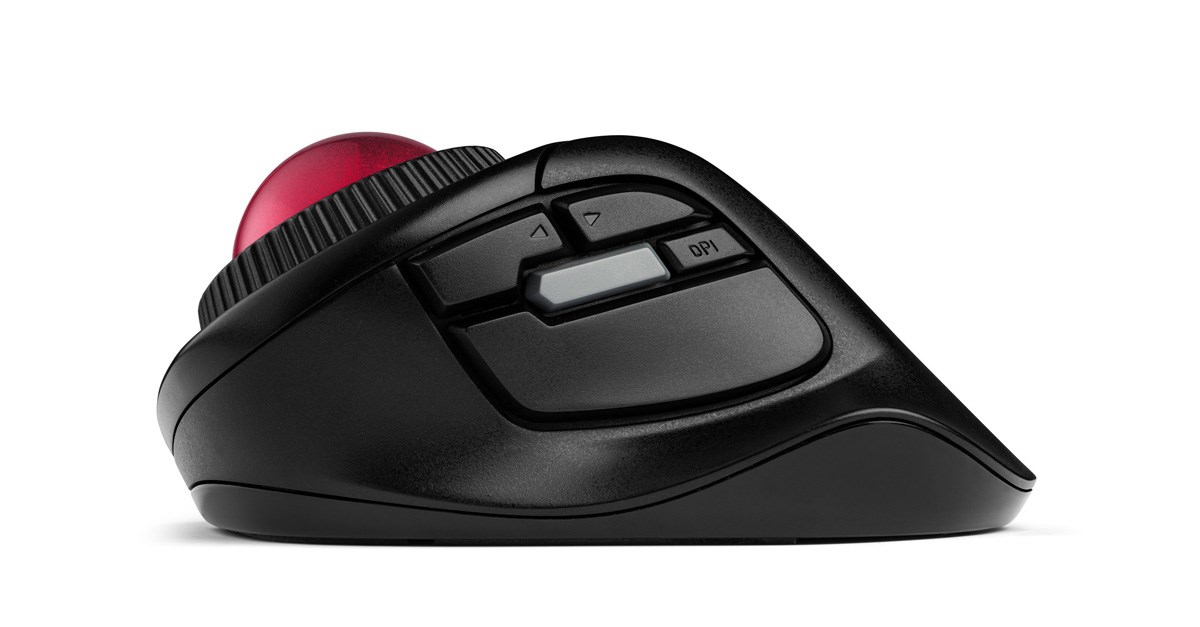 New trackball mouse provides the precision and ergonomist-approved comfort of a trackball within the familiar shape of a mouse.
San Mateo, CA – September 15, 2020 – Kensington®, the worldwide leader of desktop computing and mobility solutions for IT, business, and home office professionals and The Professionals' Choice, introduced the latest addition to its lineup of ergonomic mice and trackballs. The Orbit® Fusion™ Wireless Trackball combines the superior comfort, control, and precision benefits of a finger-operated trackball and a patented scroll ring within a sculpted mouse-like design.
Ideal for new trackball users, the Orbit® Fusion™ Wireless Trackball (K72363WW) offers first-in-class trackball innovation within the familiar shape of a mouse. An ergonomist-approved design provides all-day comfort to improve palm, wrist, forearm, and shoulder position with less hand movement. The patented finger-operated scroll ring provides a more precise, intuitive, and comfortable scrolling experience.
The premium laser tracking sensor and 40mm finger-operated trackball allow users to navigate multiple monitors and large files with less desktop space and better precision and speed, while a triple DPI switch enables simple cursor control transitions.
Get started with full-featured plug and play default settings or use KensingtonWorks™ software to set pointer and scrolling options and personalize five programmable buttons to tackle common tasks with one touch. Long battery life provides up to 14 months of usage on a single, included AA battery.
Universal compatibility enables the wireless trackball mouse to connect to Windows and macOS devices via a 2.4GHz nano receiver that stows inside the trackball when not in use. The included USB-A to USB-C adapter works for laptops with limited or no USB-A ports.
Perfect for new trackball users and users with limited desktop space or multiple monitors, the Orbit® Fusion™ Wireless Trackball fuses innovative comfort and control with preferred finger-controlled track and scroll.
And when on the go, the Orbit® Fusion™ Wireless Trackball Hard Case (K97500WW), made especially for the Orbit® Fusion™ Wireless Trackball, is the perfect companion. Shockproof, dustproof, and water resistant, the compact and lightweight case features tough 1680D polyester fabric with a soft interior that perfectly follows the contours of the trackball, offering exceptional protection from bumps, drops, dirt, and scratches. It also includes a convenient storage compartment for the USB-A to USB-C adapter that is included with the trackball.
Resources
Follow Kensington on:
About Kensington
Kensington is a leading provider of desktop and mobile device accessories, trusted by IT, educators, business, and home office professionals around the world for more than 35 years. Kensington strives to anticipate the needs and challenges of the ever-evolving workplace and craft professional-tier award-winning solutions for organizations committed to providing peak professionals the tools they need to thrive. The company prides itself as The Professionals' Choice, and on its core values surrounding design, quality, and support.
In office and mobile environments, Kensington's extensive portfolio of award-winning products provides trusted security, desktop productivity innovations, and ergonomic well-being.
Headquartered in San Mateo, California, Kensington is the inventor and worldwide leader in laptop security locks. Kensington is a division of ACCO Brands (NYSE: ACCO), one of the world's largest designers, marketers, and manufacturers of branded business, academic, and consumer products, sold in more than 100 countries across the globe.
Kensington is a registered trademark of ACCO Brands. Kensington The Professionals' Choice is a trademark of ACCO Brands. All other registered and unregistered trademarks are the property of their respective owners.
© 2020 Kensington Computer Products Group, a division of ACCO Brands. All rights reserved.