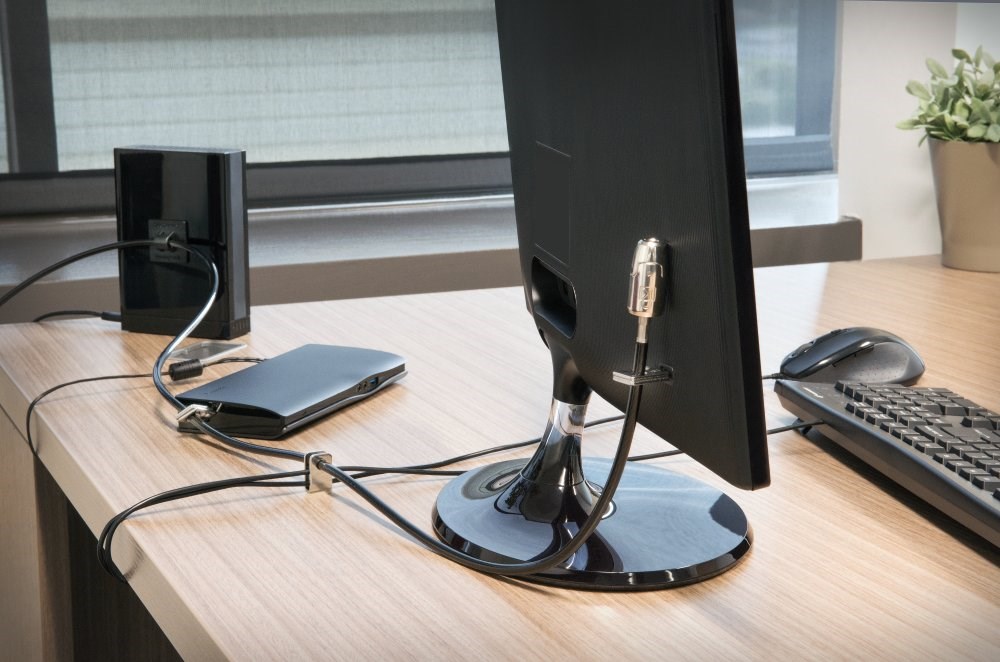 CUSTOMER INSIGHT: Astro Audio Video Lighting, Inc.
In the wake of a renovation that included setting up workstations where users could test recording and production equipment through demos, Astro Audio Video Lighting, Inc. needed a way to secure and protect a variety of expensive equipment and gear.
AT-A-GLANCE
Full-service sales, rental, and production support resource serving the live entertainment, PR, architectural, and special event industries
Established in 1974 in Southern California, offers technical and creative capabilities in audio, scenic design, stage and effects lighting, promotional presentations, and video production
CHALLENGE
Keep a wide range of valuable DJ and recording equipment locked and secure during studio use with a congruent, unobtrusive security system
SOLUTION
Use Kensington's Desktop PC & Peripheral Locking Kits to help protect and safeguard the equipment without drawing attention to the locks
BENEFITS
Through the versatility of Kensington's Locking Kits, Astro can now keep a variety of types and sizes of recording equipment and production gear locked and protected to guard against theft or damage — even in large crowds during demos or events
THE SITUATION
Astro Audio Video Lighting, Inc. was founded in 1974 as a full-service sales, rental, and production support resource, serving the live entertainment, PR, architectural, and special event industries. As a company that offers capabilities in audio, promotional presentations, and video production, the Sales and DJ side of the business recently underwent a major renovation that included creating workstations where people could try different types of recording equipment through live demos.
Cypher, Sales Manager at Astro AVL, estimated the value of this equipment — which included laptops, mixers, microphones, turntables, controllers, DJ units, synthesizers, remix units, and other types of production gear — at $300 to $2,000 per unit. Cypher was concerned about how to protect and secure this pricey equipment in light of the company's new processes, remodeling, and redesigns that allowed users to demo the equipment. "If we get a crowd of people, we don't want equipment to walk away," Cypher said. "While heavier equipment may be harder to move, the lighter equipment is particularly vulnerable to theft or damage."
Another challenge was that each workstation contained a variety of equipment types and sizes, which made it more difficult to lock and secure the items to tables. "We needed something congruent across all of our systems so they would be easy for staff to access," he said. While Cypher's primary goal was to safeguard the equipment, he also wanted to find a locking solution that looked neat and clean, with locks that would blend into the recording environment: "We didn't want the locks and cables to look sloppy; we didn't want attention drawn to it."
THE SOLUTION
After thinking about Astro AVL's security goals, and initially buying a lock online that the company was not happy with, Cypher conducted an evaluation of Kensington's Desktop PC & Peripheral Locking Kit, since he had used Kensington locks previously for DJ equipment. Pleased with the results, Astro decided to use the Kensington Locking Kits to protect and secure all of its recording and production equipment for its Sales and DJ business.
The Kensington Locking Kits — which feature a long, carbon steel cable, Hidden Pin™ technology to guard against lock picking, an anchor plate, and a Kensington keyed lock — allowed Astro AVL's wide range of equipment types and sizes to be locked down securely. Cypher found that despite the variety of sizes of units to secure, the Kensington Locking Kits contained everything needed to protect multiple devices in a clean and efficient way. One station has six locks on it, and because the steel cables are straight rather than curly, they can be taped underneath a table out of sight.
"We were very happy with what Kensington provided," Cypher said. "All we were looking for was a lock with a lot of strength, but not very visible — unobtrusive. That's exactly what we got from Kensington. We were able to connect the locks to the tables in a roundabout way, and they are super easy to use. Most equipment comes with a Kensington Security Slot, so it was an easy win for us."
THE BENEFITS
With Kensington Locking Kits, Astro AVL is able to keep its diverse arsenal of production and recording equipment locked safely to tables to protect against theft or damage even in crowded conditions — while avoiding drawing attention to messy locks or cables. Being able to protect these precious assets in a low-key way is central to ensuring that Astro AVL's potential customers can try out the equipment they may wish to purchase, while the company rests assured that its investments stay secure.
See The Security Solution That Works Best for Your Organization