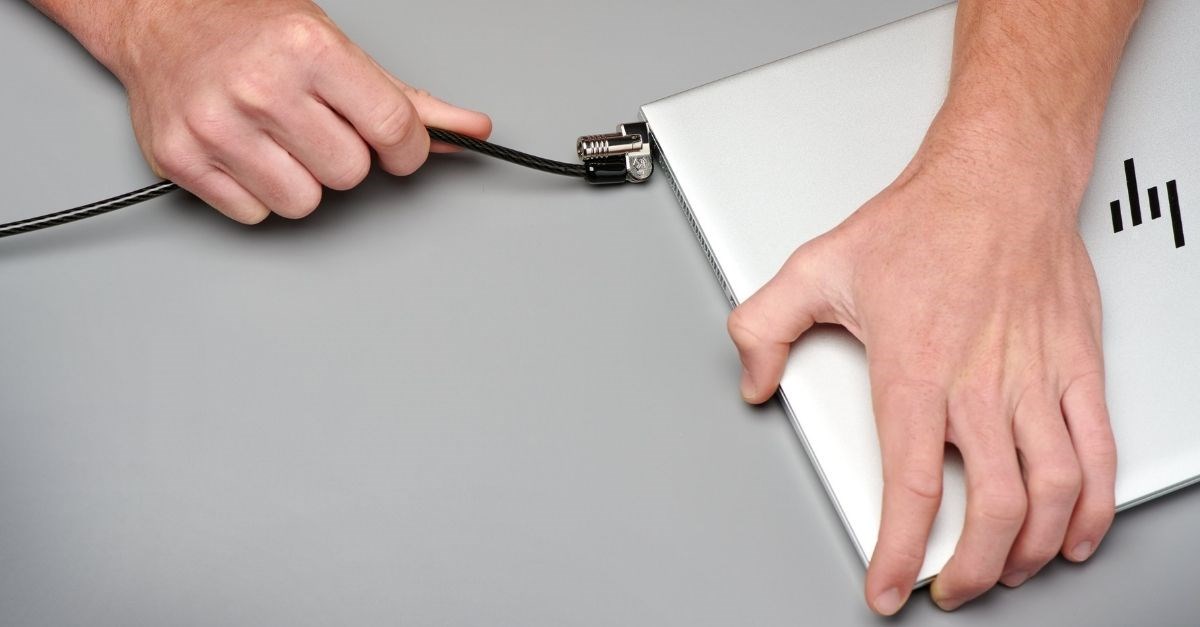 What are you doing to secure your laptop when working outside of the home or office? You may think that applying a simple cable lock is enough. Yet what kind of testing did that laptop lock go through to guarantee your device will remain secure? 
The strength and durability of the lock matter and Kensington's cable locks endure rigorous testing to ensure the pull and tensile strength of the cable meet the highest standard in design. 
So, what are pull and tensile strength, and why does that matter for your device security? And why does Kensington place such a strong emphasis on the durability of its locks? Here's what you need to know. 
What is Laptop Cable Lock Pull Strength?
Pull strength is a unit in tensile testing that refers to the bond strength in pounds per square inch. Kensington conducts their testing on lock heads and the cables using a high force universal testing machine – at a pull rate of 20 mm/min.
This chart shows how these values are measured:
Cable Type Pull Strength

Cable Type
Use
Diameter (mm)
Strands (# of strands X # of wires)
Minimum Tensile Strength (Pounds)
Standard
Most commonly used cable lock for laptops and tablet
4.4
5.0
7x7
7x19
1,000
Desktop Peripheral Kit
Locking multiple peripherals (Monitor, Desktop Computer, Wired Keyboard, Wired Mouse)
6.5
7x7
1,000
Ultra
Superior strength, thicker carbon steel cable
8-10
6x7
3x7
1,500
Coiled
Travel/portable locks
3.5
7x7
250

Why Tensile Strength Matters
To know why tensile strength matters requires understanding tensile strength and why manufacturers use this method of testing to ensure the safety and integrity of their products. Tensile testing is the most commonly used standard of testing to determine an object's mechanical strength.
Tensile testing is an essential part of the design and quality-control testing for consistency in manufacturing and assembly. Kensington's testing process ensures the locks can withstand pull forces if a nefarious character attempts to steal the locked device. 
Tensile tests to measure performance and strength data is not only vital to design, its crucial in the selection of materials, including the:
Purchase and sale of products
Development of new products
Quality control
Equipment safety 
You can prevent computer theft by securing your devices with a Kensington lock. When you understand the strain rate as it applies to the Kensington cable locks, you can rest assured that your devices remain secure. 
The strain rate on all Kensington locks is more than 1000 lb./Standard, 1500 lb./Ultra, and 250 lb./coiled cut-resistant carbon steel cable with sheathing offers security. They provide greater mobility while protecting surfaces from scratches.
How Kensington Tests Their Laptop Locks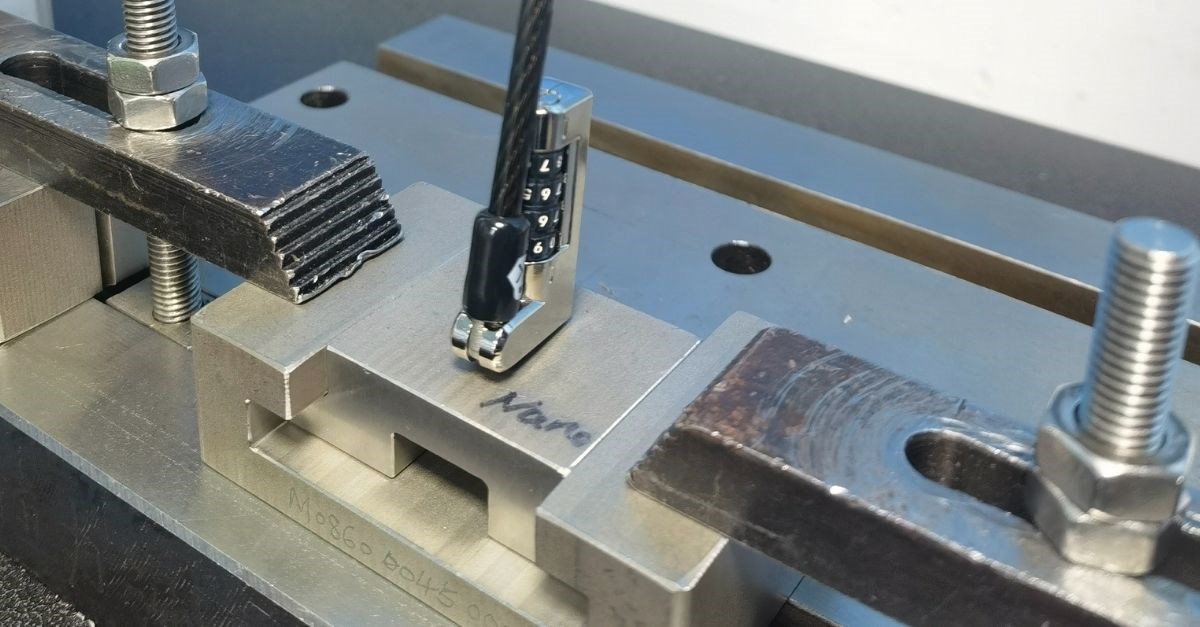 There are some interesting ways manufacturers test their locks in reference to device security. Some use brute force, known as the "sledgehammer test." Other methods include the bolt cutter test, the weather test, and the gunshot test.  
Yet, the tensile test remains the most common method manufacturers use to ensure the quality of their locks. Kensington performs these tests on their security slots and their locking cables. 
Let's look at the tests that are performed and the testing methods used.
Tests Performed
Kensington designs and tests its locks to withstand more than 200 lbs of straight pull forces and side pull forces of more than 400 lbs. Independent third-party contractors and engineers performed these tests, and Kensington submitted multiple lock samples for independent lock testing versus samples from the competition.
Engineers conducted these tests in a controlled testing environment to ensure accuracy. Each product tested endured the maximum amount of force until it reached the failure point. 
Kensington set out to find the best future-proof locking solutions by initiating these directional tests on all their locks
Testing Methods
The testing methods employed by Kensington's independent third-party engineering teams involved four phases of testing.
Secure the test slot fixture in the requested direction on the testing machine
Mount the lock into the slot fixture and attach the cable to the upper clamp
Apply an increasing force to the sample until it is damaged
Record the maximum force and findings
Once the locks completed each testing phase, Kensington placed their locks on the market for their customers. They put each of their locking products through this rigorous testing because the physical security of your devices matters to Kensington.
What You Can Do if Your Device Does Not Have a Security Lock Slot
Around 90% of all laptops and computer equipment have security slots. Yet, that still leaves the other 10% extremely vulnerable to theft.
What should you do to secure a device that doesn't have a security slot? Don't worry. Kensington has you covered. 
They offer a variety of universal solutions for device security even if there isn't a security slot installed. All you need is a Kensington laptop locking station to safeguard your device from theft.
Why You Should Choose Kensington for Your Devices Security
At Kensington, the security of your device is one of our top priorities. Not only do we care about protecting your physical device from theft, but we also care about keeping your data from getting into the wrong hands.
For that reason, our innovative security solutions have a pull and tensile strength to ensure security. They are also easy to use and compatible with most business devices. 
We surpass the industry standard with our rigorous testing process, which sets our locks apart from the rest and provides you with the industry-leading solutions you expect.
With our cable locks, you have the flexibility to anchor the cable lock to a table, desk, or other attachment point. We offer carbon steel protection that sets the standards for preventing attempts to cut your security cable.