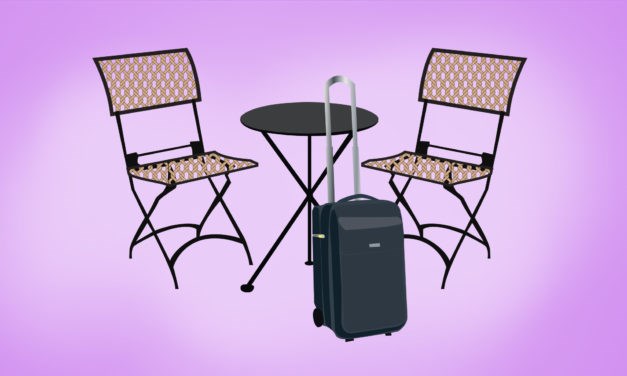 The Kensington SecureTrek range comprises a selection of secure travel bags designed for students, commuters and businesses. The leading provider of mobile device and PC locks for more than 30 years, the SecureTrek range includes a 15" Laptop Backpack, 15" Laptop Carrying Case, 17" Laptop Overnight Backpack, and 17" Laptop Overnight Roller. Our recent survey found that while most travelers keep up to $2,500 worth of valuables in their travel or commute bags, 75 percent do not secure their bags en route. Unsurprisingly, 35 percent of respondents said they had experienced bag theft while on a trip. In this post we look at how a SecureTrek laptop bag can work in restaurants and business meetings.
Stopping at a Coffee Shop
So, say, you're alone on a business trip and you decide to grab a quick meal at the nearby cafe or a latte at a coffee house. It's crowded in there, but you spot an open table. Before you order your food/coffee you want to grab that table … and leaving your travel bag will help save the table while you wait in line. But you're worried someone might steal your bag while you're distracted at the counter. It only takes a thief a couple seconds when you're not paying attention to make off with your valuables and devices.
Oh, what to do?
Well, thanks to Kensington's new line of SecureTrek bags and backpacks, you can leave your bag for a few minutes with complete peace of mind, even if you're not watching it like a hawk.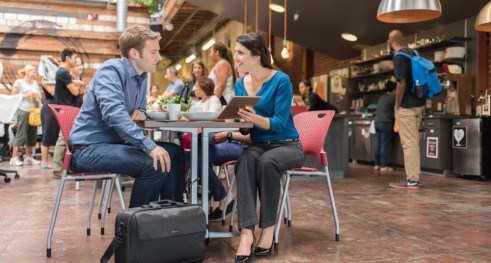 With a bag like the SecureTrek 15" Laptop Carrying Case, you can secure your bag and the contents inside using the SecureTrek Lock Base. The Lock Base keeps the zipper pulls from being opened so no one can get to your devices or belongings. And adding a Kensington Portable Combination Lock lets you loop the steel cable around a table leg to help ensure your bag and everything in it will be right where you left it when you return.
Learn more about Kensington's SecureTrek Lockable Laptop bags.