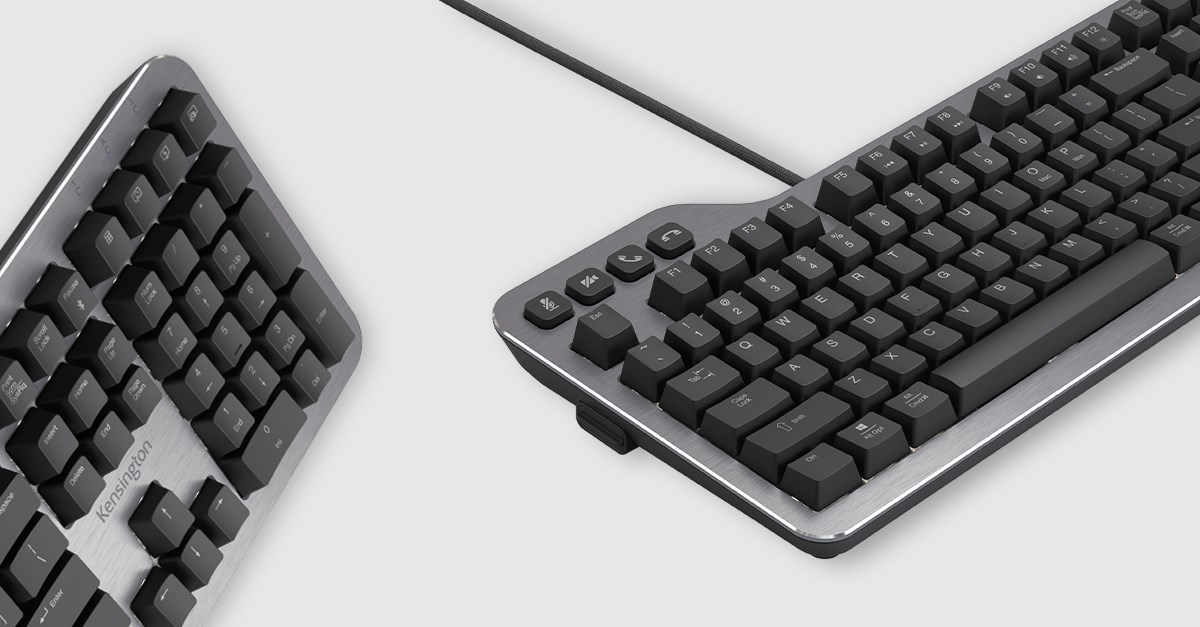 Ideal for Modern Professionals who Seek Precision and Premium Quality in their Work from Home Setup, QuietType Pro Keyboard Provides Accuracy, Comfort, Durability, a Quiet Typing Experience, and Universal Compatibility to Maximize All-Day Productivity.
LAS VEGAS – Jan. 5, 2023 – Kensington®, a worldwide leader of desktop computing and mobility solutions for IT, business, and home office professionals, today introduced the MK7500F QuietType Pro Silent Mechanical Keyboard with Meeting Controls (K72201), a professional mechanical keyboard that delivers a premium typing experience for busy professionals.
Designed for the modern professional with a stylish, adjustable white backlight for easy identification of keys, the MK7500F keyboard is quieter, sturdier, and more tactile than mainstream membrane keyboards. Ideal for use by professionals who utilize their computers in noise-sensitive applications such as video conferencing, this mechanical keyboard utilizes high-precision, QuietType keys that are quieter than the level of normal conversation or background music, and provide excellent performance and a tactile feel that greatly improves typing accuracy and speed.
Benefits and features of the MK7500F QuietType Pro Silent Mechanical Keyboard:
Designed for Busy Professionals – Built for productivity, the keyboard provides a truly quiet typing experience, n-key roll over (NKRO), and universal compatibility for Windows and macOS, to maximize productivity and minimize distractions.
Almost Silent QuietType Keys – Engineered with Kailh Midnight Pro Silent Tactile Switches and sound dampening pads (<55db) to ensure a responsive and quiet typing experience, the keyboard gives users the ability to type with confidence and peace-of-mind, knowing that they are not distracting others or impacting online or in-person meetings.>55db)>
Comfortable and Durable – The ergonomic design, which includes dual-position feet and a gel wrist rest, supports all-day comfort and productivity. The aluminum frame, high-quality laser-etched ABS keycaps, and a sealed IPX4-certified spill-proof design, ensures years of reliable operation even under heavy usage. Designed to meet MIL-STD-810H Method 504.3 Contamination by Fluids, users can wipe-down the keyboard with common household disinfectants without degrading the appearance or impacting the use of the keyboard.
Adjustable White Backlight – Adaptable to any environment, the keyboard allows users to easily adjust the brightness of the backlight based on the time of day or need. Backlit by a white LED, the solution delivers a professional illumination that is not distracting to the user or those around them. The built-in rechargeable battery delivers an impressively long battery life (90+ hours), even when keeping the backlight at 100%.
Enhances Productivity – Built-in meeting controls provide convenient camera and audio controls to simplify and optimize the virtual meeting experience when using popular conferencing applications such as Microsoft Teams and Zoom. In addition, four reprogrammable hot keys offer quick access to additional shortcuts for Windows and macOS, and optional Kensington Konnect™ software enables users to program additional keys, create macros, adjust key mappings, manage profiles, and more – further enhancing productivity and ease-of-use.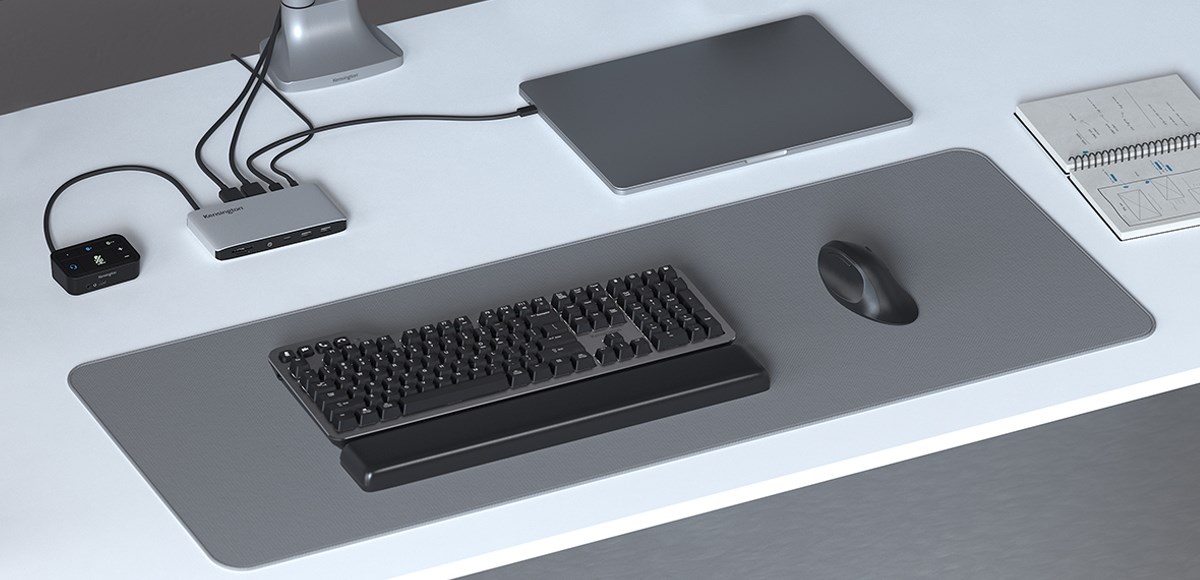 "As virtual meetings have become the 'new normal' for modern professionals, the demand is emerging for keyboards that offer a better, more precise typing experience, without contributing to background noise," stated Rafi Khusro, Director of Customer Experience at Kensington. "This new keyboard combines the precision, comfort, and durability of a mechanical keyboard with the quieter nature of a membrane keyboard, and integrates dedicated meeting controls to deliver a business-class solution that maximizes productivity in any work environment."
The MK7500F QuietType Pro Silent Mechanical Keyboard (K72201) is covered by a three-year limited warranty and professional support, and will be available globally in late Q1 2023 on Kensington.com and on our various partner sites.  Learn more about Kensington's comprehensive portfolio of products and solutions for consumers and businesses by visiting www.kensington.com.
Resources
Follow Kensington on:
About Kensington
Kensington is a leading provider of desktop and mobile device accessories, trusted by IT, educators, business, and home office professionals around the world for more than 40 years. Kensington strives to anticipate the needs and challenges of the ever-evolving workplace and craft professional-tier award-winning solutions for organizations committed to providing peak professionals the tools they need to thrive. The company prides itself as the professionals' choice, and on its core values surrounding design, quality and support.
In office and mobile environments, Kensington's extensive portfolio of award-winning products provides trusted security, desktop productivity innovations, professional video conferencing, and ergonomic well-being.
Headquartered in Burlingame, California, Kensington is the inventor and a worldwide leader in laptop security locks. Kensington is a division of ACCO Brands, the Home of Great Brands Built by Great People, which designs, manufactures and markets consumer and end-user products that help people work, learn, play and thrive.  In addition to Kensington®, ACCO Brands' widely recognized brands include AT-A-GLANCE®, Five Star®, Leitz®, Mead®, PowerA®, Swingline®, Tilibra and many others.  More information about ACCO Brands Corporation (NYSE:ACCO) can be found at www.accobrands.com.
Kensington is a registered trademark of ACCO Brands. Kensington Konnect and QuietType are trademarks of ACCO Brands. All other registered and unregistered trademarks are the property of their respective owners.
© 2023 Kensington Computer Products Group, a division of ACCO Brands. All rights reserved.