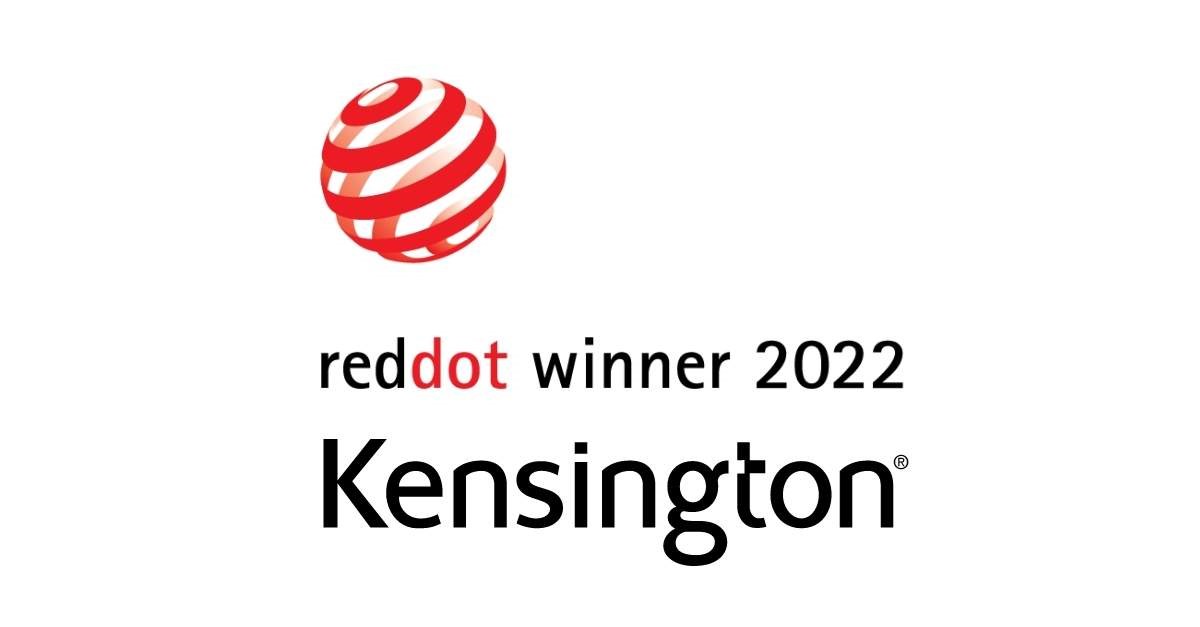 Surface Laptop Riser, Surface Laptop 4 Smart Card (CAC) Reader Adapter, and Slim NanoSaver 2.0 Keyed Lock Earn Red Dot Distinctions for Outstanding Design Quality
BURLINGAME, Calif. – March 31, 2022 – Kensington®, the worldwide leader of desktop computing and mobility solutions for IT, business, and home office professionals and The Professionals' Choice, today announced the receipt of three Red Dot Awards: Product Design 2022. Kensington's Surface Laptop Riser, Surface Laptop 4 Smart Card (CAC) Reader Adapter w/HDMI and USB-C, and Slim NanoSaver 2.0 Keyed Lock were each awarded the prestigious "Red Dot" distinction for outstanding design.
Kensington's sleek, contemporary, Surface Laptop Riser incorporates the company's proprietary SmartFit® height adjustment system to elevate the Surface Laptop to the most ergonomic height, while enabling users to maintain a clean, clutter-free workspace.
Surface Laptop 4 Smart Card (CAC) Reader Adapter integrates a TAA-compliant CAC reader and USB ports seamlessly with the Surface Laptop to expand the capabilities of the laptop, allowing government employees to maintain maximum productivity when using their laptops outside of the office.
To secure the latest generation of ultrathin laptops and 2-in-1 laptops, the innovative Slim NanoSaver 2.0 Keyed Lock allows the device to like flat and stable without blocking valuable ports, providing robust physical security without sacrificing usability or functionality.
The decisions on awarding distinctions are made by an independent panel of experts, the Red Dot Jury. This year's jury was comprised of 48 judges from 23 countries. All of the judeges have design expertise, which they have accumulated during their careers as professors, consultants, designers, or journalists. The jurors professionally, individually and comprehensively assessed each product on a standalone basis. Only those products that won over the experts with their outstanding design quality won a distinction.
"In this year of the competition, I have been particularly struck by the exceptional creativity shown by the award-winning products," explained Professor Dr. Pete Zec, founder and CEO of Red Dot. "It is really impressive and praiseworthy that there are still designs out there that can surprise us with their form and functionality. This makes it clear that design cannot be restricted or brought to a standstill by unfavourable circumstances. On the contrary: more and more new ideas and creations emerge, and futuristic techniques are developed. The fact that the quality of these products equals their level of innovation makes them well-deserved winners in the Red Dot Award: Product Design 2022."
For inquiries around these new award winning products, contact us today! For information on Kensington's comprehensive portfolio of products and solutions for consumers and businesses, visit www.kensington.com.
Follow Kensington on:
About The Red Dot Design Award
In order to appropriately assess the great diversity of products and projects in the area of design, the Red Dot Design Award is divided into three disciplines – Red Dot Award: Product Design, Red Dot Award: Brands & Communication Design and Red Dot Award: Design Concept. With roughly 20,000 submissions, the Red Dot Award is one of the biggest design competitions in the world. 1955 marked the first year that a jury came together to evaluate the best designs of that era. In the 1990s, Red Dot's CEO Prof. Dr. Peter Zec developed the name and brand of the award. Ever since, the prestigious distinction "Red Dot" has been a seal of outstanding design that is highly regarded internationally. The award-winners are presented in Red Dot's yearbooks and museums as well as on the Red Dot website. Additional information can be found at www.red-dot.org.
About Kensington
Kensington is a leading provider of desktop and mobile device accessories, trusted by IT, educators, business, and home office professionals around the world for more than 40 years. Kensington strives to anticipate the needs and challenges of the ever-evolving workplace and craft professional-tier award-winning solutions for organizations committed to providing peak professionals the tools they need to thrive. The company prides itself as The Professionals' Choice, and on its core values surrounding design, quality, and support.
In office and mobile environments, Kensington's extensive portfolio of award-winning products provides trusted security, desktop productivity innovations, professional video conferencing, and ergonomic well-being.
Headquartered in Burlingame, California, Kensington is the inventor and worldwide leader in laptop security locks. Kensington is a division of ACCO Brands (NYSE: ACCO), one of the world's largest designers, marketers, and manufacturers of branded business, academic, and consumer products, sold in more than 100 countries across the globe.
Kensington and NanoSaver are registered trademarks of ACCO Brands. Kensington The Professionals' Choice is a trademark of ACCO Brands. All other registered and unregistered trademarks are the property of their respective owners.
© 2022 Kensington Computer Products Group, a division of ACCO Brands. All rights reserved.
Media Contact:
Ken Hagihara, APR, Fellow PRSA, MCM
Integrity Public Relations, Inc
949-768-4423 ext. 101
ken@integritypr.net