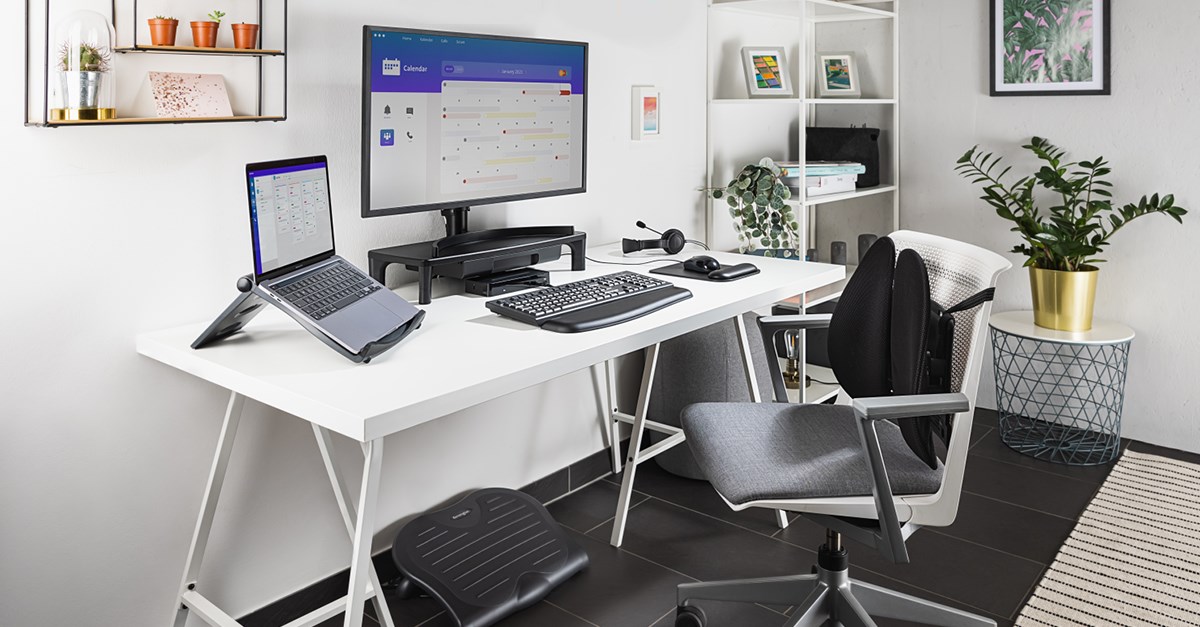 BURLINGAME, Calif. – October 3, 2022 – While productivity is the priority for professionals working at the office, at home, or somewhere in-between, the importance of comfort and mobility while working is often overlooked. Kensington®, a worldwide leader of desktop computing and mobility solutions for IT, business, and home professionals and The Professionals' Choice, offers a broad portfolio of innovative, ergonomic solutions that keep professionals productive and aim to provide protection from the pain, discomfort, and physical injuries that can be caused by a poorly-designed workspace.
While working on a computer in the home or office may not seem like a risky activity, working on a computer over extended periods of time can cause pain from repetitive use injuries, awkward body postures, force and contact stress, and can turn into long-lasting health problems in the future. Ergonomics, which is the design and arrangement of equipment to maximize safety while in use, is key to reducing potential injuries and maintaining efficiency and productivity.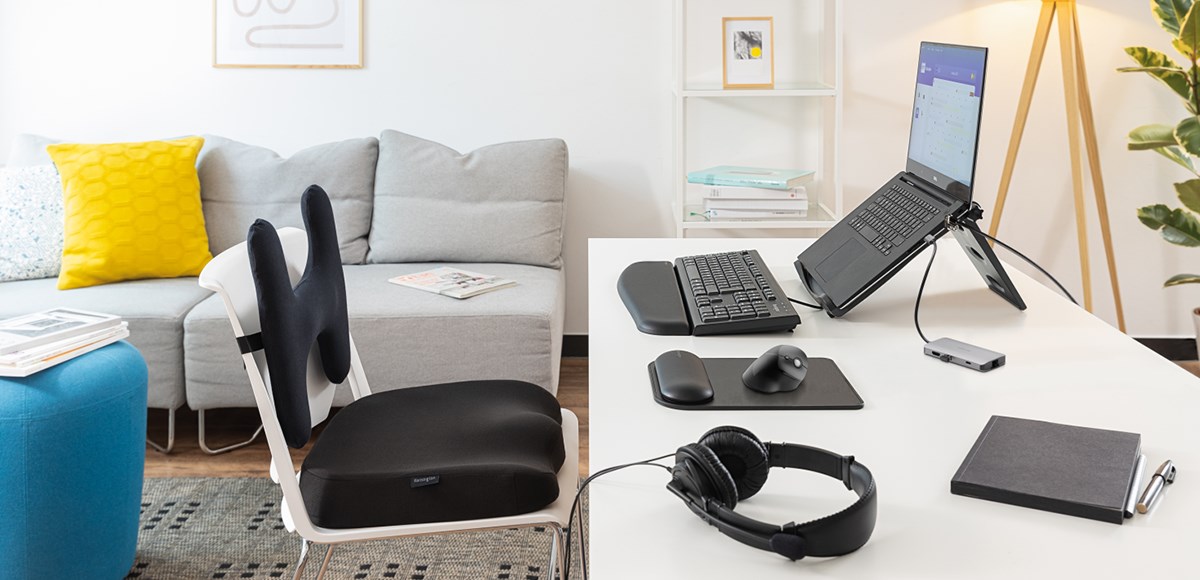 "As more employees settle into their new work routines, whether at home, in the office, or on the go, National Ergonomics Month promotes the benefits of ergonomics and how it can lower the risk of injuries from the work environment," explained Lisa Schuiteboer-Shuler, Product Marketing Manager at Kensington. "Kensington's ergonomic solutions cover nearly every component of the computing workspace, providing protection, comfort, and productivity for nearly anyone who uses a computing device on a desktop."
Laptop Risers Promote Good Posture, Comfortable Viewing
Staying productive is easier when your posture is correct and comfortable, and laptop risers and monitor stands promote proper posture and improve viewing comfort by elevating the display to the most ergonomic height.
The award-winning Kensington SmartView™ Organizing Laptop Riser (K50825WW) is an all-in-one solution that utilizes Kensington's patented five-level, SmartFit® height adjustment system to place a Surface Laptop, or any laptop up to 16", at the ideal height on the desktop in the home or office. An integrated headset hangar, docking station storage, and cable management system allows users to optimize their workspace and minimize the workstation footprint.
Designed for mobile workers and travelers, the Kensington SmartFit® Easy Riser™ Go Adjustable Ergonomic Laptop Riser and Cooling Stand (K50420WW) combines the SmartFit height adjustment system with a slim foldable design that fits a variety of desktop spaces. Featuring a built-in handle for easy carrying and durable hard-edges for extra protection, the SmartFit Easy Riser Go leverages a foldable dual kickstand structure to lift the laptop as high as 7.1 inches for optimal eye alignment.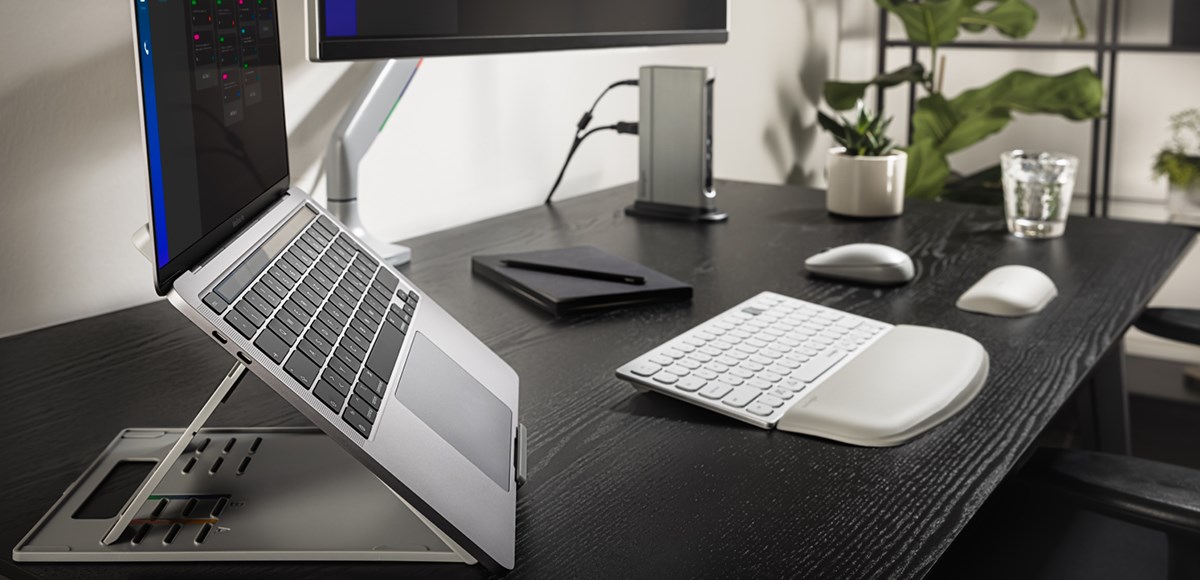 Ergonomic Input Devices Increase Productivity, Reduce Strain on Hands and Wrists
Traditional mice and keyboards can be uncomfortable to use for long periods of time. Kensington's ergonomic input devices are designed to reduce strain on wrists and hands to provide comfortable, all-day use and reduce the risk of repetitive strain injuries over long-term usage.
Designed to keep the wrist in a neutral handshake position, the Kensington Pro Fit® Ergo Vertical Wireless Mouse (K75501WW) eliminates soft tissue compression and improves the wrist posture for better comfort. An independent study conducted by professional ergonomists at VSI Risk Management and Ergonomics, Inc., rated the Pro Fit Ergo Vertical Wireless Mouse as the most comfortable and that it conformed to their hand naturally.
The innovative Kensington Orbit® Fusion™ Wireless Trackball (K72363WW) combines comfort, with the improved control and precision benefits of a finger-operated trackball, patented scroll ring, and the familiar shape of a mouse. The Orbit Fusion Wireless Trackball, which features five programmable buttons for one-touch task execution, is designed to improve palm, wrist, forearm, and shoulder position with less hand movement, for all-day comfort.
The Kensington Multi-Device Dual Wireless Compact Keyboard (K75502US – Black, K75504US – Silver) enables users to connect and switch between up to three devices at a time using Bluetooth or 2.4GHz wireless with 128-bit AES encryption. The compact design makes it easy to take anywhere and is ideal for use in tight workspaces. The keyboard meets MIL-STD-810H Method 504.3 Contamination by Fluids testing for resistance to breakdown when exposed to cleaning and disinfecting solvents.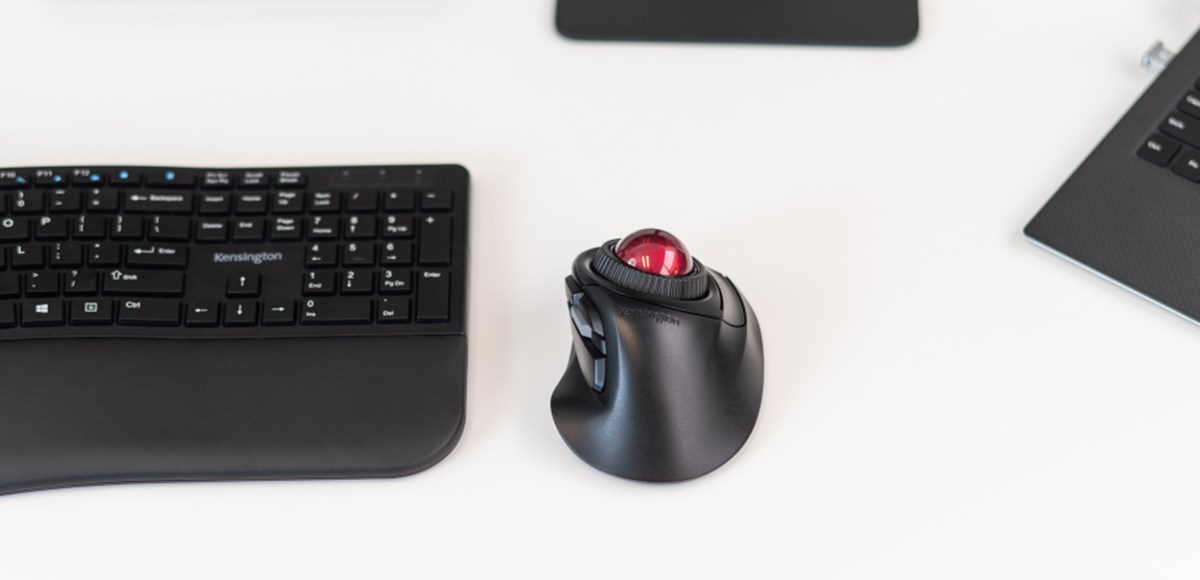 Lower Body Support is Critical to Overall health and Optimal Performance in the Office
When the lower body is supported properly, it can provide crucial support to the lower back, hips, legs, and ankles, encouraging correct posture, removing tension from the lower back and upper legs, and providing comfort and support.
The Kensington SmartFit® Conform™ Back Rest (K60412WW) features patented back-support technology that works in nearly any chair. The SmartFit system enables users to customize the height of the back rest to provide maximum support to support the spine and lumbar region, making extended hours of working in the home office more comfortable. 
Designed to reduce muscle strain and fatigue for all-day comfort, the TAA-compliant Kensington SmartFit® Solemate™ Plus Foot Rest (K52789WW) uses the SmartFit System to provide professional-level customization that lets the user measure, adjust, and fit the foot rest without the need for an ergonomist. The height adjusts to the user's personal SmartFit comfort color, and a flick of the foot-operated pedal provides tilt angle adjustment.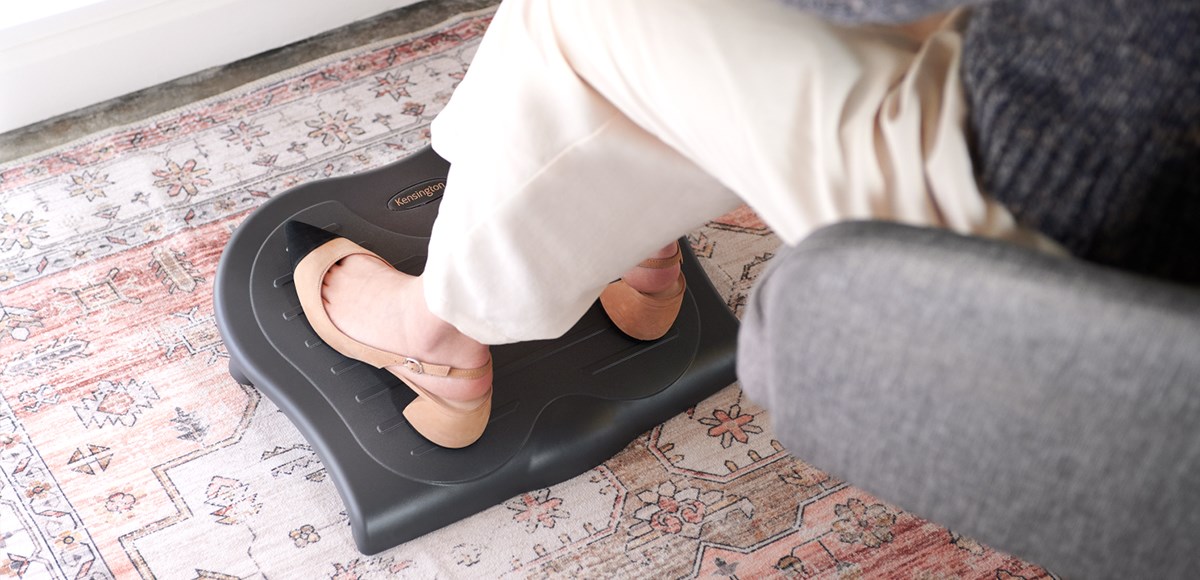 To learn more about Kensington's comprehensive portfolio of Ergo products and solutions for consumers and businesses, visit www.kensington.com.
Follow Kensington on:
About Kensington
Kensington is a leading provider of desktop and mobile device accessories, trusted by IT, educators, business, and home office professionals around the world for more than 40 years. Kensington strives to anticipate the needs and challenges of the ever-evolving workplace and craft professional-tier award-winning solutions for organizations committed to providing peak professionals the tools they need to thrive. The company prides itself as The Professionals' Choice, and on its core values surrounding design, quality, and support.
In office and mobile environments, Kensington's extensive portfolio of award-winning products provides trusted security, desktop productivity innovations, professional video conferencing, and ergonomic well-being.
Headquartered in Burlingame, California, Kensington is the inventor and a worldwide leader in laptop security locks. Kensington is a division of ACCO Brands, the Home of Great Brands Built by Great People, which designs manufactures and markets consumer and end-user products that help people work, learn, play and thrive.  In addition to Kensington®, ACCO Brands' widely recognized brands include AT-A-GLANCE®, Five Star®, Leitz®, Mead®, PowerA®, Swingline®, Tilibra and many others.  More information about ACCO Brands Corporation (NYSE:ACCO) can be found at www.accobrands.com.
Kensington, Pro Fit, Smart Fit and Orbit are registered trademarks of ACCO Brands. MagPro, SmartView and Kensington The Professionals Choice are all trademarks of ACCO Brands. All other registered and unregistered trademarks are the property of their respective owners.
© 2022 Kensington Computer Products Group, a division of ACCO Brands. All rights reserved.