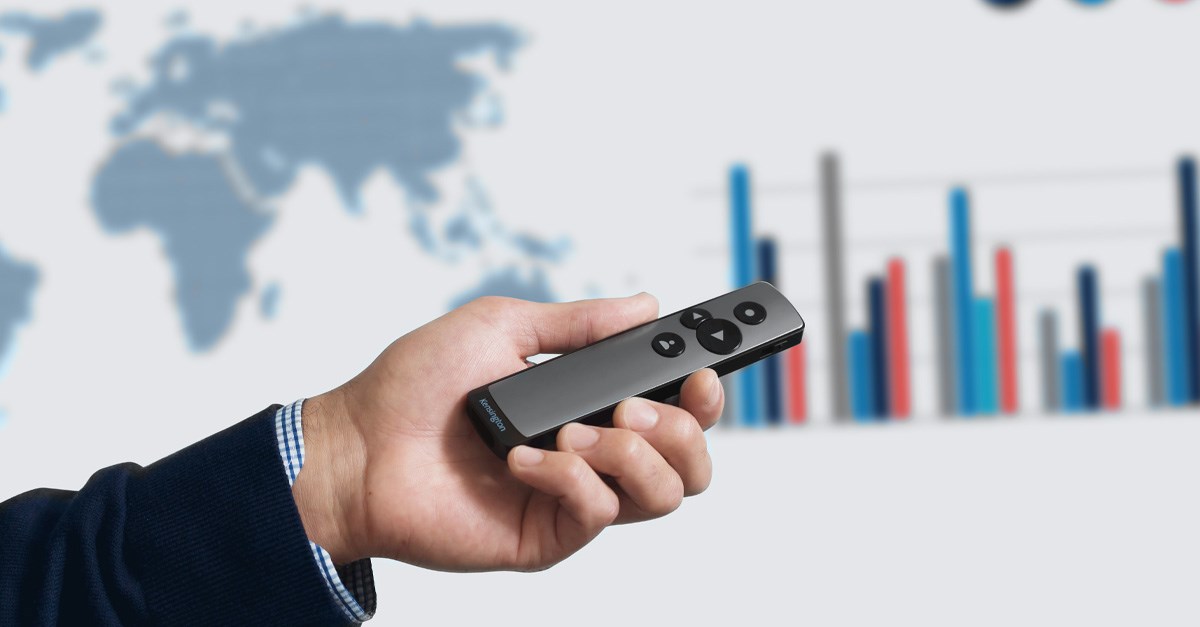 Intuitive, PowerPoint®-compatible virtual laser pointer enables everyone in the room and on the call to see the pointer exactly as intended.
San Mateo, CA – August 11, 2020 – Kensington®, the worldwide leader of desktop computing and mobility solutions for IT, business, and home office professionals and The Professionals' Choice, announced the PowerPointer Presentation Remote with virtual laser pointer as the ideal digital pointer for online presentations and virtual learnings. The laserless clicker allows everyone to see the pointer and uses presentation features already built into PowerPoint®, such as the virtual laser pointer and marker pen, without having to install or update software.
The Kensington PowerPointer Presentation Remote (K75241WW) does not require any software to use features such as a virtual laser pointer, marker pen, and black/white screen modes, as they are built into Microsoft®​ ​PowerPoint.​ The virtual laser pointer and virtual pen native to PowerPoint can be seen on any display — even via web conferencing — and on multiple screens simultaneously. The PowerPointer is compatible with PowerPoint 2010 or later on Windows® and PowerPoint version 16.09 or later on macOS®.
The virtual presenter's intuitive button layout features a larger concave forward button and smaller convex back button — easy to find simply by touch. The wireless receiver fits any USB 3.0/2.0 port and provides up to 15 meters (49 feet) of operating range. The PowerPointer Presentation Remote is rechargeable via the included Micro USB cable, so you never have to buy another battery.
The PowerPointer Presentation Remote with virtual laser pointer joins Kensington's robust suite of presentation solutions to help anyone take control of the room and present with confidence.
Resources
Follow Kensington on:
About Kensington
Kensington is a leading provider of desktop and mobile device accessories, trusted by IT, educators, business, and home office professionals around the world for more than 35 years. Kensington strives to anticipate the needs and challenges of the ever-evolving workplace and craft professional-tier award-winning solutions for organizations committed to providing peak professionals the tools they need to thrive. The company prides itself as The Professionals' Choice, and on its core values surrounding design, quality, and support.
In office and mobile environments, Kensington's extensive portfolio of award-winning products provides trusted security, desktop productivity innovations, and ergonomic well-being.
Headquartered in San Mateo, California, Kensington is the inventor and worldwide leader in laptop security locks. Kensington is a division of ACCO Brands (NYSE: ACCO), one of the world's largest designers, marketers, and manufacturers of branded business, academic, and consumer products, sold in more than 100 countries across the globe.
© 2020 Kensington Computer Products Group, a division of ACCO Brands. All rights reserved.