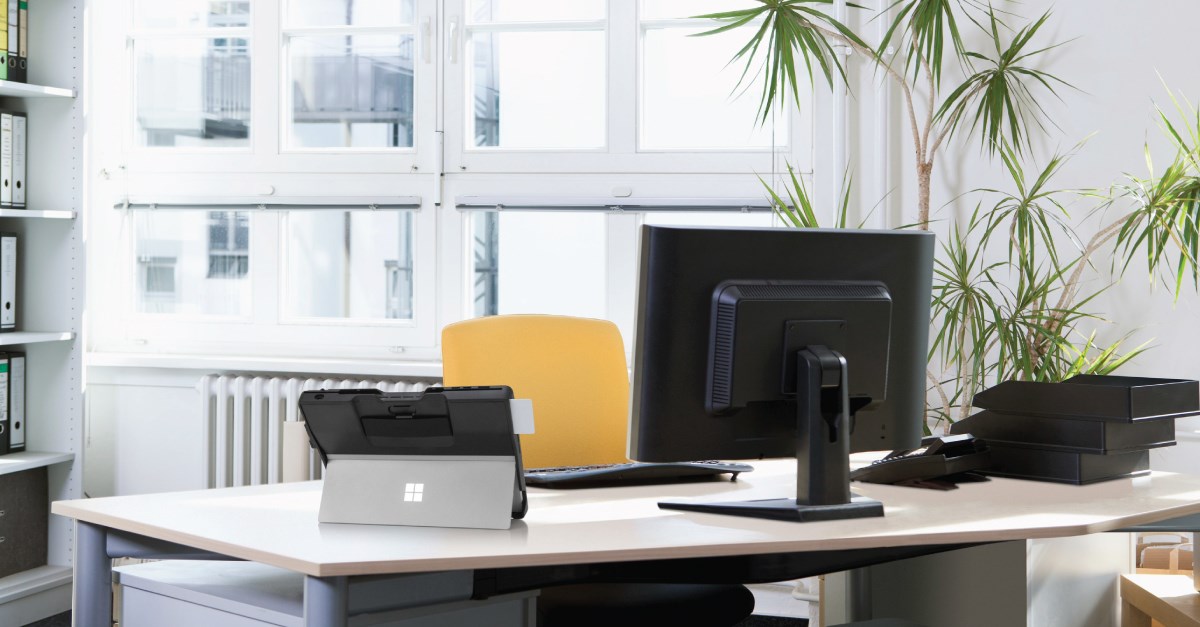 San Mateo, CA, June 16, 2020 – Kensington, a leader in desktop and mobile device accessories trusted by organizations for more than 35 years, is proud to announce its partnership with Ingram Micro's Federal Advantage Program.  Its TAA compliant products are now included in the program and sold as part of Promark Technology's General Services Administration (GSA) schedule. Promark Technology is a premier U.S.-focused value added distributor and subsidiary of Ingram Micro Inc., the world's largest technology distributor and global leader in IT supply-chain and mobile device lifecycle services. 
Kensington's portfolio of TAA compliant products are available through the GSA schedule include laptop, tablet and desktop locks, biometric security, privacy screens, rugged tablet cases, docking stations, and keyboards. Kensington supports products like the BlackBelt Rugged Case with Integrated CAC Reader for Microsoft Surface Pro and Surface Go, SD4750 USB-C & USB 3.0 Hybrid Docking Station and MicroSaver 2.0 Laptop Lock with discount pricing for bulk orders and bid support.
"Kensington's expanded relationship with Ingram Micro and Promark brings more choice to channel partners specializing in the Public Sector, and will create greater market awareness for Kensington's portfolio of TAA compliant products," said Todd Hartung, Director, Promark Technology. "We're pleased to build on the success of our Kensington relationship and look forward to playing an increasingly important role in the company's U.S. channel growth strategy."
To learn more about Kensington and our solutions, reach out to sales@kensington.com or visit www.kensington.com. Become an authorized reseller and receive strategic partner pricing and customer pricing for government and education organizations at www.kensington.com/advantage.
About Kensington:
Since inventing the laptop lock more than 25 years ago, Kensington keyed locks have stood for professional-grade protection. Kensington set the industry standard, with locks constructed of aircraft-grade steel, custom keying solutions, and compatibility with more than 90 percent of business laptops, desktops, projectors, monitors, and printers from all major manufacturers. Kensington is a trusted partner of federal, state and local agencies offering spec driven consultation and customer driven designs. From docking stations, to computer cable locks, to mice and trackballs, to ergonomics, we're proud to design, engineer, and build award-winning products that are trusted by professionals around the globe.
About Promark Technology
Promark Technology, an Ingram Micro company, is one of the premier value added distributors (VAD) in the United States. Promark Technology's core technology focus is distributing data storage and virtualization products and solutions through a two-tier distribution channel to value added resellers (VARs) and system integrators. Promark Technology leverages its direct relationships with world class technology partners to provide solutions that meet the most demanding needs of its customers. Promark Technology also offers a Public Sector Business Program that helps resellers navigate the government selling process and expand the reach of their Business. The program provides authorized resellers the ability to leverage Promark Technology's GSA Schedule to market and sell products and solutions into both federal government and state and local organizations.  Promark Technology offers professional services in application integration, backup and recovery, network optimization, storage implementation and disaster recovery. To learn more about Promark Technology call 800.634.0255 or visit www.promarktech.com.
About Ingram Micro Inc.
Ingram Micro is the world's largest wholesale technology distributor and a global leader in IT supply-chain and mobile device lifecycle services. As a vital link in the technology value chain, Ingram Micro creates sales and profitability opportunities for vendors and resellers through unique marketing programs, outsourced logistics and mobile solutions, technical support, financial services and product aggregation and distribution. The company is the only global broad-based IT distributor, serving approximately 160 countries on six continents with the world's most comprehensive portfolio of IT products and services. Visit IngramMicro.com.