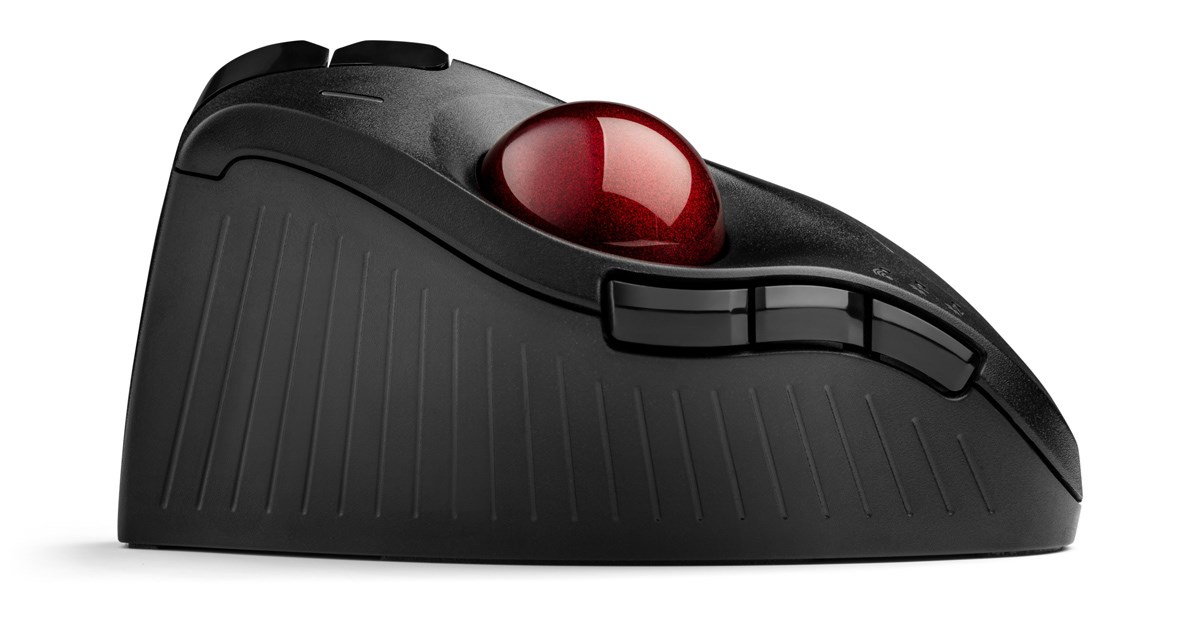 Give your hand a healthy break with ergonomist-approved comfort and premium cursor control.
San Mateo, CA – January 14, 2020 – Kensington®, the worldwide leader of desktop computing and mobility solutions for IT, business, and home office professionals and The Professionals' Choice, unveiled the Pro Fit®  Ergo Vertical Wireless Trackball, which provides the comfort and control of both a trackball and a vertical mouse. Perfect for new trackball users, the vertical trackball is easy to learn and offers nine programmable buttons for significant productivity gains.
Upgrade to all-day comfort with the ergonomist-approved vertical design of the Pro Fit® Ergo Vertical Wireless Trackball (K75326, SRP $79.99 – now available for purchase). A 60° tilt angle keeps the wrist in a natural handshake position to improve wrist and forearm posture and decrease the risk of musculoskeletal conditions such as carpal tunnel syndrome and tendonitis.
New trackball users can enjoy improved precision and productivity with a simple learning curve. The Pro Fit® Ergo Vertical Wireless Trackball uses the same left click, right click, and scroll wheel operation as a traditional mouse, while providing the advantages of a trackball with a simple roll of the thumb.
The premium optical tracking sensor and triple DPI switch provide optimal precision and easy cursor speed transitions. The 34mm finger-operated trackball requires a small desktop footprint, and lets users navigate multiple monitors and large files with smooth cursor control.
Works right out of the box with plug and play default settings, or use KensingtonWorks software to set pointer and scrolling options and customize nine programmable buttons to tackle common tasks with one touch. Connect the vertical trackball to up to three different devices — one via the 2.4GHz nano dongle that stows inside the trackball body, and two additional connections via Bluetooth.
A built-in trackball ejection button enables effortless removal of the trackball for cleaning to keep it functioning smoothly. Long battery life keeps the wireless trackball working for up to 18 months on two AA batteries (included). A low-battery indicator light eliminates surprises.
Kensington's Pro Fit® Ergo Vertical Wireless Trackball provides the ergonomic comfort and productivity benefits of both a trackball and a vertical mouse for a healthy and customizable navigation experience.
Resources:
Follow Kensington on:
About Kensington
Kensington is a leading provider of desktop and mobile device accessories, trusted by IT, educators, business, and home office professionals around the world for more than 35 years. Kensington strives to anticipate the needs and challenges of the ever-evolving workplace and craft professional-tier award-winning solutions for organizations committed to providing peak professionals the tools they need to thrive. The company prides itself as The Professionals' Choice, and on its core values surrounding design, quality, and support.
In office and mobile environments, Kensington's extensive portfolio of award-winning products provides trusted security, desktop productivity innovations, and ergonomic well-being.
Headquartered in San Mateo, California, Kensington is the inventor and worldwide leader in laptop security locks. Kensington is a division of ACCO Brands (NYSE: ACCO), one of the world's largest designers, marketers, and manufacturers of branded business, academic, and consumer products, sold in more than 100 countries across the globe.
Kensington is a registered trademark of ACCO Brands. Kensington The Professionals' Choice, KensingtonWorks and TrackballWorks are trademarks of ACCO Brands. All other registered and unregistered trademarks are the property of their respective owners.
© 2020 Kensington Computer Products Group, a division of ACCO Brands. All rights reserved.