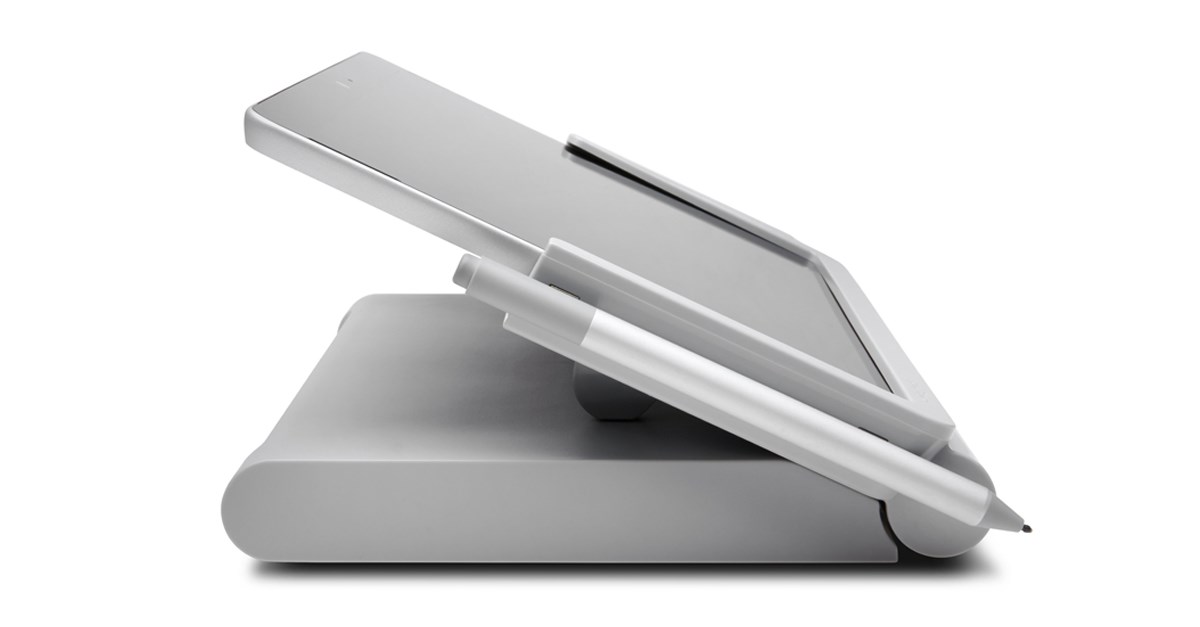 Accessories designed exclusively for Surface in collaboration with Microsoft, and built to work perfectly with Surface devices.
San Mateo, CA – January 14, 2020 – Kensington®, the worldwide leader of desktop computing and mobility solutions for IT, business, and home office professionals and The Professionals' Choice, announced three Surface Go accessories developed as part of Microsoft's Designed for Surface™ program. Surface Go users can elevate their Surface experience with a locking and docking solution that enhances productivity, creativity, and security; rugged cases that unobtrusively protect Surface Go; and locks that fit perfectly to secure the Surface Go without sacrificing functionality.
"Kensington has a history of working closely with Microsoft to develop products made specifically for Surface devices — from docking and locking solutions to military-grade rugged cases with integrated card readers — to help Surface users extend productivity, and protect and secure their investment," said Louie Yao, Director of Product Management at Kensington.
The SD6000 Surface Go Docking Station (K38700, SRP $349.99 – now available for purchase) is the first all-in-one Surface Go docking solution exclusively designed for Surface to provide a perfect blend of productivity, creativity, and security. Built on Microsoft's proprietary Surface Connect technology, users can connect with confidence for a seamless dock and charge experience. Extend productivity via 4 USB-A 3.1 ports (5V/0.9A), 1 USB-C 3.1 port (5V/3A), a 3.5mm combo audio jack, and a Gigabit Ethernet port. Leverage the hinged design to angle the Surface Go in the perfect position while a magnetic connection keeps the Surface Pen handy. Secure your Surface Go and dock with the optional locking module and choose between standard (K62918) or custom (K63251) keying solutions. The SD6000 is an ideal choice for offices with security protocols, point-of-sale locations, check-in counters, mobile carts, kiosks, education environments, and conference rooms.
Secure and protect your Surface Go, its data, and your network with the BlackBelt™ Rugged Case with Integrated CAC Reader for Surface Go (K97320, SRP $149.99 – available for purchase in February). The TAA-compliant case features a FIPS 201-compliant smart card reader, read-only memory (ROM), military-grade drop protection, a protective camera cover, and openings for the kickstand and all I/O ports. Designed to provide convenient and secure use of the Surface Go, the case features a self-adjusting hand strap that allows the device to lie flat, pen holder and tether, keyboard holder, and TypeCover strap.
Kensington's Combination Lock for Surface Pro and Surface Go (K66300, SRP $32.99 – now available for purchase) delivers uncompromised security. Non-invasive locking technology is supported by a secure carbon steel cable, and the lock head meets Kensington's industry-leading standards for tamper resistance, reliability, and durability. The four-wheel number code is programmed into the lock before arrival so you can put it to work immediately, without the need to set the combination yourself. Kensington also offers a Keyed Cable Lock for Surface Pro and Surface Go (K62044, SRP $44.99 – now available for purchase). Kensington's free online Register & Retrieve™ program provides quick and secure code registration or key replacement.
Developed and engineered in close partnership with Microsoft, Kensington's Surface accessories deliver a flawless fit with Surface Go. Explore Kensington's full portfolio of accessories Designed for Surface — including rugged cases, locks, and docking stations — and find the perfect solution to protect and enrich your Surface experience.
Resources:
Follow Kensington on:
About Kensington
Kensington is a leading provider of desktop and mobile device accessories, trusted by IT, educators, business, and home office professionals around the world for more than 35 years. Kensington strives to anticipate the needs and challenges of the ever-evolving workplace and craft professional-tier award-winning solutions for organizations committed to providing peak professionals the tools they need to thrive. The company prides itself as The Professionals' Choice, and on its core values surrounding design, quality, and support.
In office and mobile environments, Kensington's extensive portfolio of award-winning products provides trusted security, desktop productivity innovations, and ergonomic well-being.
Headquartered in San Mateo, California, Kensington is the inventor and worldwide leader in laptop security locks. Kensington is a division of ACCO Brands (NYSE: ACCO), one of the world's largest designers, marketers, and manufacturers of branded business, academic, and consumer products, sold in more than 100 countries across the globe.
Kensington is a registered trademark of ACCO Brands. Kensington The Professionals' Choice, KensingtonWorks and TrackballWorks are trademarks of ACCO Brands. All other registered and unregistered trademarks are the property of their respective owners.
© 2020 Kensington Computer Products Group, a division of ACCO Brands. All rights reserved.