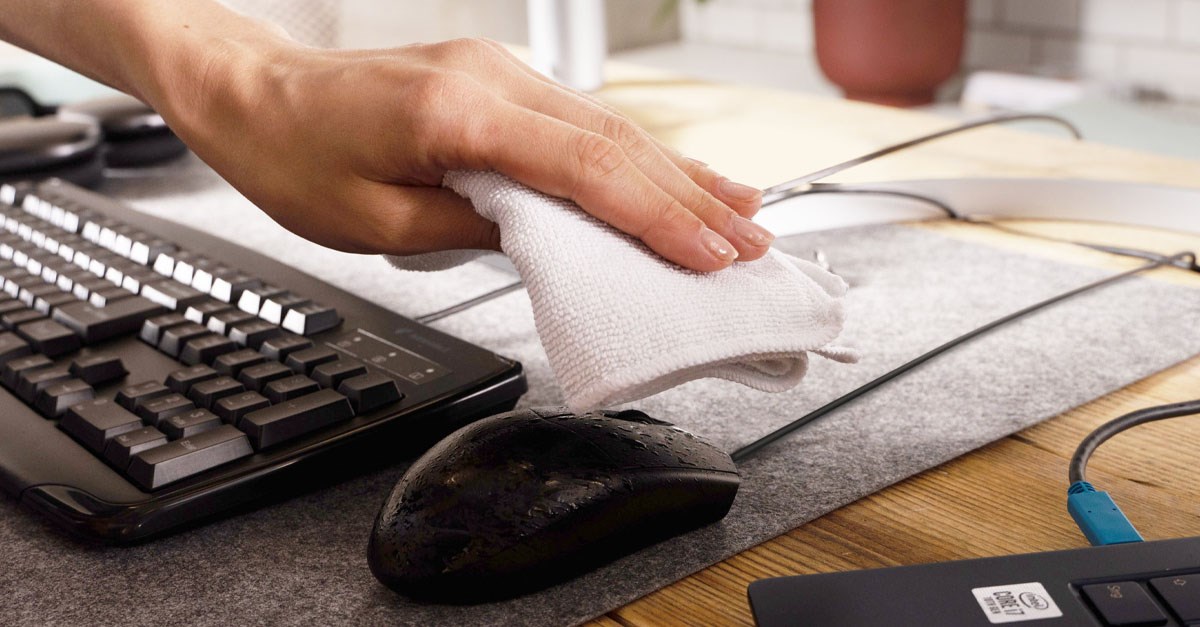 As people return to the office, cleanliness in the workspace is high on the priority list, especially for people that work in a hybrid shared workspace. 
While some workers have assigned desks, but some share desks with other colleagues. Creating a clean, fresh-air environment where employees feel comfortable requires a specific solution.
Kensington offers that solution with products that ensure a clean work environment - even shared spaces. These tech gadgets ensure employees can return to a shared workstation free from the worry of exposure to germs and other contaminants. 
5 Items to Keep Your Shared Hybrid Workspace Clean
Kensington's leading products and those recommended by this industry leader will help keep your shared hybrid workspace clean. Here are the top five must-have items for anyone sharing a workstation:
This keyboard makes cleaning and disinfecting easy. It has a protective membrane to keep out unwanted substances like food and soda. It has a protective membrane to keep out unwanted substances like food and soda. It also makes cleaning and disinfecting easy
If you want to clean it well, you can use bleach or alcohol. This gadget can withstand 24 hours of exposure to cleaning and disinfecting solvents. It meets Kensington's MIL-STD-810H Method 504.3 Contamination by Fluids standards.
Do keep in mind that the USB port cannot come in contact with liquids. So, make sure that you don't submerge the USB connecter in water or allow it to come into contact with solvents or cleaning agents.
The soft exterior of the wrist rest for Kensington's slip keyboard is supported by gel-cushioned padding, provides unmatched comfort, and resists sticking to your skin. It easily wipes clean with any surface cleaner, so you can stay focused on your work without interruptions or distractions.
The wrist rest is designed to provide optimal health, comfort, and protection. The ergonomic design helps you minimize the impact of repetitive strain on your hands. It's perfect for work or play because it combines softness with science.
The wrist rest is the softest and highest quality material available. It's made from gel-cushioned padding to promote comfort while you work. It won't stick to your skin and wipes clean easily.
This high-performance mouse pad works well for both laser and optical mice, with the ideal balance between speed and control. Also, it is made of non-toxic material that meets Kensington's contamination by fluids standards.
The ergonomic pad supports the optimal health, comfort, and protection of your wrist. It does this by aligning with proper dimensions to minimize repetitive strain on muscles and tendons in your wrist that might be caused by using a regular flat surface for an extended period.
This sleek mouse pad is highly functional and provides a preferred size surface. The non-skid backing ensures that it will stay in place and prevents damage to any desk or tabletop surfaces. This durable design can be used daily without fail.
The next item on the list comes from TruSens. Kensington recognizes this brand as an industry leader in providing clean air for your work environment.
Offices don't always offer the best air filtration systems. That is why these air purifiers from TruSens are the best portable solution you can get your hands on.
The air purifiers by TruSens offer remote sensing technology, dual-stream airflow, and DuPont filtration. They also have Wi-Fi-enabled smart features that allow you to monitor it remotely with the Z-2500 and Z-3500 models.
These air purifiers come with a two-year limited warranty. You can also purchase them in bundles that include a specialty anti-viral Allergy & Flu Filter. This will ensure the air you breathe is cleaner no matter where you are working.
This washable mouse has a rugged design. It is made of tough material that allows this device to hold up even when immersed with fluids or is frequently exposed to cleaners and disinfecting agents. It is ideal for maintaining a hygienic surface while cleaning spills without sacrificing performance.
It has a three-button scroll wheel setup. This feature makes it comfortable for either a left- and right-handed user. Also, this mouse is a perfect companion with Kensington's Pro Fit® Wired Washable Keyboard in both style and cleanliness.
Tips for When You Return to Work Post-Pandemic
Many people worry about the safety of returning to work post-pandemic.  If you're returning to the office on a hybrid work schedule, it is understandable that you may have some concerns.  
However, according to the CDC, employers should create a workplace health and safety plan for returning to the office post-pandemic. Consider a few tips that will help you make that transition a little easier:
Stay home if you are not feeling well (even just a headache)
Maintain social distancing when possible
Do not cover your mouth and nose with your hand
Keep hand sanitizer readily available
Wash your hands properly (20 seconds or more)
Use disinfecting wipes
Avoid touching your face
This is by no means a comprehensive list. There are several ways you can ensure your health and safety — and those of your colleagues — when you return to work. 
Precautions are necessary. However, that does not mean you need to live in fear of heading back to the office, even if you must share a workspace with others.
Kensington Has You Covered for a Cleaner Shared Hybrid Workspace
At Kensington, we bring technology and our expertise together to empower your workforce in a changing workplace. We provide new tools so that you can meet the demands of modern work life while still connecting with coworkers who may be physically present or remote from one another.
With around 94% of organizations offering a more flexible work schedule with a hybrid model, we can help you navigate these complexities as we all learn to manage the new normal. We want to help employees embrace and to thrive in the hybrid shared workspace.
Hybrid workspace in the new norm post-pandemic. Kensington has the tech accessories to help you keep your shared workspaces clean and germ-free. Check out the latest in Kensington's line-up of hybrid solutions.