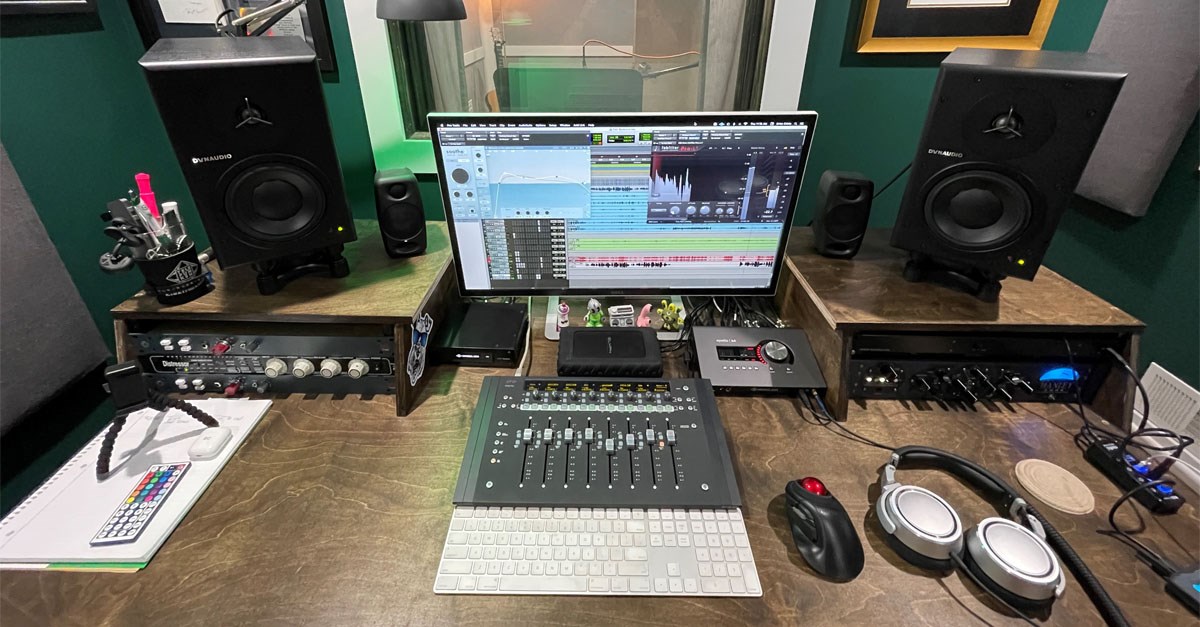 Influencers in their industry share insights on trackball products in Kensington's Trackball Ambassador Program. They provide detailed reviews of devices they use daily to stay productive.
You get to tell us (and everyone else) all about your experiences with trackball products and what we can do to improve our design. As a representative of our ambassador program, you might even have some input on how they could function better than ever before.
Our ambassadors are those who want to contribute their knowledge and experience. We welcome innovative leaders, ergonomics experts, or even everyday users to share insight about what they know to help others learn from them. We work with:
Architects
DJs
Engineers
Graphic Designers
Music Producers
Video editors
People with disabilities
Those with carpal tunnel syndrome or other muscular strains
Introducing Brian Chirlo
Brian is a Grammy Award-winning recording and mixing engineer. He's won seven Grammys in the thirteen years that he's been doing this professionally. To name a couple, at the 54th Annual Grammy Awards, he won "Best Pop/Duo Performance" for Body and Soul by Tony Bennett and Amy Winehouse. He also won a Grammy for "Best Traditional Pop Vocal Album" for his work on Duets II by Tony Bennett.
He's worked with talented musical artists, helping to create billboard hits by Diplo, Skrillex, Paramore, Tony Bennett, Amy Winehouse, and many more. 
He owns HNBH Recording, a full-service recording studio that records, mixes, and masters albums for new and existing artists. Brian is also known for his work on Pro Studio Live (2014), Pegasus (2017), and Squeeze (2020). 
Q & A with Brian Chirlo
We talked with Brian to learn more about him, his influence in the industry, and why he prefers Kensington's trackballs for his work in the music industry.
Here is what he had to say:
Q: When did you start using trackballs and how often do you use one?
A:  I started using trackballs back in 2008 when I first got hired in a professional studio. They were already in all the rooms at the studio. At first, I wasn't sure why they were using them, but once I got the hang of it, there was no turning back.  
Q: Which is your favorite Kensington Trackball? And why?  
A:  Right now, my favorite is the Orbit Fusion, but I always have an Expert Mouse in my bag that I take with me to studios.
The Orbit Fusion Trackball is a great product! Another amazing option is the Expert Mouse® Wireless Trackball. It allows you to connect via Bluetooth® LE or with a reliable 2.4GHz USB nano receiver.
Q: When did you join the Kensington trackball ambassador program and what do you love about it?
A: I think I joined about a year and a half ago. I really love being able to see the new products beforehand, and the ability to have some input on some features and functions of the new products.
We appreciate the insight given by Brian on his experiences with our products. For that reason, we continue to work with him (and all our industry-leading ambassadors) to ensure we are putting the best products on the market.
Q: Do you use KensingtonWorks™ to customize your Trackball settings? If so, what are your cool customized settings?
A: I don't use any custom settings, as the standard ones are great. I'm a freelance engineer, so I'm not always working in my studio. If a studio I'm working out of doesn't have a trackball or the software, I like to be able to just plug in and go, and not have to worry about changing my workflow.
Another great feature of our trackballs is how customizable they are with KensingtonWorks. However (much like Brian), many people find that customizing their trackball isn't necessary at all. They appreciate the plug-and-go technology and work with the standard settings right out of the box.
Q: Would you recommend a trackball? If yes, why?
A: Absolutely. A mouse is an essential tool in my line of work. Without it, I cannot do anything. The trackball takes up almost no space, so even in the tightest of setups, I don't have to worry about a place for the mouse to move around. Everything is at my fingertips, and it can be 100% stationary.
One of the best features of a trackball is that you don't need space to move around a traditional mouse. A trackball is a perfect solution for freelancers, remote staff, and hybrid workers who move from workspace to workspace. That way, even if their workstation has limited room for all of their tech gear, the trackball has you covered.
Follow Brian Chirlo on His Social Media Pages:
To connect with Brian Chirlo, check out his social media pages today. Follow this talented audio engineer to learn more about his latest projects.
Content Creators, Ergonomic Experts, Everyday Users, and Engineers Wanted!
Are you a content creator, ergonomic expert, engineer, or everyday user passionate about tech accessories? Then, we are looking for you! Kensington's Ambassador Program gives you, other influencers, and industry experts a platform to provide feedback on Kensington's trackball products that you use daily – products such as our Orbit Fusion trackball. We want to know about what you believe could be added or improved.
We're looking for influencers who are excited about our trackballs and would be eager to share their thoughts on what sets them apart. If this sounds like something that interests you, apply today and describe your experience with the product.
Once you apply, you'll hear back from one of our team members about your possible contribution as a Trackball Ambassador.
Do you love trackballs? Apply to be a Kensington Trackball Ambassador today! We are looking for trackball enthusiasts to tell us their opinion about these products.