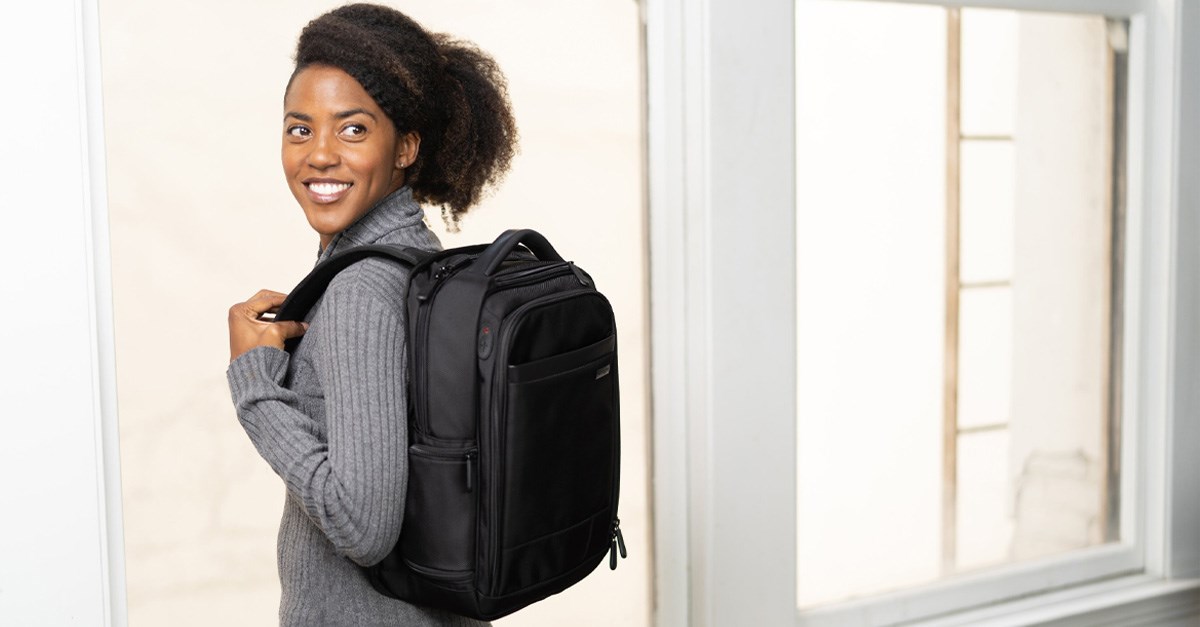 It's a new decade, and that brings fresh ideas to hit the road and explore the far corners of the globe. Of course, that gets expensive. In fact, the U.S. Travel Association estimates travelers in the U.S. spend an average of $3 billion per day. Business travelers alone account for $518.7 billion in travel spending each year.
If you're joining the travel crowd again this year, a travel backpack is one of the most important accessories you should own. Don't leave home without the proper travel backpack to protect your gear. Although the luggage you use for travel is different than the backpacks you buy your kids for school, you can protect your devices in either one.
Whether you're traveling for school or business, you need a stylish laptop backpack or tablet backpack. Kensington has a great selection of quality laptop bags, tablet backpacks, and more to keep your gear protected while you're traveling.
What to Look for in a Laptop Bag
As a working adult, you're responsible for a lot of valuable equipment and need to prepare for certain factors. A travel backpack should have the proper support whether you're wearing it on your back or carrying it on one arm. 
A travel backpack is different than a school backpack, which simply needs to carry a laptop or tablet, along with a few books/folders. Even on a field trip, students don't require much. A teacher or any other staff on that field trip would benefit greatly from luggage, although many modern school backpacks are useful as luggage too.
Here's what to look for as you commute or travel for school and work.
Stylish Laptop Bags for School
A school backpack needs to protect and cushion your laptop separately from other accessories. Kensington's LS150 Laptop Backpack fits the bill. This stylish laptop backpack has a sleek black look that matches any outfit and any laptop 15.6" or smaller. It can also accommodate all your accessories while providing support for your shoulders, neck, and back.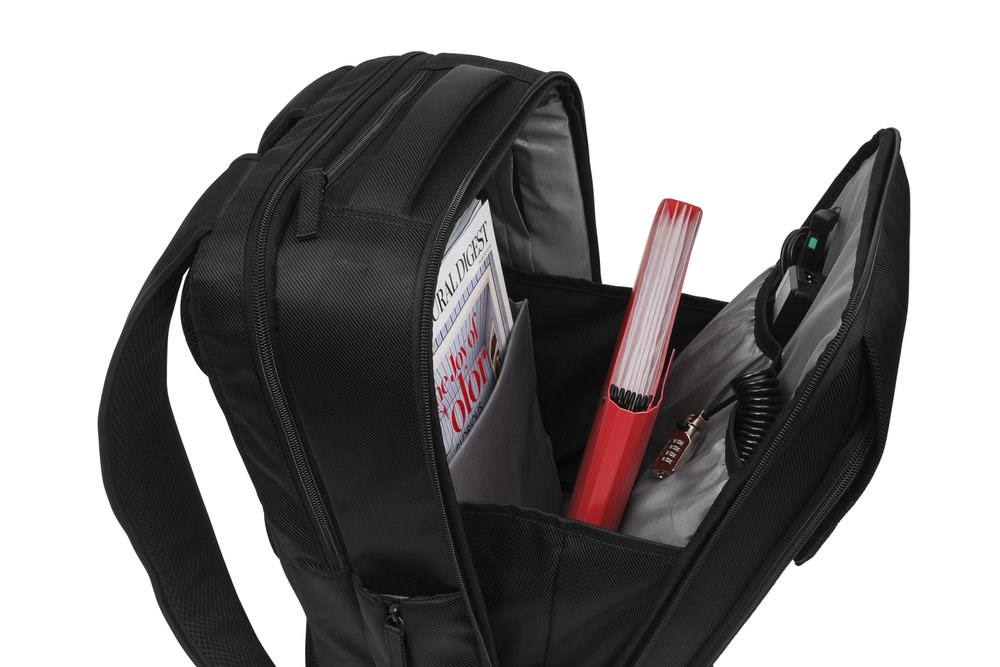 For an upgraded school backpack, high school and university students will appreciate the SecureTrek™ 15.6" Laptop Backpack. This trademarked lock base includes four hammerhead zipper pulls and a stainless-steel door for the most advanced, premium anti-theft security on the market. This lets you lock your laptop in place with steel cable and TSA-approved lock. It also comes with a 10-year limited warranty.
Alternatively, you can get the 17" overnight backpack. The anti-theft protection doesn't take away from the convenience of the SecureTrek™ lineup. There's plenty of space and storage options within each compartment to organize all your cables, drives, pens, business cards, keys, and more. The 840D Poly Twill shell and checkpoint-friendly design makes it ideal for any environment with security.
Travel Backpacks to Stay Productive on the Go
Kensington's Contour™ Laptop Backpack is a 16-inch, padded, stylish laptop backpack that also features adjustable lumbar support. This sleek, ergonomic design relieves neck, hip, and shoulder strain, so you can carry your laptop with all the accessories, clothes, and personal hygiene items you need. Contour™'s flap-free design allows easy access to any of its spacious compartments.
It even has a bottle holder and headphone port, so you can be hands-free while you're on the move. Contour™'s handle doubles as a strap to easily attach to a wheeled bag, while its 1680 Denier Ballistic Nylon protects against any damage. Just because you're exposed to the elements doesn't mean your gear needs to be.
Kensington has laptop backpacks for any type of trip you take.
Choosing the Right Tablet Backpack
Laptop backpacks are great, but you may only carry a tablet or Ultrabook. In that case, you shouldn't have to settle for a bag designed for a laptop. These mobile devices have smaller form factors that need their own design. Kensington has you covered there too.
The Triple Trek™ Ultrabook™ Optimized Backpack has fleece-lined compartments to fit your tablet, Ultrabook, or Chromebook, along with your smartphone. Adjustable straps and padded back support give you ergonomic relief while carrying, and reflective zippers keep you visible at night. There's even a hidden pocket for your valuables.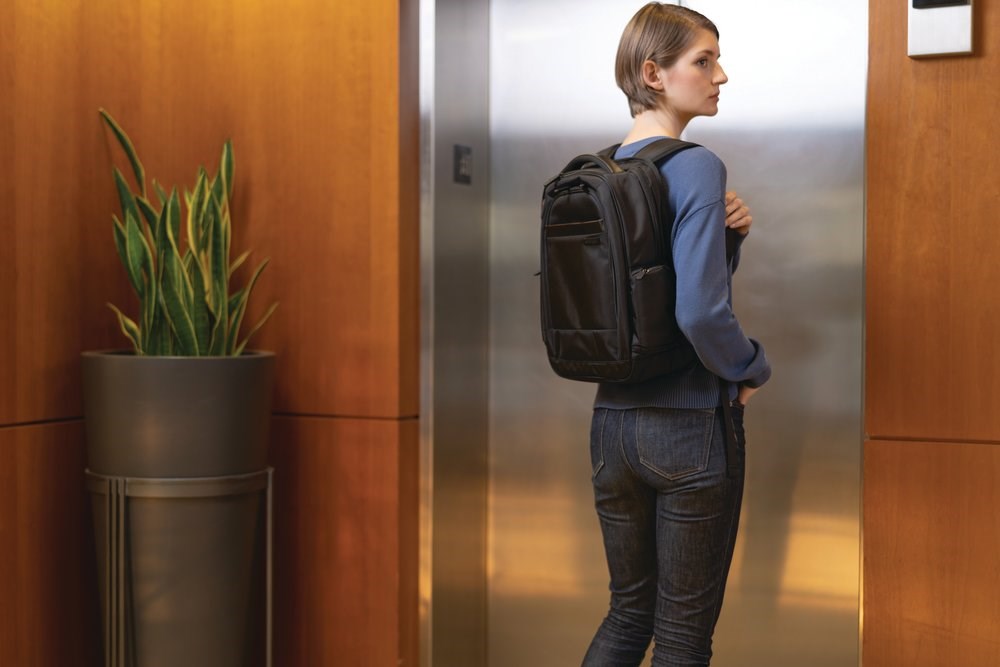 Kensington's Contour™ 2.0 Executive Laptop Backpack also accommodates 14" or smaller devices. It has a heat-dissipating design that hugs your back to bring your bag's contents within your center of gravity. This novel weight distribution means you can carry your bag longer, without straining your vital core muscles and joints. It also includes executive-level security.
A puncture-resistant, lockable zipper protects your device from theft, while an RFID security pocket keeps malicious cyber criminals from stealing your information or identity. It's water-resistant, thanks to the 1680D ballistic polyester shell and can securely attach to a roller or carry-on to get through the airport with ease.
Kensington Delivers a Stylish Laptop Backpack
Functionality is one thing, but Kensington also delivers on style. The Simply Portable SP25 is a stylish black laptop backpack for devices up to 15.6". It eases neck and shoulder strain with its padded shoulder straps, while repelling the elements and remaining easy to carry and clean. This is done through the trademarked design that contours to your body.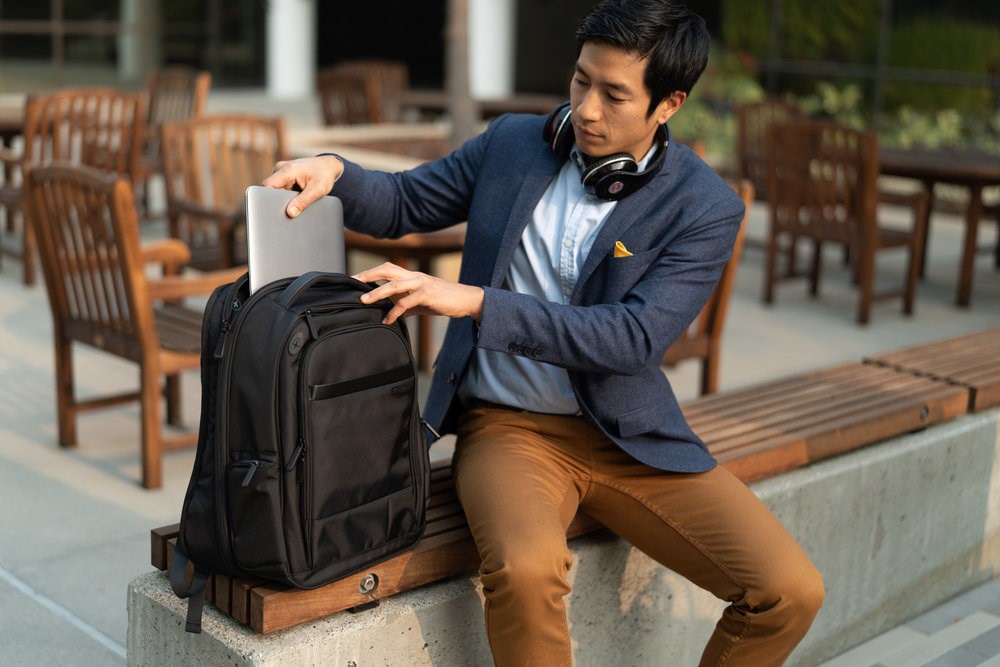 The Contour™ 2.0 lineup also includes the 15.6" Business Laptop Backpack and 17" Pro Laptop Backpack. Each includes the same ergonomic, heat-dissipating design as the Executive. They also include RFID security pockets, puncture-resistant, lockable zippers, drop protection, and water resistance. An integrated bottle holder and trolley pass through ensure convenience in addition to style.
Contour™ is functional and stylish for both you and any security you pass through. The TSA-friendly design gives full access during screening so you can easily pass through and get on with the rest of your trip.
Find Your Perfect Travel Backpack Today
Travel is on everyone's mind this year. Whether it's a school field trip, heading to a new city to go to college, commuting to work every day, or taking a business trip, Kensington will come with you. We've created the best computer accessories for decades, and we can keep you powered and protected anywhere you go.
From the desk to your car, or even on a plane, train, and automobile, our finely engineered travel bags keep you organized and ensure everything arrives safely. You have a lot on your mind, and keeping track of your valuable personal belongings while on the go shouldn't be one of them. Trust Kensington to keep you working through anything.
Check out Kensington's full range of laptop cases and bags or contact us to speak with a consultant to find the exact fit for your organization.