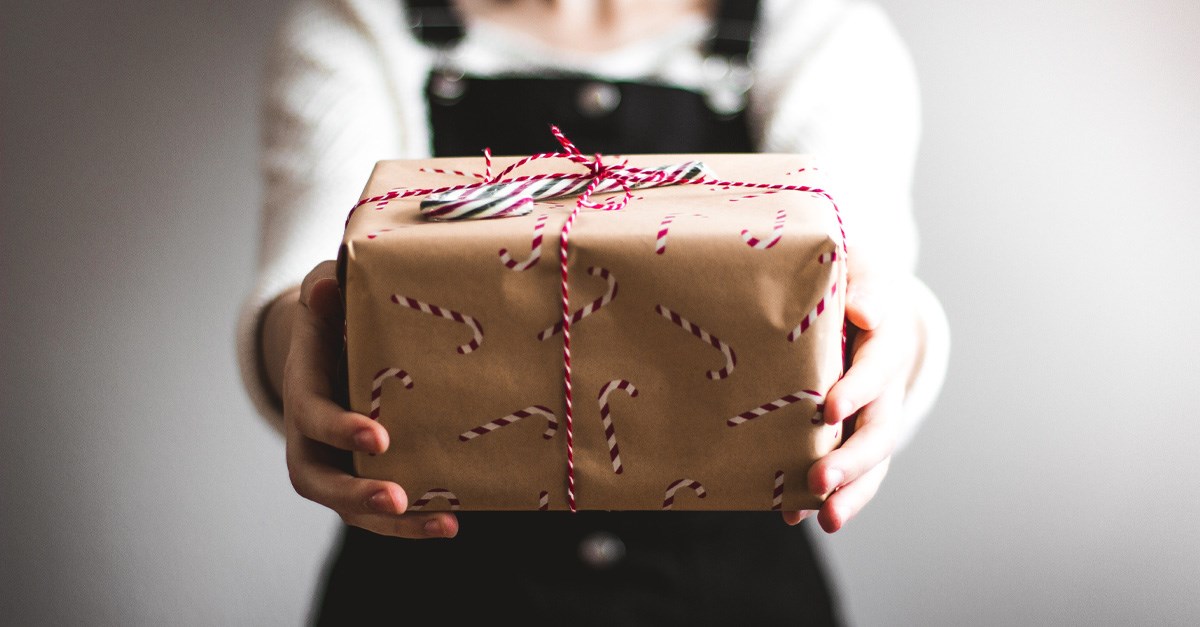 'Twas the night before Christmas, when all through the house
Every creature was stirring, and using a mouse;
No stockings were hung, no lights but no cares,
With overnight Prime shipping, it all soon would be there;
Holiday shopping is easier than ever, and the only casualty from the "death of retail" is those crazy Black Friday crowds – good riddance. We evolved as a society and you can browse online catalogs in the form of gift guides to find the perfect item for everyone on your list this year. Since you're shopping from the comfort of your own home, it's only fair to spread that joy to your friends, family, and coworkers this Christmas.
Kensington Gifts for Wellness
Kensington makes innovative solutions for comfort at the desk, on the go, or anywhere you're using technology. The idea of a man at the North Pole tracking everyone and delivering gifts to everyone in the world overnight is a myth. Everyone knows Jeff Bezos lives near Amazon HQ in Seattle, Washington, 1,500 miles south of Santa, and Bezos Claus has everything you need to do more than just wish your family well.
You can provide wellness with this ergonomic gift guide.
1. The WellView™ Family Monitor Stands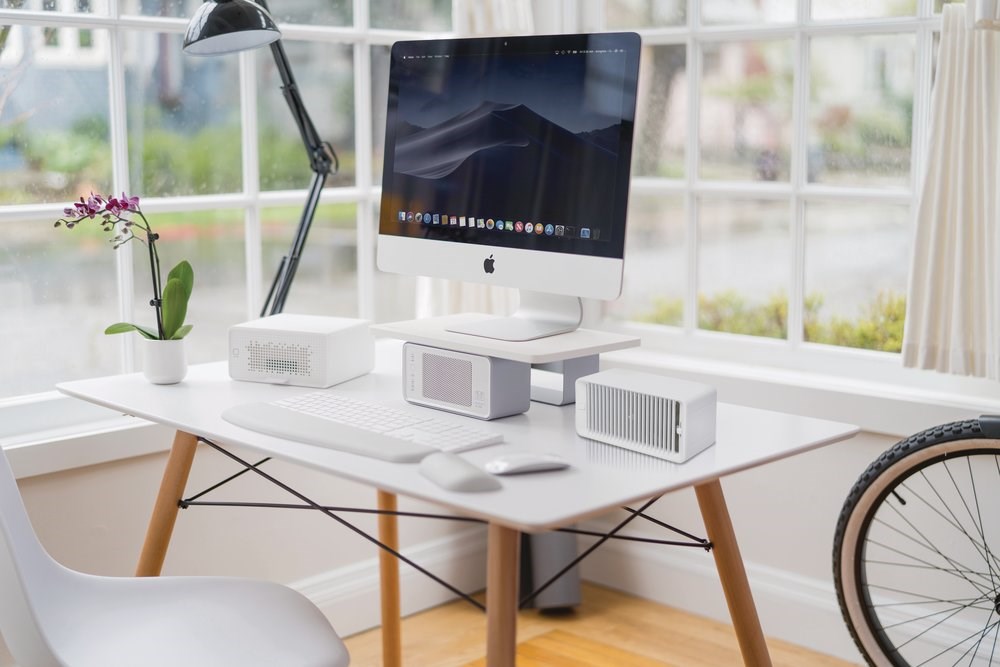 Are your parents always reminding you that you're a pain in the neck?
Give them a solution with an ergonomic monitor stand. Kensington's WellView™ family of wellness monitor stands not only elevate laptops, all-in-one PCs, or monitors up to 27", but they also provide personalized temperature control for your workstation. There are three iterations of WellView™ stands, and your active lifestyle will benefit from all three.
CoolView™ is a wellness monitor stand with a desk fan that circulates the air and provides cooling relief in a warm climate.
WarmView™ is a wellness monitor stand with a ceramic heater that warms your workspace in the blistery winter months (or when your office insists on cranking the A/C).
FreshView™  is a monitor stand with an air purifier to provide a breath of fresh air in buildings crowded with people.
With the WellView™ family of monitor stands, you'll give the gift of proper posture and personalized temperature anywhere your parents work. Who's a pain in the neck now?
2. Pro Fit® Ergo Keyboard/Mouse Set

Whether gaming or working, ergonomic keyboards and mice support your hands, wrists, and forearms to ensure maximum comfort at your desk.
Kensington's Pro Fit® Ergo Wireless Keyboard and Mouse Set supports, cushions, and cradles your wrists to provide neutral alignment of your hands and wrists. The split/sloped keyboard design has an adjustable reverse tilt and quiet-click keys so you can stay up late typing without disturbing the family.
It's not just comfortable – spill-proof keys, dual 2.4 GHz and Bluetooth 4.0 LE wireless support (with 128-bit AES encryption), five programmable mouse buttons, and three-mode power saving makes this a utilitarian and ergonomic solution for any hardcore computer user.
3. SmartFit® Conform™ Back Rest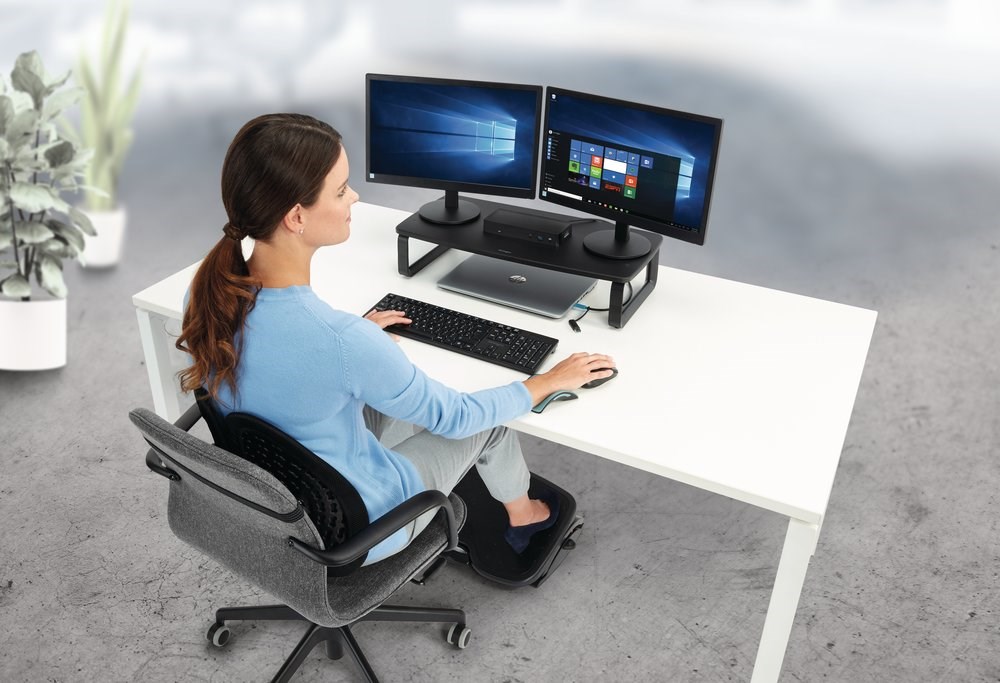 You always tell your friends you got their back, so why not show them with the ultimate back-supporting innovation for computer chairs?
Kensington's SmartFit® Conform™ Back Rest has a color-coded chart that lets you select an ideal, personal height setting for customized spinal and lumbar support while sitting. Its four independent springs conform to your body's shape and movements while dissipating the heat that comes from sitting for long periods.
Now you can smile, knowing that you truly have your friends' backs every single workday of their lives.
4. SmartFit® Easy Riser™ Go Laptop Stand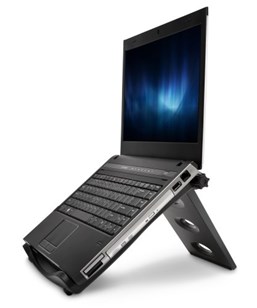 Uncle Chad always has problems keeping his cool, and that's probably because his laptop keeps overheating while he's trying to work.
Chad could use Kensington's SmartFit® Easy Riser™ Go Laptop Stand to dial his preferred height and increase air circulation underneath the laptop to ease heat strain on internal components. This highly portable system is designed to save space and fold flat to it easily fits into your existing 12"-17" laptop case. This simple solution extends the efficiency and life of Ultrabooks, Macbooks, and everything in between.
If Chad's still blowing his top, at least you narrowed down the problem. Maybe include a switch and a lump of coal.
5. ErgoSoft™ Wrist Rests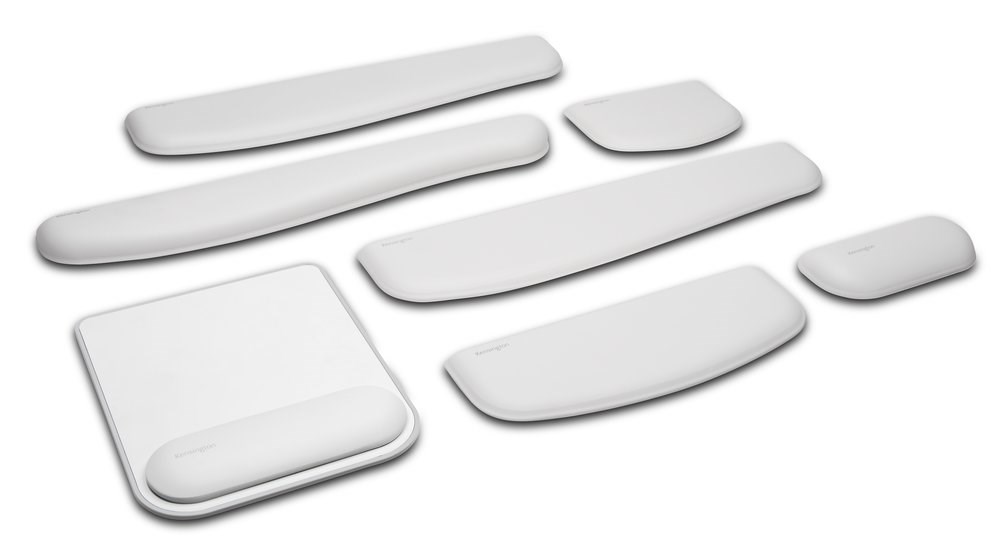 Everyone has their own favorite keyboard and mouse, and they come in all shapes and sizes these days. A wrist rest that fits is a thoughtful gift for anyone in the office or at home.
Kensington's ErgoSoft™ Wrist Rests fit slim, standard, and gaming/mechanical keyboards, along with any size mouse. These pads have a premium exterior and gel interior that provides an ultra-soft feel while keeping your hands and wrists in place with non-skid rubber backing. This TAA-compliant and ergonomist-approved solution is the perfect wellness gift.
This should cover your office Secret Santa or White Elephant gift exchange at the office Christmas party while stuffing everyone's stocking.
6. SmartFit® SoleMate™ Pro Ergonomic Foot Rest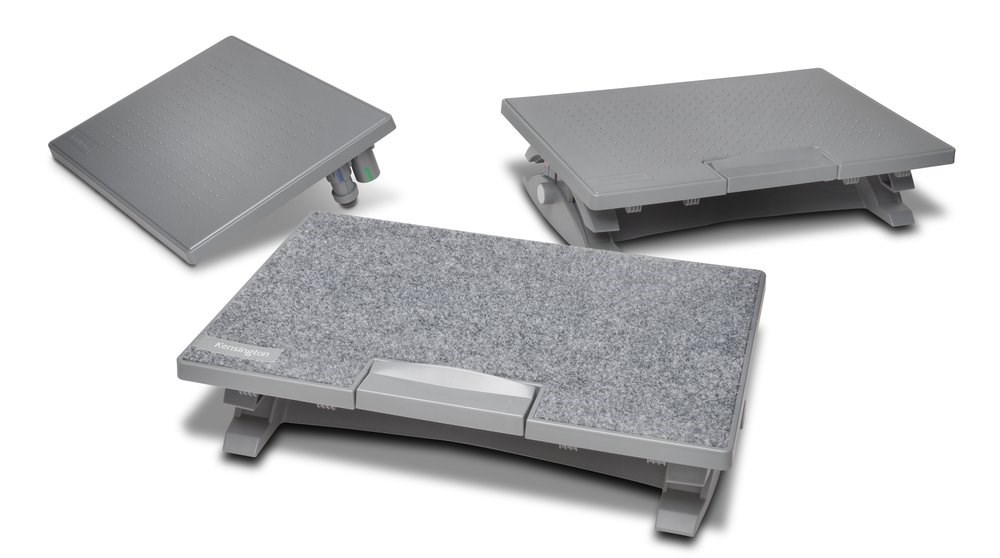 Aunt Karen lives an active lifestyle and needs leg and back support, even when sitting down. She's been running marathons the past decade and has no plans on slowing down now.
Kensington's SmartFit® SoleMate™ Pro Ergonomic Foot Rest has a locking foot pedal control to adjust the height, angle, and tilt for the perfect ergonomic work position. This footrest promotes healthy blood circulation while improving posture with an elegant design focused on maximum performance. Upgrade to a professional fabric cover in the SmartFit® SoleMate™ Pro Elite model or try the SoleMassager for an even more active lifestyle.
Karen can put as many miles as she wants on her feet now while using work as recovery time.
7. OfficeAssist™ Multi-Function Copyholder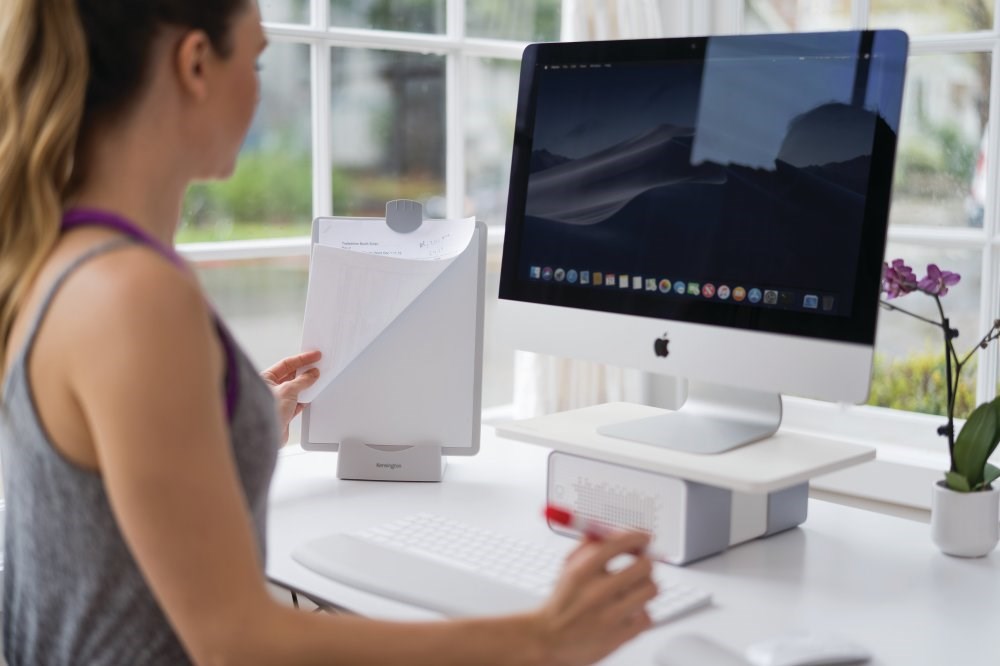 Santa's nice and naughty list is child's play compared to your nephew Charlie's college life. He has a lot of assignments in class and at home, and schools mix a lot of paper and digital.
Kensington's OfficeAssist™ Multi-Function Copyholder saves space by holding multiple items at once, from a worksheet to an entire textbook, pens, VESA monitor, or even a smartphone or tablet. It even has a magnetic dry-erase whiteboard for brainstorming solutions to tough problems. This is the ultimate productivity assistant that's perfect for anyone who jumps between digital and physical.
Charlie will get through the rest of his college career outperforming the rest of the class, thanks to your thoughtfulness.
It's a Wonderful Life
Holiday shopping used to be a chore, but it's so much easier these days. Instead of dredging through ice and snow to crowd into malls, you can accommodate everyone on your holiday list with just a few clicks of the mouse.
Kensington understands the mobility needs of today's active lifestyles. Wellness doesn't stop during the holiday season any more than it does when you're working. Your friends and family deserve more than just a joyful Christmas – they deserve peace and comfort at the desk throughout the entire year.
We're leaders in productivity products for a reason. Browse our wide selection of ergonomic solutions to provide holiday cheer from this Christmas to the next one and beyond.