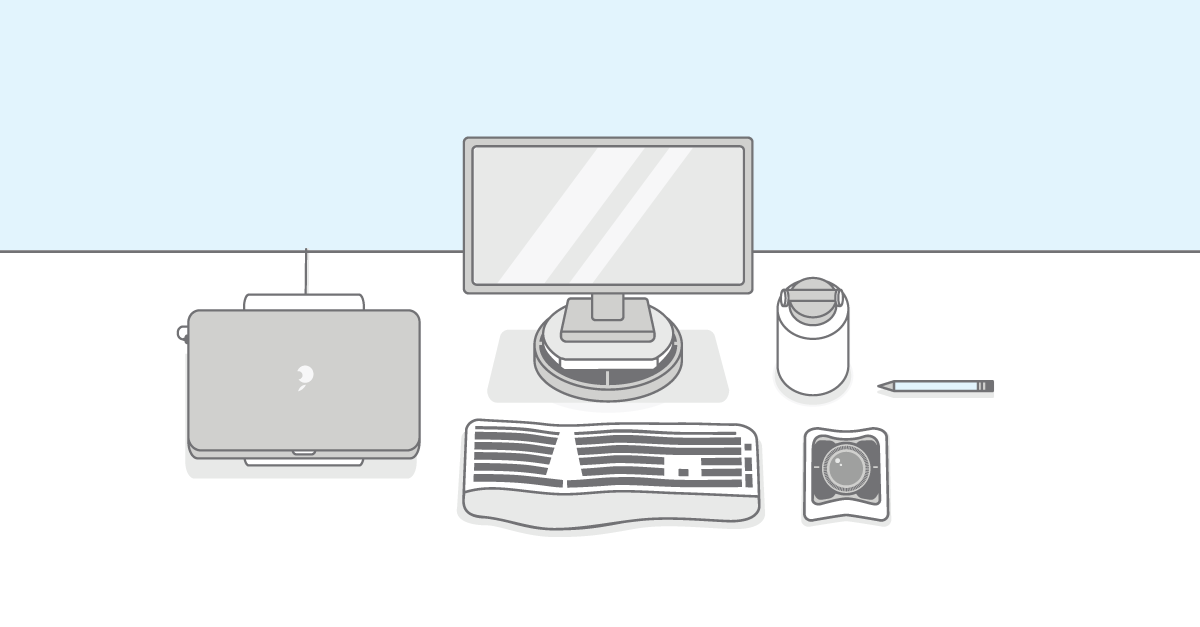 If you're working remotely, these are 5 must-haves for an efficient home working station: 
An ergonomic chair and ergonomic accessories

Fast and reliable internet

External monitors and docking station

Keyboards, mice, and trackballs

Audio equipment
Whether you're working from home (WFH) for the first time or are already an experienced telecommuter, a dedicated workspace is essential in maximizing your comfort and productivity.
Your WFH work area doesn't need to be a carbon copy of an actual cubicle or corner office with lots of furniture, filing cabinets, and the whole works - but it does need to be an environment in which you feel like you can do your best work.
There's ample evidence that simply switching from a traditional workspace to WFH can, by itself, deliver a big productivity boost. A majority of managers in one survey thought WFH employees were more productive, and over 80% of workers themselves felt like they got more done by being alone, including in WFH home office setups.
With that in mind, it's worth putting your best foot forward when WFH by creating an ideal workspace.
Let's see what are the 5 must-haves to set up your work station at home:
1. A comfortable chair and ergonomic accessories
WFH can present challenges - both mentally and physically - if you don't have the right setup in place. An ergonomic chair is a great starting point, though you can use a back rest or seat cushion to turn even a normal chair into something suitable for extended periods of work.
Additionally, utilizing a footrest can help you sit back in your chair and take the tension out of your lower back and upper legs.
On top of these amenities, accessories that get the screens you look at to eye level should be a priority. Monitor arms, monitor stands, and laptop risers can quickly and easily raise your screens to the correct height.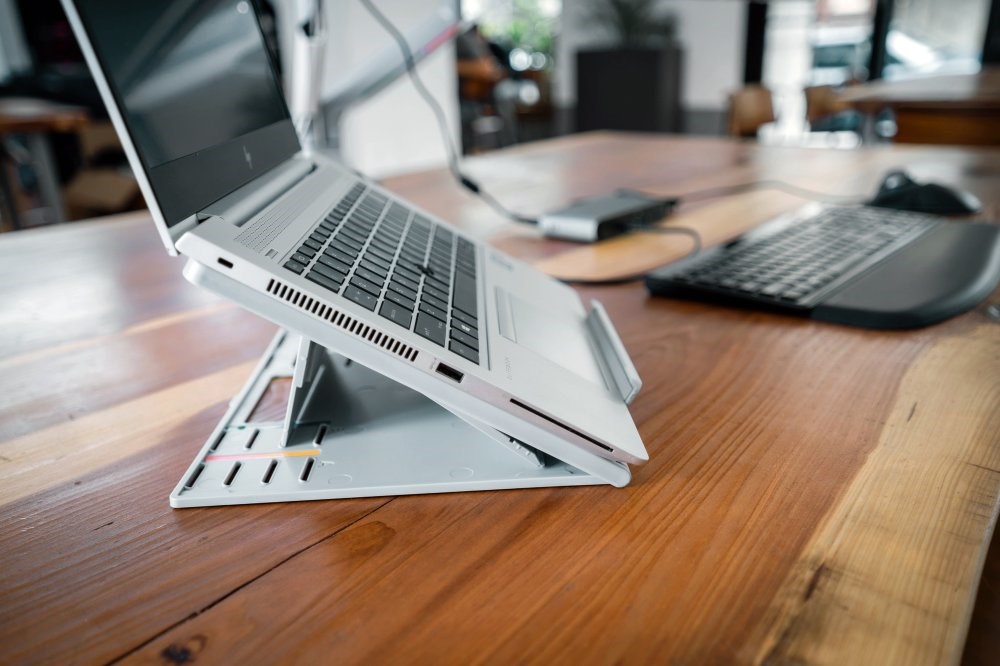 Putting all these different ergonomic solutions together is worth it, for the sake of not only your productivity but - more importantly - your health.
The U.S. Bureau of Labor Statistics has found that musculoskeletal disorders, caused by stresses like doing repetitive tasks at a desk all day, are among the most common and debilitating workplace injuries.
Just because you work from home doesn't mean you're insulated against these risks, so take them seriously.
2. Fast and reliable internet
WFH can put your internet connection to the test. Ookla has estimated that the average home internet speed in the U.S. is 96 Mbps down and 33 Mbps up.
That's more than fast enough for most everyday use cases (e.g., visiting sites, managing email, and listening to music), but bear in mind it's an average, so many connections are slower.
Plus, sharing bandwidth - like with your kids or family members - when you need to do something like hop on a video conference, can result in a jarring experience.
If you're WFH full-time, consider investing in faster internet. Fiber-optic is preferable to cable if available, as it is symmetrical and not as affected by heavy neighborhood usage.
In terms of equipment, pay attention to the following:
Routers should have up-to-date firmware and ideally support the latest wireless technology standards. At the time of this writing, that was Wi-Fi 6 (IEEE 802.11ax).
Positioning is key. If you find that you can't situate your home office close enough to your router, consider a mesh network, which distributes the connection across your workspace/home.
Ethernet adapters, or a docking station with an RJ45 Ethernet jack, can provide a faster and more stable connection than Wi-Fi.
3. External monitors and docking station
A common WFH setup is to just use a laptop in any place that's comfortable for standing or sitting. There are ergonomic drawbacks to doing so, though, and it's a much less versatile setup than using an external monitor.
Setting up multiple displays can boost productivity by over 40%, according to a Jon Peddie Research report. More specifically, these dedicated monitors give you much more screen real estate to work with, making it easier to manage complex files like spreadsheets, multitask between applications, and use group collaboration software.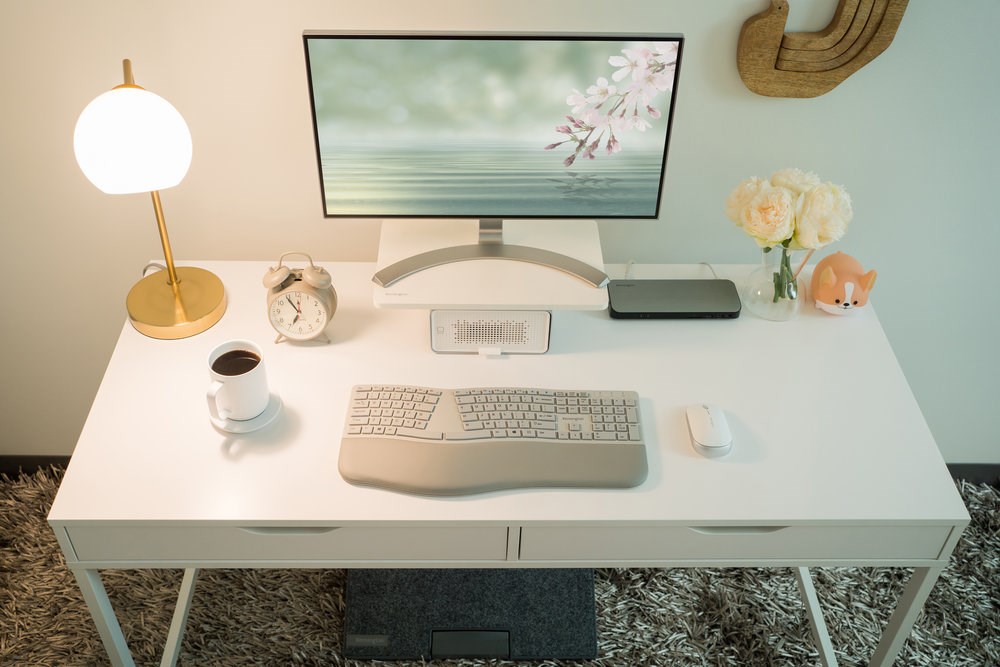 Docking stations can deliver an even fuller experience. Not only can they connect your laptop to an HD or UHD monitor, they can also simultaneously support accessories like keyboard, mice, and storage.
Don't worry if your laptop has only a few ports, like many PCs and Macs made from the mid-2010s onward - laptop docks can turn even one port into many with a simple cable connection.
4. Keyboards, mice, and trackballs
If you work from home regularly, chances are you're in front of your laptop a lot of the time. The built-in keyboards and trackpads on many laptops can leave a bit to be desired, though:
Key travel (the physical distance a key goes when pressed) on laptop keyboards has been declining for years, which is generally bad news for finger comfort.
Sharp edges and ultrathin designs mean there's not much to rest your wrist on, either.
Put these two issues together, and you have a recipe for prolonged stress and possible injury.
External mice and keyboards are not only more enjoyable to use, but they are much more comfortable. Take it a step further with an ergonomic keyboard, mouse, or trackball, which are designed to place your fingers, hands, wrists and forearms in neutral positions, for relief even during prolonged use.
5. Audio equipment
Depending on your role, you may have to participate in regular conference calls or online meetings while working from home. There's no shortage of good home office setup options here, including:
Mobile phone with wireless headphones: Something as simple as an iPhone + AirPods can give you pretty good audio quality and control. Consider using Wi-Fi calling if your mobile carrier supports it, as it may provide better coverage in hard-to-reach indoor areas; this is where a well-optimized internet connection, as described in section two above, can really come in handy.
Computer audio with headset: Most online meeting platforms can be joined without a dial-in, in which case you'll use a link or an app. Using your laptop with a wired headset can provide unrivaled clarity while sparing you the entry of a phone number and PIN. Bluetooth headsets can also come in handy, but be mindful of battery level and interference.
Conference call speaker: These specialized speakers deliver great audio quality along with hard buttons for muting, dialing, and more. While not strictly necessary in most cases, they provide the closest thing to an actual in-office experience.
Speakers more generally can be useful to have on hand in your home office. Playing music is a good way to block out distractions/noise and it can boost productivity, too.
Learn more about WFH and Kensington solutions that can help
---