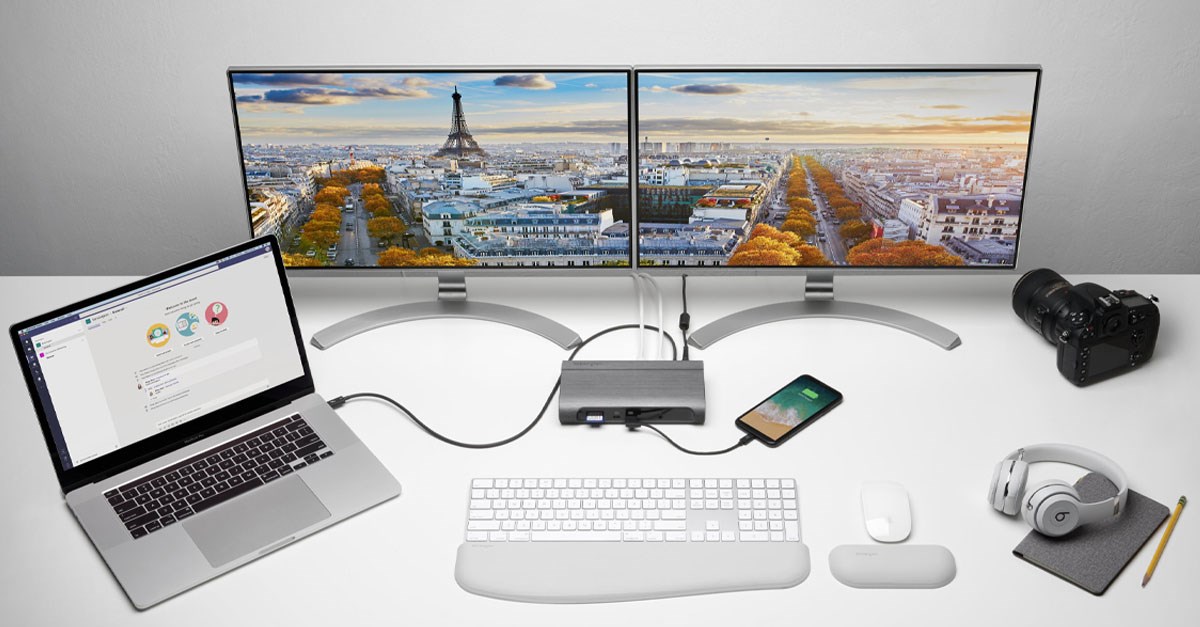 For anyone unfamiliar, Thunderbolt™ has provided devices with high-speed data transfer for more than ten years. It first became popular in Apple devices and by 2016, it was one of the standard connection architectures adopted by the company.
Today, we have Thunderbolt™ 3 (previous generation), Thunderbolt™ 4 (current generation), and USB-C Alt Mode technologies which may be a little confusing for most users. The intent of Thunderbolt™ has always been to improve data transfer rates with a port that could support video (just like HDMI) as well as data. Since the third and fourth generations, Intel now also supports power delivery.
If you're not clear about what it all means, don't worry we'll quickly explain everything you need to know about Thunderbolt™ and the latest implementations.
What is Thunderbolt™ 3 – Or Thunderbolt™ 4 for That Matter?
Intel started working on what went on to what we know today as Thunderbolt™ in the late 2000s. The project (initially called Light Peak) intended to add digital video output ports to modern computers that could improve on the performance of VGA (analog). At the same time, other standard groups were doing similar research and development, leading to technologies like DVI-HDCP and later, HDMI.
The results from the Light Peak project was the first Thunderbolt™ port in 2009, which became more popular the following year. The new Intel technology quickly found a home in Apple devices and became standard in 2016. The second generation of Thunderbolt™ ports doubled the speed of the original from 10Gbps to 20Gbps and enabled 4K video transfer. 
Today, Thunderbolt™ 3 (and its successor Thunderbolt™ 4) supports up to 40Gbps of data transfer and dual 4K video (or single 8K video) capabilities. Instead of following their own implementation standard, Intel decided to adopt the USB-C connector, which is why we have universal compatibility for some devices using either of the two technologies today.
Now that you're familiar with the history and current iterations of the technology, let's see how to select the best Thunderbolt™ docking stations for your workstation.
Choosing the Best Thunderbolt™ Docking Stations for Your Desk Setup
Kensington has remained at the forefront of both USB and Thunderbolt™ technologies from the start. We knew that the future would depend on a single port to carry all your data between any peripherals (like monitors and disk drives) early. Because we saw the potential, we partnered early with Newnham Research who eventually became DisplayLink.
Since then, we've continued to design new docking stations that support the latest capabilities with video and data transfer technologies. To help you find the ideal docking solution, consider these models below. All of these docks from Kensington supports dual 4K video @ 60Hz, 40Gbps data transfer speeds, and provide Power Delivery (PD) to charge your laptop or MacBook.
Top of the Range Thunderbolt™ 3 Docks
For maximum performance and connectivity, the SD5600T comes with universal Thunderbolt™ 3 and USB-C laptop support. You get cross-platform compatibility and a wide variety of ports (fifteen to be exact) for any type of accessory or device imaginable. It delivers 100W of power to keep your device charged and you can connect two HDMI or DisplayPort monitors with ease.
Similarly, the SD5550T gives you ten ports and is ideal for mixed deployment environments. To extend your visual capabilities, the dock supports Ultra HD displays (again 4K at 60Hz) via two DisplayPort connections. While you'll only get 60W PD (which is sufficient for a lot of the laptops in the market), the Gigabit Ethernet port and backward compatibility with USB3.2 Gen 2 devices make the SD5550T docks a versatile solution for any desk configuration.
Thunderbolt™ 3 Docks with Smaller Form Factors
Any space on your desk is valuable real estate. For users who need a smaller docking solution, the SD2500T is a small form factor dock that still provides a powerful punch. With ten ports, 60W of PD, and an SD 4.0 card reader, you can comfortably connect all your accessories and devices.
Our smallest VESA mountable dock available is the SD2400T. It comes with all the same video output features as our other docks, but delivers 85W of power, while giving you eight additional ports. Built-in security lock ports help secure your SD2400T Nano Dock while easy plug-and-play installation gets you up and running in no time.
Other Thunderbolt™ 3 (and Thunderbolt™ 4) Docks to Consider
Depending on your exact setup, you may want to consider some of our other Thunderbolt™ 3 compatible docking stations. If you need multiple USB-A connections, an additional USB-C port, or simply want the latest and greatest solution, check out these docking solutions from Kensington:
SD5300T – Comes with loads of additional connection capabilities, 60W PD, and single 5K or dual 4K video out.
SD5700T – Our latest docking station supporting Thunderbolt™ 4 natively but also backward compatible with Thunderbolt™ 3 laptops. Supports four Thunderbolt™ ports, an SD 4.0 card reader and 90W of PD. 
When comes to understanding the different technologies and capabilities you need from your docking solution, try to make sure it's forward compatible. Since 2015, Thunderbolt™ ports have gone through two upgrades (Thunderbolt™ 4 came out in 2020 on the latest devices) but you can still find a solution that works for your workstation in any environment. With Kensington's Thunderbolt™-compatible docking solutions, you can have clear, crisp, and fast video output without compromising on any other connectivity requirements.
Opt for a Leader in Docking and Thunderbolt™ Connectivity
Our solutions come with productivity built-in. You can create the perfect desk setup whether you work at home with limited space or run multiple monitors to keep track of your tasks. Kensington remains an early adopter of any updated Thunderbolt™ and USB-C technologies, helping you configure the ideal workstation using the latest data transfer, video output, and power delivery capabilities available.
With our devices becoming more powerful every day, extending your connectivity is a game-changer for productivity and play. With our Thunderbolt™ solutions, you will be investing in a docking station that supports you now and into the future.
---
This is the fourth in a five-part series, view the other blogs below: