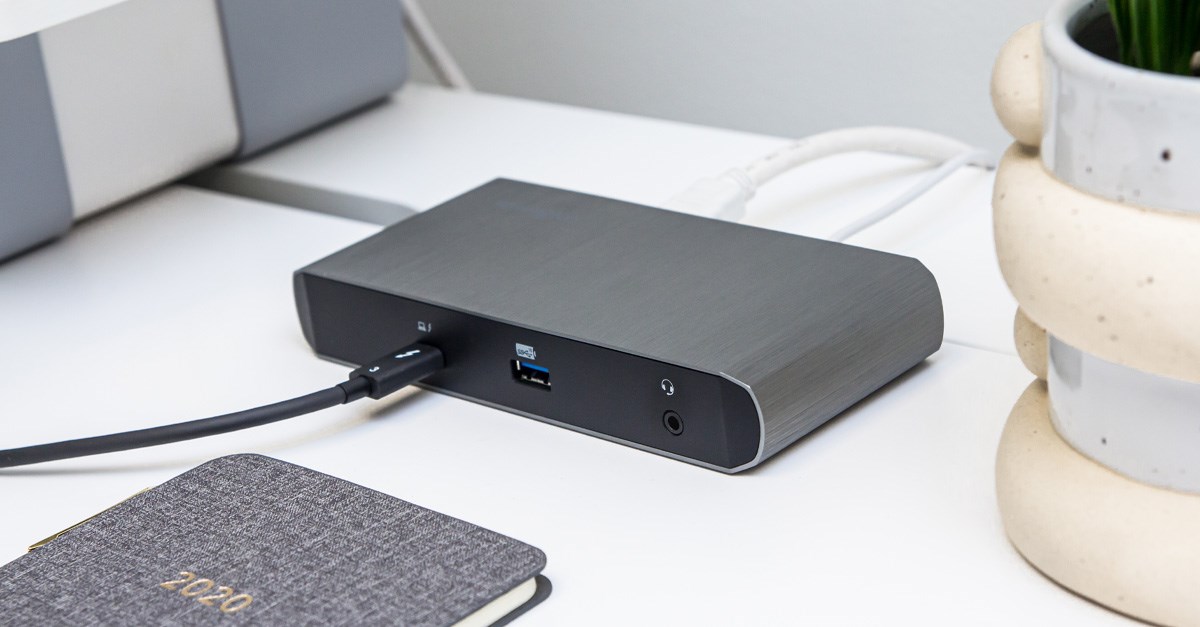 With the right dock, your employees can unlock the full potential of their laptops.
Whether your organization uses PCs, Macs, Chromebooks, or a combination of any of those three, the best docking stations harness the power of a device's high-bandwidth Thunderbolt 3 or USB-C ports, to support everything from 4K monitors to USB power delivery. Laptop docks can also let your employees connect peripherals such as USB mice and keyboards and ensure a more stable internet connection via Gigabit Ethernet.
Overall, a docking station can help boost the productivity of your organization, by giving users much more flexibility for workflows such as video editing and content creation. But how can you ensure that you choose the best laptop docking station available?
Not all docks are equally easy to use, nor do they provide the same selection of ports. Some are only compatible with Microsoft Windows, at a time when macOS and Chrome OS are becoming more commonplace in the workplace.
Let's walk through three of the most important features to consider when making your choice. We'll start with ease of deployment, a central concern when rolling out docks to an entire group of workers.
1. Ease of Deployment
You might have connected an accessory to a PC or Mac before, only to find that it didn't work as expected right away. Missing drivers or firmware/software updates are often behind these types of technical issues, which can be irritating and time-consuming to resolve.
Such problems are even worse when they catch you by surprise, like when you're setting up multiple docking stations in an environment like a school or a hospital. Fortunately, you don't have to go through this trouble.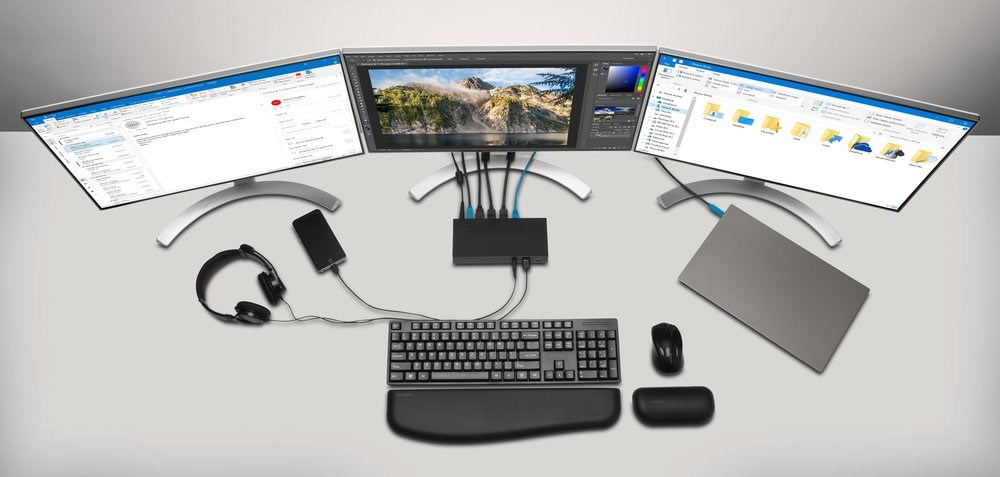 Docking Station models such as Kensington's Thunderbolt 3-powered SD5500T as well as the USB-C-enabled SD4800P are completely driverless. In practice, that means your IT team can run a single cable from an employee's laptop to their dock and immediately connect them to full HD or 4K external displays, storage devices, Ethernet, and more. You can check out Kensington's full range of driverless docking stations.
2. Employee Experience (EX)
When docks are deployed in corporate environments, they aren't always selected with user preferences in mind, which negatively impacts employee experience and engagement. According to Qualtrics, only 62% of workers feel engaged at work, and a mere 30% think their feedback is taken into account when their companies make decisions.
Indeed, docking stations are often simply bundled by the PC OEM in question, leaving no room for employee input on the features they really need to have. Ensuring a better experience and higher engagement requires selecting technology, and in this case a dock, that meets your team's particular use case.
Ultimately, docks are for improving productivity. Focus on the employee experience and get input so that your organization chooses the best options for your employees.
3. Return on Investment (ROI)
The underlying connectivity options in docking stations are always evolving. For instance, Thunderbolt 3 replaced Thunderbolt 2 in the mid-2010s, and more recently the USB standard itself has been updated multiple times, with USB 4 delivering the same peak bandwidth as Thunderbolt 3.
As a result of these constant updates, laptop dock deployments eventually become obsolete as the standard they're built on becomes too slow to support the latest monitors, peripherals, and accessories. For this reason, it's important to zero-in on futureproof docks that allow for longer upgrade cycles.
Universal hybrid docks are universal docking stations that incorporate two connection options, for instance, USB-C and Thunderbolt 3. These docks have much longer shelf lives than most proprietary docks, which tend to be limited to one connection type and compatible only with the OEM computer they were designed for. The difference between these two categories of docks can be profound, especially when it comes to their long-term costs. Going with a hybrid model like the SD5500T can literally save hundreds of thousands of dollars because it spares IT the pain of multiple upgrade cycles involving more limited OEM docks.
In other words, the ROI from universal hybrid docks is much higher than from the proprietary alternatives. Organizations can also save on support costs, thanks to the simpler design and ease of use of these docks, as well as lower their environmental impact by producing less E-waste.
The Best Laptop Docking Station for Your Org is Out There
Now you know what is important to keep in mind when kicking off your search. But there are more resources available to help you navigate the options.
Through the Kensington ProConcierge program, you can test-drive all of these features before committing to any solution. When you get in touch with our expert team, they'll listen to your specific docking needs and put together something that's carefully customized to meet them.