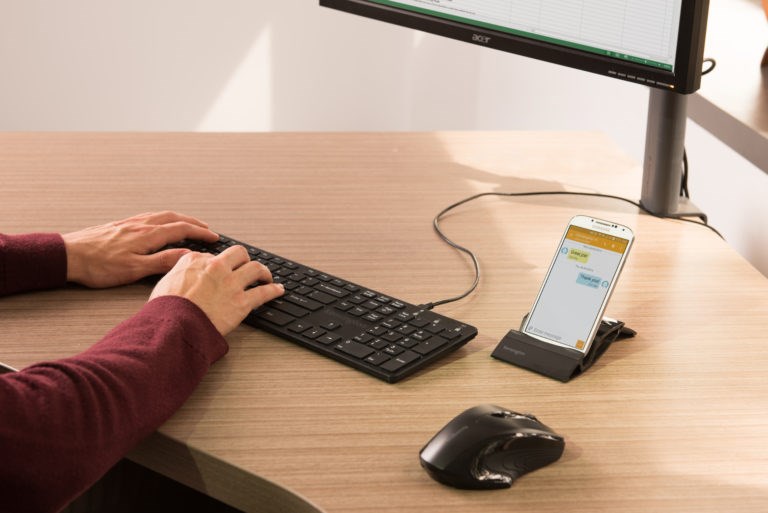 Guest Blog by Erin Vaughan of Modernize. Connect with Modernize on Twitter or on Facebook.
Remote working is mobile working. Even if you spend the majority of your time on a desktop while sitting at an actual desk, you probably switch between that and a smartphone or a tablet many times throughout the day. And if you divide your workday into multiple client meetings, you already know how useful it is to have both your laptop and smartphone handy. There's nothing like being able to both launch a presentation in one breath and set up the next meeting on the device of your choice in the next. Multitasking across multiple devices is today's norm, so designer's emphasis needs to be on making the transition between them smoother.
App Usage and Compatibility Can Decrease Device Switching
The wide variety of available chat programs, document creation apps, and project management services mean most companies can find a product that fits their needs to a tee. However, it may also add some technological confusion to the workday, since most evidence points to device compatibility as a major reason for switching from your computer to your laptop.
Think about it. If your team works almost exclusively in Google Docs, but your client can only read the big project in Word, you may find yourself switching from your smartphone to send the email, to your laptop, where you have Office installed. It happens all the time with software.
Thankfully, more and more crucial software makers are recognizing the strength of cloud computing. Downloading and signing into the mobile and desktop versions of popular programs will help you cut back a little on unnecessary compatibility hiccups.
People Tend to First Open Emails on Their Smartphone
Email marketers recognize mobile devices for the communication powerhouses they are. Marketing research indicates that people open a majority of their emails first on their smartphone. In fact, some groups estimate that mobile clients handle up to 70 percent of email opens.
It's no different in the home office. Reaching for the phone and checking your mail is a habit that most users aren't likely to break soon. But while many workers open emails using their phone, when it comes to crafting thoughtful responses or providing attachments, a desktop or laptop is still the method of choice.
Centralizing Communications with App Integrations
With chat clients overtaking email as the preferred communication for many workers, the trend is to break off to discuss team-level communication in smaller groups. And when you're a remote worker, chat clients become the strongest thread connecting you to the day-to-day operations of the home office.
However, depending on the chat client and devices you use, your chat app may or may not be available on both your smartphone and desktop. For instance, if you use Google Hangouts in the office, but have an iPhone, some features you rely on in the desktop client may not be available on your phone. That means you may find yourself constantly switching between both just to keep up with communications. Smart companies who hope to keep communications seamless have tapped the potential of dynamic chat clients, like Slack, which can be integrated directly with email so that all communications are kept in the same place.
Go from Desktop to Laptop to Smartphone and Back Again
It's all well and good to dream about getting your whole team using all the same apps. But with new programs available everyday—and remote working making uniformity harder—a better goal may be to try to smooth out the transition between devices.
Thankfully, bluetooth-enabled wireless keyboards have come a long way. Switchable keyboards, like Kensington's KP400, allow you to toggle back and forth between several different devices, including your tablet or smartphone. That means you don't necessarily have to jump to the computer to work out a long-winded email or extended chat session. You can do it just by pressing the USB-switching button and hopping on the keyboard.
Our desks, screens, and working lives are already cluttered enough. The more you can ease the process of device switching, the more energy you can spend on your work—and getting the results you want, whether you're at your home desk or on the go.
Erin Vaughan is a blogger, gardener, and aspiring homeowner.  She currently resides in Austin, TX where she writes full time for Modernize.com, with the goal of empowering homeowners with the expert guidance and educational tools they need to take on big home projects with confidence.