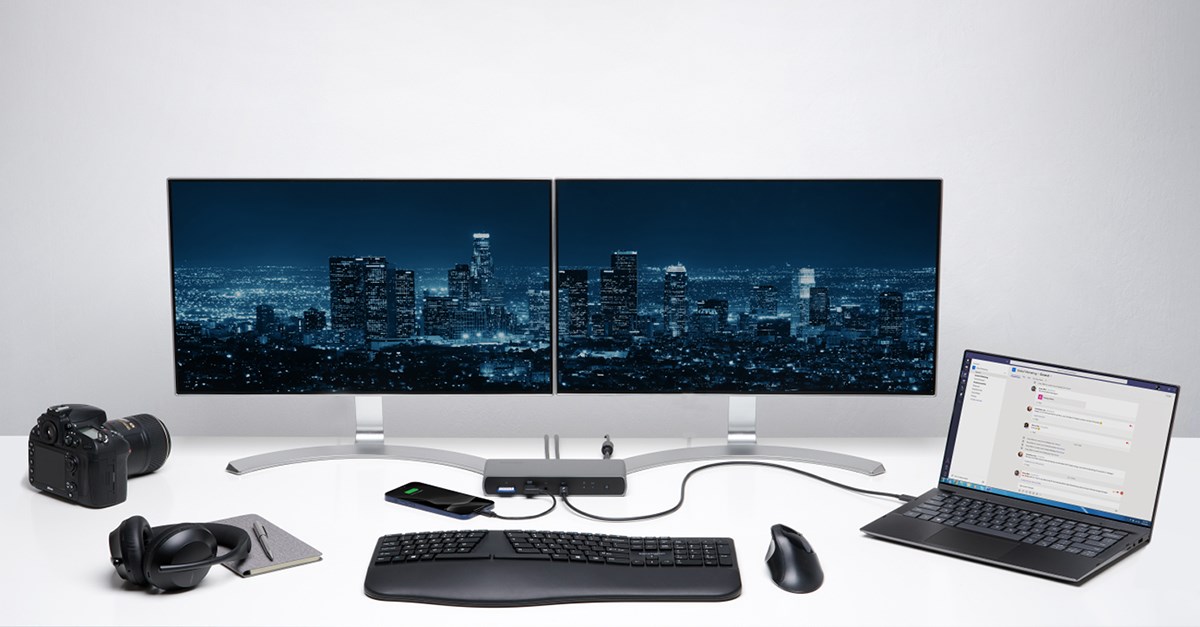 When you hear the term daisy chain, the first thought that may come to mind is the linking of flowers to create garland—a bond that accomplishes something that a single small flower could not do on its own. That same principle has been applied to desktop setups to help you increase your productivity using Thunderbolt™ daisy chain technology. 
Thunderbolt™ daisy chaining allows you to use a single Thunderbolt™ port on your laptop or docking station to link multiple Thunderbolt™-supported monitors together.  These daisy-chained monitors connect in a series to communicate and transfer data so a single connection can support multiple displays—freeing up valuable ports and supporting a tidier workstation.
Benefits to Daisy Chaining Your External Displays
Daisy chaining your monitors together can provide several benefits:
Increased Productivity: Studies show that adding additional monitors enhances multi-tasking because users can easily move applications and windows between screens—allowing them to better manage their workflow and get more done in a shorter amount of time.
Less Desktop Clutter: By daisy chaining your monitors together you limit the number of cables from your laptop or Thunderbolt™ Docking Station to you monitors. Utilizing shorter video cables from monitor to monitor you achieve a clean and clutter free look.
Increased Visual Real Estate: With additional screens, you can view multiple applications or documents at the same time, which can be ideal for proofing, comparing, combining, and evaluating information.
Increased Viewing Flexibility: More displays allow you to position information in a way that best suits your workflow needs.  You can use one monitor for frequently needed information, like reference codes or stock numbers, and others for searches and comparisons.
Enhanced Multimedia Experience: With multiple screens, users can have a more immersive multimedia experience by having different content displayed on each screen. For example, on one screen a user could be watching a movie, while on another screen they could be browsing the internet. This allows users to multi-task and have a more interactive experience.
5 Steps for Setting up a Daisy Chain Using a Thunderbolt™ Docking Station
Connect your Thunderbolt™ docking station to your laptop using a Thunderbolt™ cable.
Once you have confirmed your monitors support Thunderbolt, plug in the first external display into one of the daisy chain ports on the docking station.
Plug in the second external monitor into the daisy chained port on the first monitor. Continue the connections until all monitors are connected.
If necessary, configure the daisy chain connection in your device's Display Settings.
Enjoy the extended or mirrored displays from daisy chaining!
Learn more about Kensington Thunderbolt™ Docking Stations
Kensington Thunderbolt™ Docking Stations provide the ability to daisy chain monitors and other devices together to help you get the most from your desktop setups. The SD5700T Thunderbolt™ 4 Dual 4K Docking Station can daisy chain up to three additional Thunderbolt™ devices, and up to five in total.
The SD5300T and SD5350T Thunderbolt™ 3 40Gbps Dual 4K Docking Stations are robust all-in-one docks that take advantage of Thunderbolt™ technology, supporting Thunderbolt™ laptops, Ultrabooks, and monitors that support up to 4K resolution.
Note: Always check the specifications of your Thunderbolt™ Docking Station and laptop model to ensure daisy chaining is possible. Different models may have different daisy chain capabilities.