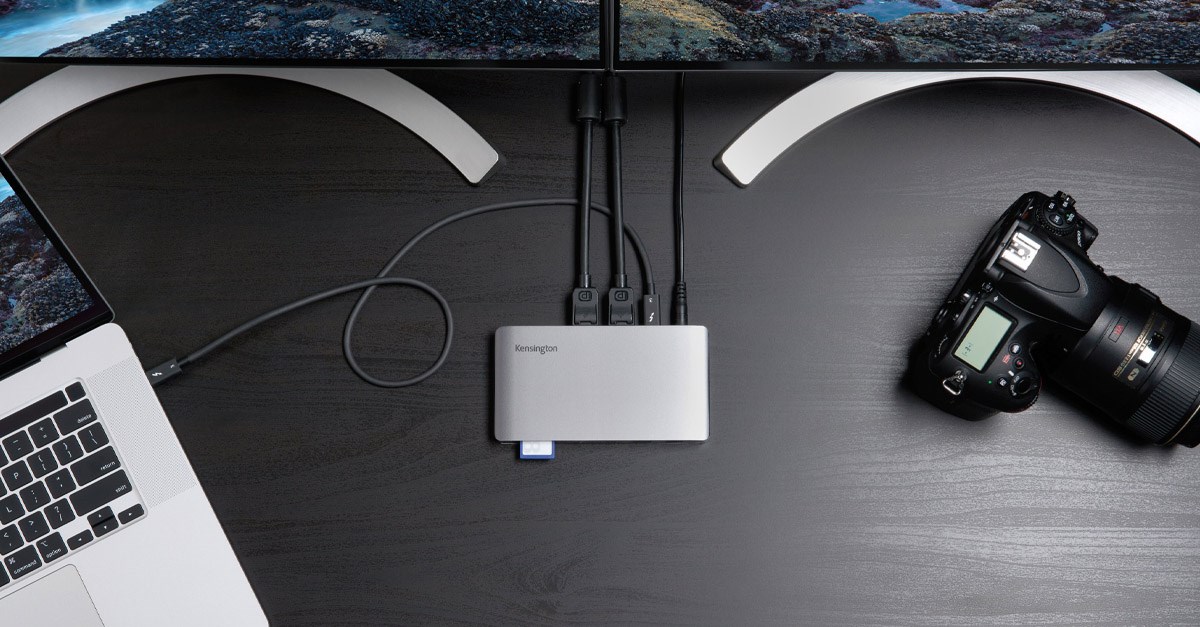 Staying productive in a hybrid work environment ultimately comes down to how you set up your desk. Too much clutter will lead to distraction and loss of focus, while not having access to the information or tools you need could stifle productivity.
A minimalist desk setup means you only have what you need to stay productive. Often espoused as a modern philosophy, minimalism generally means something different to everyone.
When it comes to your desk configuration, it simply means having the right tools, accessories, and overall layout to ensure you can concentrate and get through your daily tasks efficiently.
Space Saving Ideas for Minimalist Desk Setups
Whether you're working from home or the office, keeping an organized workstation can help with productivity. To make the most of limited space, you should invest in solutions that are functional, compact, and convenient.
Every office layout or workstation is different. Yet, clutter and chaos aren't ideal when deadlines are looming and customers are waiting for a concise response. How you compose your workstation will undoubtedly affect how you conduct your workflows.
Investing in products and accessories that help you organize your workspace and arrange your essential tools can help reduce stress and ensure you create a productive work environment. This minimalist desktop setup guide will cover the latest solutions that maximize productivity while optimizing your available space.
Imagine an Empty Desk and Start from There
What do you really need to be productive? In most cases, a laptop and internet connection will suffice. It may be enough to get the job done, but it could impede productivity if the arrangement isn't ergonomic or efficient.
Similar to the KonMari Method, when you're looking to optimize your desk setup, you should start with decluttering your workstation. If it serves no purpose, let it go. If it doesn't help you achieve your targets or focus on your tasks, let it go. If it takes up too much space, definitely swop it out for a more compact solution. That's the minimalist's way.
Focus on Connectivity and Convenience
If you depend on a steady stream of information to perform your tasks, you'll likely have multiple monitors connected to your laptop. That's where a universal laptop docking station comes in. It provides a fast and convenient way to connect your monitors and accessories via a single connection to your laptop.
Easily connecting multiple monitors or ergonomic input devices like keyboards and mice gives you maximum productivity. A universal docking station enables multiple connection types, with the latest data transfer speeds (up to 40Gbps in the next generation of devices).
Don't Forget to Address Your Wellness
Even a minimalist should have a comfortable workstation. Laptop risers and monitor stands will elevate your keyboard and screen, reducing neck strains if you're spending hours behind a desk. Additionally, a footrest gives you a healthy posture while sitting, keeping you comfortable, and improving the circulation in your feet.
Products that promote and improve workplace ergonomics should always form part of a minimalist's desk setup. A trackball doesn't just provide a natural posture while navigating a PC­– it also doesn't require any excessive movement, saving additional space and clutter from your desk. Taking a step back and revisiting your current setup from a minimalist's perspective, your desk could be a new canvas that helps with productivity and creates a sense of calm while you work.
How Laptop Docking Stations Enable Desktop Productivity
Laptops, desks, and other workstations are getting smaller. One of the effects is that some of the best mobile connectivity solutions lack the number of ports required to manage a range of devices when you are at your desktop.
With Thunderbolt 3 (and USB-C) ports, you can extend your connectivity to multiple peripherals without any lag or reduced performance.
Using a universal docking station that supports Thunderbolt 3 or USB-C connectivity means you have less clutter, maximum productivity, and you're able to increase your device's memory.
The Latest Universal Docking Solution from Kensington
For anyone that wants to declutter a desk and create a more productive workspace, Kensington has a solution. Our newest docking station, the SD2500T, comes with true universal compatibility and UHS-II SD 4.0 Card Reader support. You can turn any tablet or PC that uses Thunderbolt 3 (or the next generation Thunderbolt 4 devices) into a sleek, smart, and compact workstation.
The Kensington SD2500T Hybrid Nano Dock provides:
The smallest form factor hybrid docking solution from Kensington yet
Single 8K or Dual 4K video output for Thunderbolt 3 devices
A three-year warranty and 60W power delivery
Compatibility with both Windows and Mac operating systems
The SD2500T Hybrid Nano Dock comes with two display ports, an Ethernet connection, an audio jack, and three USB-A ports. You also get a USB-C Gen2 connection and both a standard SD and Micro SD slot, helping you configure the most productive, minimalist set up achievable.
Making Your Docking Solution Smarter with Kensington DockWorks™
While connectivity remains important, ensuring a secure connection is essential. Our Kensington DockWorks™ software can help you configure a safe and secure minimalist set up in any situation. We built the solution using customer feedback, and you can integrate it with your IT policies to shore up your network security while allowing multiple devices to connect to a device.
The SD2500T comes with free Kensington DockWorks, giving you the best connection, performance, and elevated security in the most compact platform available. Pairing this docking station with other ergonomic solutions from Kensington can create a productive workspace that doesn't depend on a lot of space.
Moving to a minimalist desk setup starts with improving the connectivity and performance of your compact devices. A clear desk can lead to a clear mind. By investing in solutions that don't require additional space on your desk while increasing your productivity, it's possible to create a productive but compact work environment anywhere.
Arranging a Minimalist Workstation with Kensington
Kensington designs solutions that support any kind of work environment and desk configuration. Our solutions can enable remote workforces, open offices, or traveling employees. Maintaining productivity in any environment usually depends on the tools you have, the convenience it offers, and the compatibility of the hardware you use.