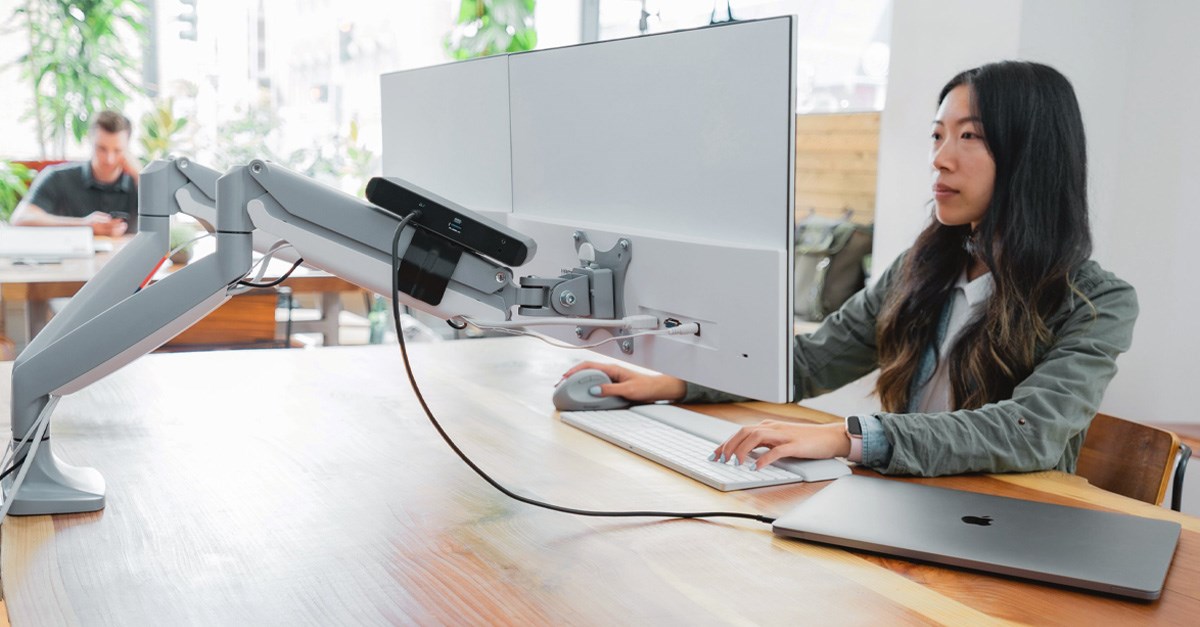 USB standards are confusing, and it's not getting any easier. Although the ports are (mostly) universal, functionality can greatly differ across them. This makes it difficult to find the best docking station. Thankfully, Kensington has a solution with hybrid docking stations. Hybrid docking provides multiple connection options in one device, for example: Thunderbolt 3 and USB-C docking or USB-C and USB 3.0 (Type-A).
With hybrid docking, you unlock unlimited configuration options. This helps you maximize all available resources to remain agile in a fast-paced business environment. Here's how.
Trends in BYOD, Shared Workspaces, Hoteling, Hot Desking and Agile Workspace Environments
The workplace is continuing to evolve and bring-your-own-device (BYOD), shared workspaces, hoteling/hot desking, and agile workspace environments are becoming more commonplace.
Each of these workplace trends takes a different approach toward getting the job done. Traditional business metrics such as quality and productivity are still important. The workplace simply shifts to give employees more freedom in how they complete the job.
Let's look at each one of these trends a bit further so you understand what's happening.
BYOD Trends
Bring Your Own Device (BYOD) is a common practice in the 2020s. With BYOD, employees use their own personal devices for work purposes. You can find this in Uber and Postmates, where employees use their own vehicles and smartphones. This infrastructure saves companies on depreciation but requires strong IT support.
BYOD grew in the 2010s, and this market is expected to reach $367 billion by 2022. It's easy to see why. Cisco reports BYOD policies save companies an average of $350 per employee annually, while Dell surveyed Gen Y to discover 61% have more effective personal devices than their work supplies.
Trends in Shared Workspaces
Shared workspaces like WeWork expanded in the 2010s as remote work became more common. The types of environments provide office-like settings and amenities on a temporary basis to remote workers who need a physical office.
The number of shared workspaces continues to grow, with approximately 18,700 coworking spaces available worldwide. This is partially due to the more widespread availability of cloud-based applications that support a 57-million-strong freelance workforce.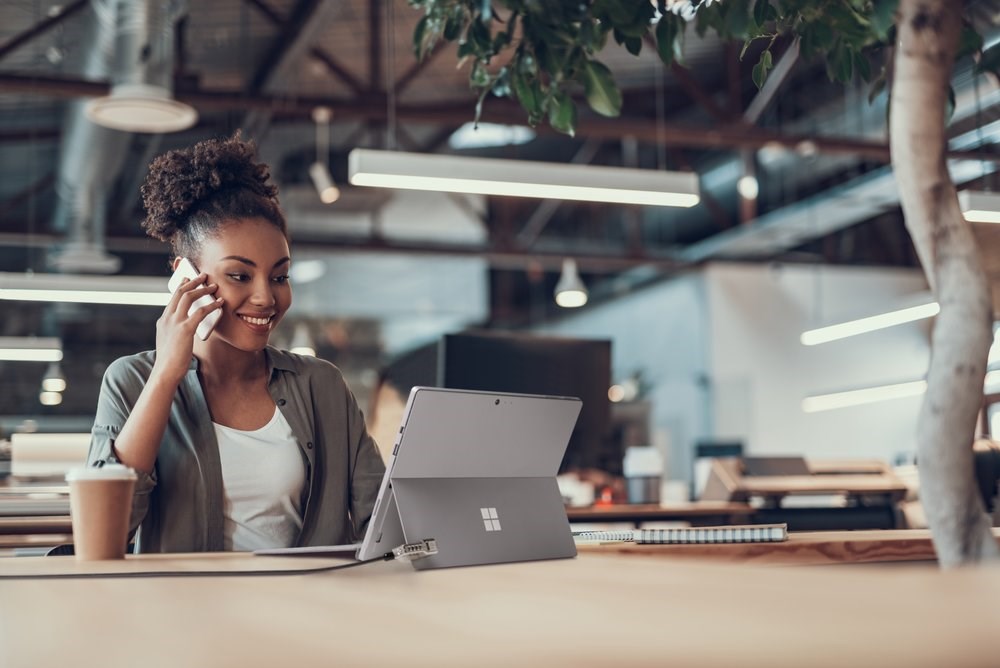 Businesses with empty offices can generate revenue by renting that space out as shared workspaces. Instead of having managers leverage offices, many data processing and customer call centers reserve office spaces for meetings, visiting guests, and special projects.
Hoteling and Hot Desking as Trends
Hoteling removes permanently assigned seating from the office equation. Instead, employees reserve a workspace prior to coming into work each day. This setup turns the office into more of a hospitality hub, while dynamically managing commercial real estate.
Hot desking is like hoteling, but there's no reservation system. Employees are encouraged to sit in the available spaces. This creates a collaborative environment where teams work with each other more effectively. Credit Suisse implemented hot-desking for the majority of its 200 employees in Zurich and Singapore. A "touchdown" area includes three workstations for use of up to one hour. This opens the office for communication between employees, regardless of where they're at on the corporate ladder.
Trends in Agile Workspace Environments
Agile workspace environments flip the traditional office paradigm to focus on activities instead of a fixed location for all tasks.
The agile workplace has designated work locations catered to a specific business objective. Breakout meetings can be held in the brainstorming area, more formal meetings are held in audio/visual rooms, etc. Business needs (i.e. what job function has work due) dictates the work location.
Amazon practices these agile methods from entry-level all the way up through the c-suite. The company focuses directly on customer metrics, adapting company policies and procedures to match.
Sadly, for IT managers these dynamic work environments mean more work to ensure each workspace can accommodate any person or device.
Kensington is pioneering solutions to simplify the process, releasing numerous hybrid solutions that allow you (the IT manager) to get the most out of your deployment. This saves you time, money, and energy while allowing your employees to be as productive as possible.
Introducing Kensington's Hybrid Docking Solutions
The reason consumer devices outperform work devices is because consumers are willing to spend more money on their devices. Home computer builders often upgrade graphics cards, memory, and hard drives, while most people upgrade their smartphone every other year.
Businesses, on the other hand, need to buy at least one computer for each person in a traditional office. This doesn't include training, replacements, and other special cases. This leads to cheaper equipment being used; however, BYOD and other dynamic workplace solutions make it easier for companies to supply just the desktop peripherals (keyboard, monitor, mouse, docking station, etc.). Of course, you'll need versatile docks that support a wide range of devices.
Kensington has you covered with the best docking stations.
Hybrid Thunderbolt 3 and USB-C Docking Solution
SD5500T/SD5550T is the first of its kind, supporting both Thunderbolt 3 and USB-C laptops. So, if your business is on the cutting edge of technology with Thunderbolt 3, but you still have some USB-C laptops, this solution has you covered with support for Dual 4K, up to 40Gbps data transfer speeds, device charging up to 60W and more!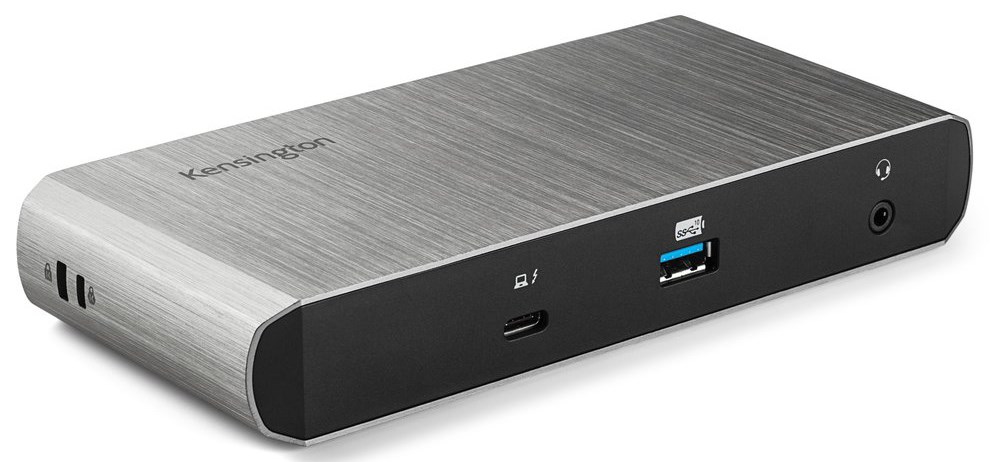 This hybrid docking station is compatible with Windows and macOS. It's also DockWorks® compatible and includes Kensington's security slot for maximum compatibility and security.
Hybrid USB-C and USB-A Docking Solution
SD4900P/SD4750P/SD4700P provide support for USB-C devices, while also supporting legacy USB-A devices. So, if your business is just starting the transition to USB-C devices, we have you covered.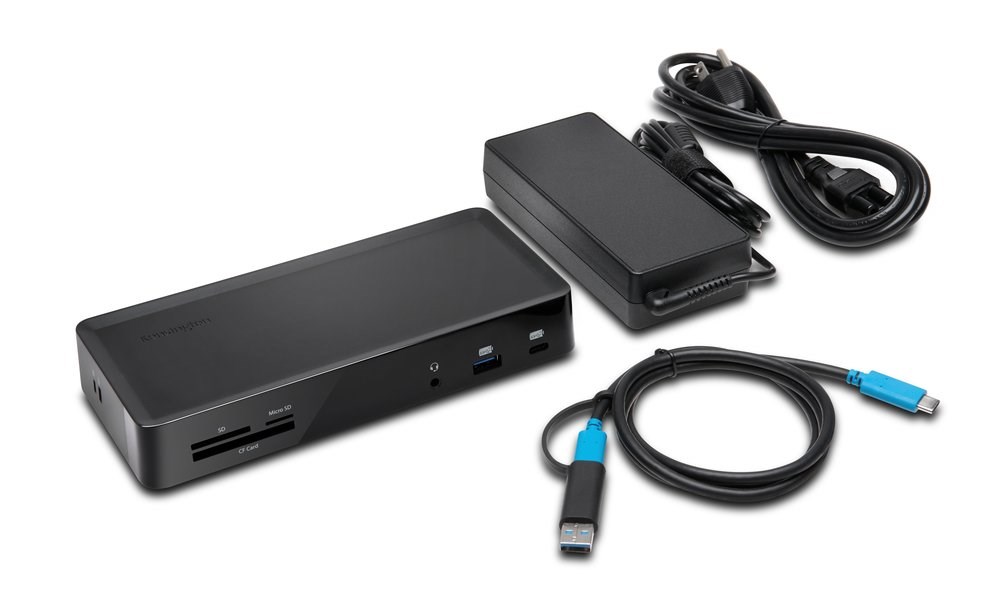 They support Triple 4K (SD4900P), Dual 4K (SD4750P), and Dual 2K (SD4700P) video, so you can connect external monitors or a projector for presentations. Data speeds and power delivery are supported up to 10Gbps/60W (SD4900P), 5Gbps/85W (SD4750P) and 5Gbps/60W (SD4700P) making these hybrid docks powerful solutions for shared workspaces.
Device charging (up to 60W) is also supported on USB-A devices via our optional power splitter kit (K38310).
Get Started with Hybrid Docking Today
Hybrid docking is more than a buzzword – it's a necessary tool for businesses to compete in an increasingly competitive world. Businesses such as Uber, Amazon, and WeWork have redefined the modern workforce. Businesses and employees can optimize resources in new ways to meet the growing demands of consumers and clients.
As the world moves further towards high-tech automation, your office needs to support both old and new devices. You need to support a wide range of manufacturers and form factors. Hybrid docks are the solution to accommodate a more agile workforce.
Check out Kensington's full lineup of docks or contact us today to speak with a professional representative about the best docking station for your business.
---