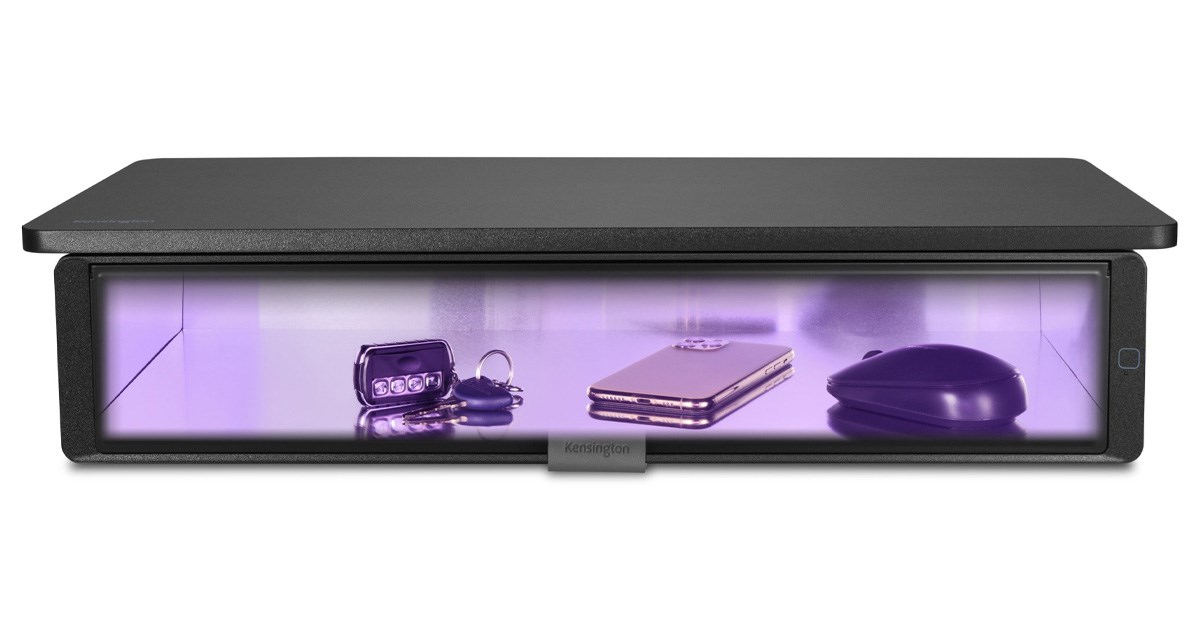 Award-winning UVStandTM features spacious sanitisation compartment to eliminate up to 99.9% of bacteria and viruses from keyboards, mice, mobile phones, and other devices.
London, July 5 2021 – Kensington®, the worldwide leader of desktop computing and mobility solutions for IT, business and home office professionals and The Professionals' Choice, today announces the launch of its innovative new UVStand™, Pro Fit® Washable Wired Keyboard and Pro Fit® Washable Wired Mouse in EMEA.
With hygiene and safety a top priority for businesses and employees across the world, tech robust enough to clean with standard cleaning products is not only practical, but necessary.  Kensington's UVStandTM and Pro Fit® washable keyboard and mouse are now available in Europe to seamlessly fit into the new office environment where hot desking and hybrid working feature heavily alongside the essential requirement of hygiene and protecting employees.
A CES 2021 Innovations Award Honoree, UVStandTM safely, easily and efficiently helps sanitise keyboards, mice, trackballs, mobile phones, and other devices, while promoting healthy posture and optimal comfort. Conveniently eliminating up to 99.9% of bacteria and viruses from any exposed surface, UVStandTM provides users with a solution that integrates the ability to sanitise frequently-touched items and devices into the desktop workstation.
Knowing that a keyboard can hold the same amount of bacteria as a toilet bowl, being able to clean desktop accessories is more important than ever. Both the Pro Fit® Washable Wired Keyboard & Pro Fit® Washable Wired Mouse can safely stand immersion (as long as the USB connector is kept dry) and frequent use of spray cleaners meaning safe office working in the knowledge bacteria and viruses aren't being spread through sharing of office equipment.
The new hygiene tech offers the following key features and benefits:
UVStand™ – Elevates one monitor up to 34" up to a more ergonomic height for comfortable use. The disinfection compartment (50 x 28 x 9cm) fits most full-size keyboards, mice and smartphones. The compartment is fully enclosed, keeping UV light inside for maximum disinfection performance and no harmful exposure to users.
Pro Fit® Washable Wired Keyboard – Computer keyboards are one of the top five areas for cross-contamination for computer products, making it essential for them to be regularly cleaned. The Pro Fit® Washable Wired Keyboard's waterproof, washable design resists spills and makes cleaning easy, safely standing up to immersion or frequent spray cleaner use.
Pro Fit® Washable Wired Mouse – Just like keyboards, mice are in the top five areas for cross-contamination for computer products. The Pro Fit® Washable Wired Mouse is a truly washable mouse that can be submerged for thorough cleaning with peace of mind that their tech will not be damaged.
"We have been inside for over a year and everyone is desperate to get back out again. While this is important, the top priority is making sure our environments are safe and ready for the challenges of a post-Covid world. With many businesses downsizing their office spaces and opting for shared and hybrid working spaces, minimising contamination wherever possible is paramount. We are proud to be able to bring our new UVStand™ and Pro Fit® washable accessories to the market to protect and reassure employees, and ultimately to help businesses come back to work safely." said Nick Revell, Product Manager at Kensington EMEA.
The new Kensington UVStand™ Monitor Stand with UVC Sanitisation Compartment is backed by a two-year warranty. More details can be found at https://contact.kensington.com/uvstand-en
Pricing:
Resources:
Follow Kensington on:
About Kensington
Kensington is a leading provider of desktop and mobile device accessories, trusted by IT, educators, business, and home office professionals around the world for more than 35 years. Kensington strives to anticipate the needs and challenges of the ever-evolving workplace and craft professional-tier award-winning solutions for organizations committed to providing peak professionals the tools they need to thrive. The company prides itself as The Professionals' Choice, and on its core values surrounding design, quality, support, and sustainability.
In office and mobile environments, Kensington's extensive portfolio of award-winning products provides trusted security, desktop productivity innovations, and ergonomic well-being.
Headquartered in San Mateo, California, Kensington is the inventor and worldwide leader in laptop security locks. Kensington is a division of ACCO Brands (NYSE: ACCO), one of the world's largest designers, marketers, and manufacturers of branded business, academic, and consumer products, sold in more than 100 countries across the globe.
Kensington is a registered trademark of ACCO Brands. Kensington The Professionals' Choice is a trademark of ACCO Brands. All other registered and unregistered trademarks are the property of their respective owners.
© 2021 Kensington Computer Products Group, a division of ACCO Brands. All rights reserved.
Contact us: