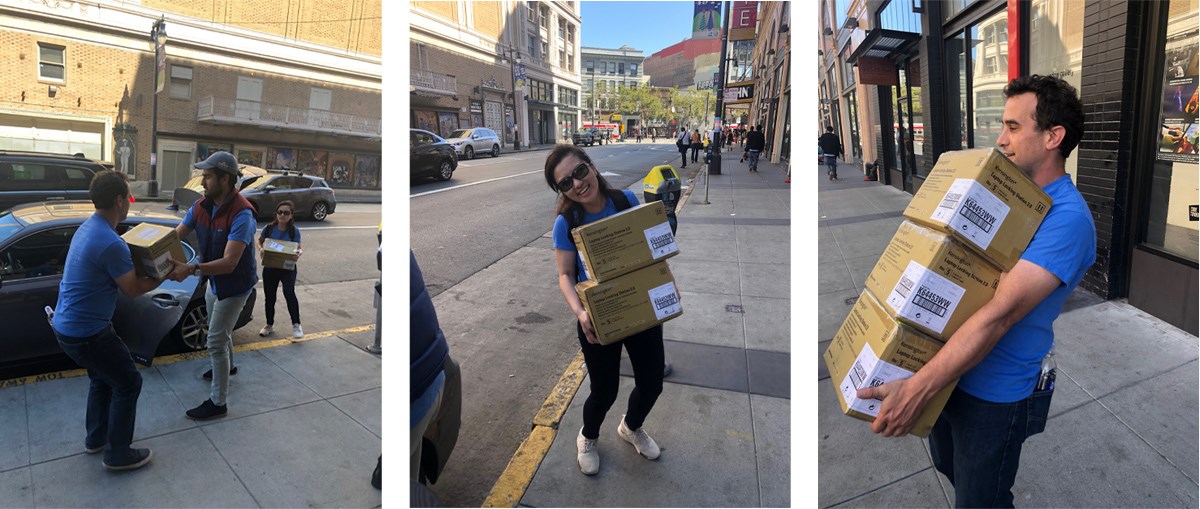 Industry-Leading Hardware Security Company Donates Products to Protect Non-Profit Workforce Development Program's Laptops from Future Computer Theft
San Mateo, CA – September 24, 2019 – When 48 laptops worth tens of thousands of dollars were stolen this past summer from San Francisco-based non-profit, Code Tenderloin, Kensington® stepped in to make sure it would not happen again.
Kensington, the worldwide leader of desktop computing and mobility solutions for IT, business, and home office professionals, donated an assortment of industry-leading security products, including MicroSaver® 2.0 Keyed Laptop Locks, N17 Keyed locks and Laptop Locking Station 2.0, to protect Code Tenderloin's replacement laptops from future theft.
Code Tenderloin offers job readiness and computer skills training programs that provide its clients with tools, resources and confidence to remove the barriers that can keep them from securing long-term employment. In addition to providing training for high-school students through San Francisco Mayor London Breed's Opportunities for All initiative, the organization's programs largely benefit homeless people, low-income students, and individuals that were formerly incarcerated.
"The services that Code Tenderloin provides to the community in and around San Francisco's Tenderloin neighborhood are absolutely life-changing and the loss of those laptops threatened the very foundation for the valuable services they provide," explained Thomas Magarian, Global Security Product Manager, Kensington. "As the industry leader in hardware security, we wanted to help by providing them with the security solutions to physically secure their replacement laptops so they can continue to pursue their vision of bringing economic equity to the marginal and needy members of their community."
"After going through a devastating break-in, who better to trust than Kensington with their industry-standard security products to protect our equipment," stated Charles Duong, Technology Operations Director at Code Tenderloin.
Kensington invented the laptop lock more than 25 years ago and is the industry leader in tough, innovative and easy-to-use security solutions for businesses.  Kensington's growing portfolio of security products includes traditional locks and cables, custom keyed solutions, next-generation hardware security products, and biometric security devices.
Follow Kensington on:
About Kensington 
Kensington is a leading provider of desktop and mobile device accessories, trusted by IT, educators, business, and home office professionals around the world for more than 35 years. Kensington strives to anticipate the needs and challenges of the ever-evolving workplace and craft professional-tier award-winning solutions for organizations committed to providing peak professionals the tools they need to thrive. The company prides itself as The Professionals' Choice, and on its core values surrounding design, quality, and support.
In office and mobile environments, Kensington's extensive portfolio of award-winning products provides trusted security, desktop productivity innovations, and ergonomic well-being.
Headquartered in San Mateo, California, Kensington is the inventor and worldwide leader in laptop security locks. Kensington is a division of ACCO Brands (NYSE: ACCO), one of the world's largest designers, marketers, and manufacturers of branded business, academic, and consumer products, sold in more than 100 countries across the globe.
Kensington is a registered trademark of ACCO Brands. Kensington The Professionals' Choice is a trademark of ACCO Brands. All other registered and unregistered trademarks are the property of their respective owners. 
© 2019 Kensington Computer Products Group, a division of ACCO Brands. All rights reserved.