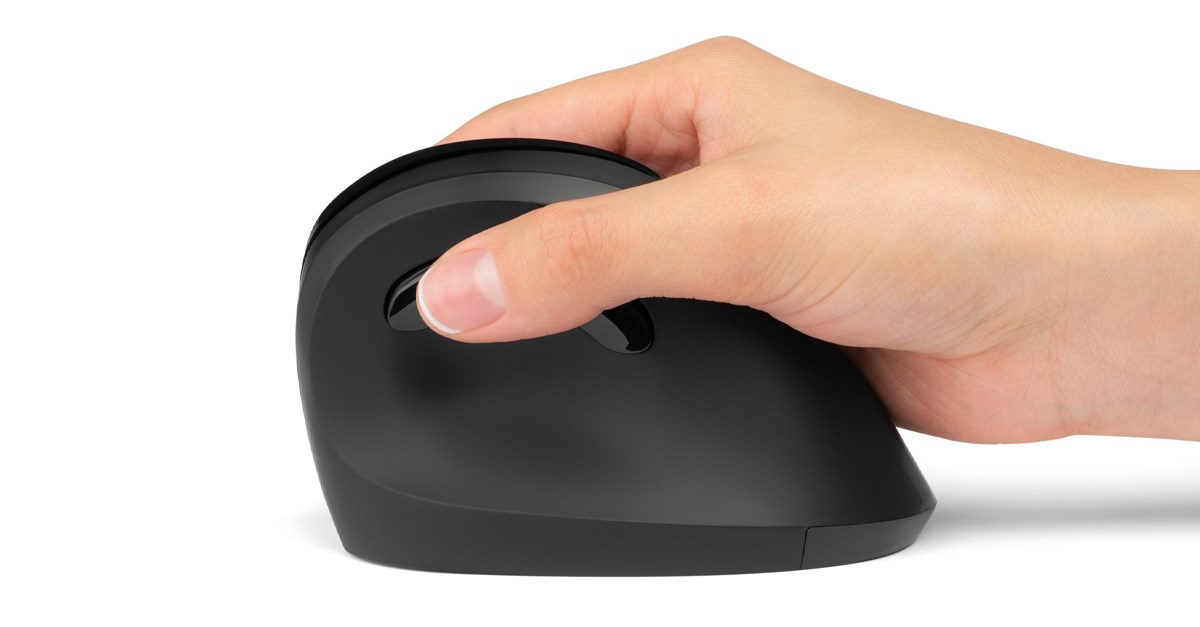 The holiday season is coming to an end and it's time to think about the New Year along with how you can reach your 2020 goals. Some of those goals can be accomplished by setting up a new desk environment and taking advantage of a proper mouse. With the correct mouse, you will see productivity increase and get closer to your goals.
The Pro Fit® Ergo Vertical Wireless Mouse is more than your average ergonomic mouse. Just take one look at this eye-catching design, and you'll understand. It turns the bland design of the standard mouse on its side, literally. Featuring two color options (solid black and two-tone white/gray) and a six-button interface, it has all the customization options you could ask for.
Of course, the Pro Fit® Ergo is for more than aesthetic – it's an ergonomic mouse designed to give the most comfortable fit while keeping your hand in a natural sideways position. Read on to learn more about this one mouse than any one person should ever have to say.
An Ergonomic Mouse with Aesthetics
Ergonomics is the science of conforming your workplace to you, instead of the other way around. This optimizes your productivity by removing barriers between you and the tools you're using. Several of these principles come into play when designing an ergonomic mouse. Let's go over them right now.
1. Increasing Points of Contact
When shopping for a mattress, there are two ways to measure how comfortable they are. There's the lift (what springs provide) and the contouring. Contouring is important because it increases how many points of contact there are between your body and the surface. The more points of contact (i.e., the more the mattress contours to your natural body form), the more comfortable it feels.
This concept is true of mice too. The Pro Fit® Ergo Wireless Mouse contours to the size and shape of your hand. This ergonomic mouse is designed with natural curves that fit into your palm and fingers. This helps straighten your wrists and keep your arms from getting tired. It even has an extended lip to support your little finger, which takes the brunt of the weight of your hand while it's turned on its side.
2. Supporting Natural Movement
When your arms are by your side, your hands are naturally facing inwards. However, when you use a traditional mouse, you're twisting your hands, putting extra pressure on your wrists and elbows. This puts unnecessary wear-and-tear on your arms and hands, cutting off circulation and worse.
The Pro Fit® Ergo Wireless Mouse features a 46.7-degree tilt that keeps your hand in a naturally comfortable handshake position. This relieves the pressure on your joints and nerves, extending the amount of time you can work without hurting yourself. You're using larger muscle groups and reducing the strain.
On top of this, the Pro Fit® Ergo Wireless Mouse removes the hassle of wires. How often are you trying to work, but you're unable to focus because of the pesky wire on your desk?
This means you can bring this ergonomic mouse on the road with you to work anywhere you go. You won't need to worry about fitting in – because of the two different color options available, you can match into any environment.
Color Options for Different Environments
It doesn't matter if you work in a hospital, office building, or school. Whatever the color palette of your workstation, you can find a Pro Fit® Ergo Wireless Mouse that matches. The matte-finished plastic doesn't need the gloss you associate with the word "sleek."
Try one of these ultra-stylish mouse color options to match into your workstation.
1. The White Minimal Look
If you prefer a more traditional look, the Pro Fit® Ergo Vertical Wireless Mouse comes with a white minimalist look with gray trim. This is perfect for anyone trying to match a light-colored atmosphere. White is right when it comes to a light, neutral color that won't stick out. This white/gray combination is commonly found in cubicles and office buildings that like to keep things simple.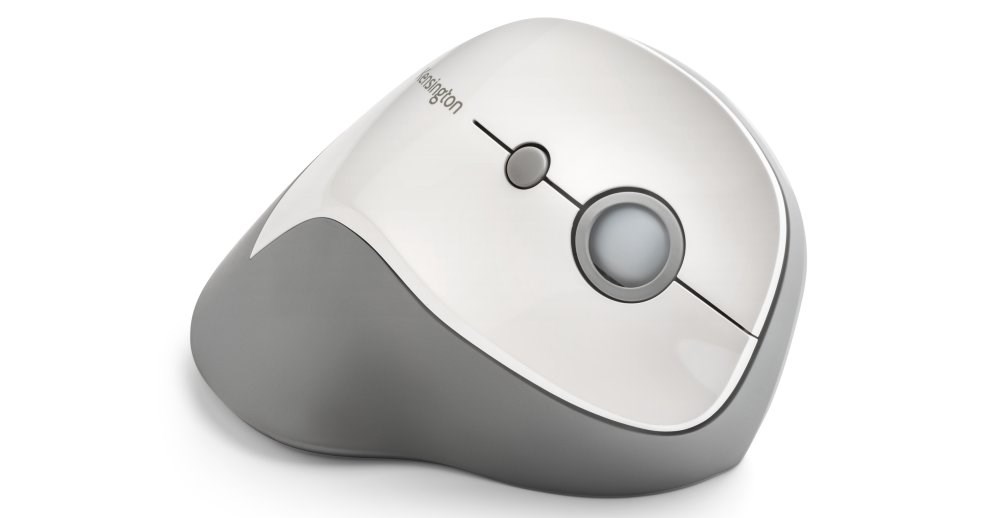 You don't need to worry if you're matching white or gray – this stylish, minimalist design fits in with both. This minimalist white design features six buttons that make DPI customization easy. You'll look stylish scrolling your cursor anywhere from 800 to 1600 DPI.
2. The Black Sleek Look
You may prefer something a little darker. Kensington's all-black Pro Fit® Ergo Vertical Wireless Mouse is the perfect accessory for those who want to stick out. This black sleek look is easily visible on light desktops and provides a touch of class to your office. If you're looking to flex your personal style, there's no limit to the ways for you to match up this sleek matte finish.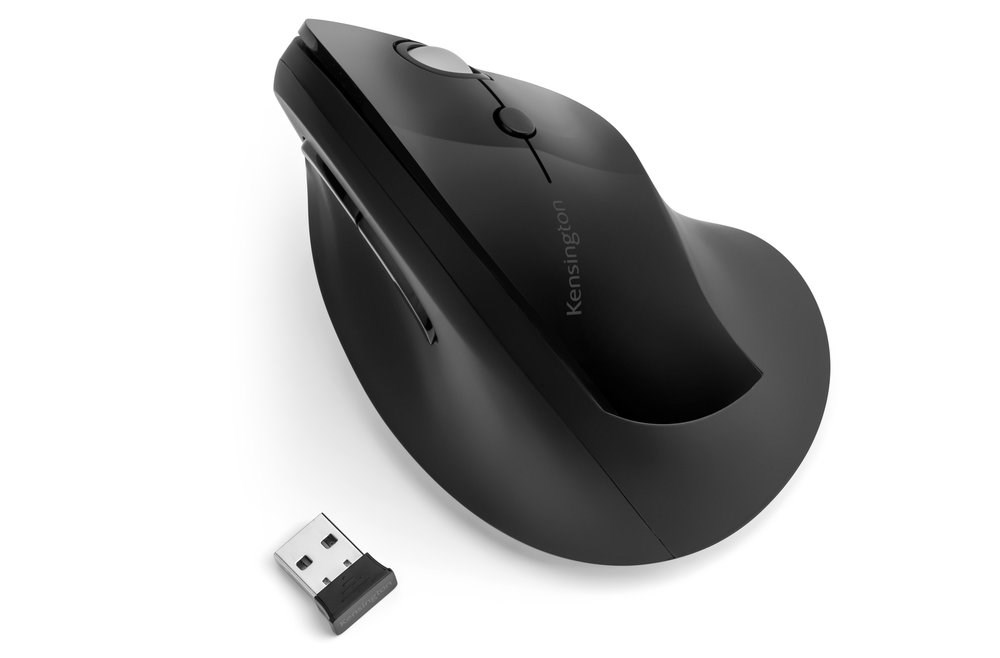 Because the word "sleek," means "glossy," you would expect this sleek black mouse to be glossy. It's not – it's a matte finish, but Kensington's textured matte plastic is so awesome that we call it sleek. What's also great is the nano storage slot at the bottom of the mouse. This holds the nano USB receiver when you're not using it, so it won't get lost in the shuffle.
Between these two color options, you're bound to find an ergonomic mouse that fits the aesthetics of your office environment. It doesn't matter if you prefer white or black, Kensington has you covered with the Pro Fit® Ergo Vertical Wireless Mouse. If you really want to get stylish, you can change the aesthetics of your mouse digitally by picking a different icon to represent your cursor. Use a black cursor for your black mouse to show coworkers you're at the height of fashion.
The Peak of Customization
Not only is it gorgeous in its two color options, but the Pro Fit® Ergo Mouse is also fully customizable. It has a scroll wheel, right and left buttons, along with forward, backward, and DPI. Pressing the DPI button can adjust the mouse settings to 800, 1000, 1200, and 1600 DPI. This impacts the speed of your onscreen cursor.
The Pro Fit® Ergo mouse is plug-and-play, and it can be connected up to 20 feet away. It works off the power of an AA battery for almost a year, and there's a low-battery indicator to let you know when the battery is low. This wire-free ergonomic mouse is more than just the most beautiful mouse on the planet – it's also functional.
Pictures aren't enough – stop scrolling through this website and buy one of the Pro Fit® Ergo mice today. In fact, buy them both, and you can change them to match your clothes every day. Whether you like black or white, Kensington has the perfect solution for you with the Pro Fit® Ergo Vertical Wireless Mouse.
Check out Kensington's Pro Fit® Ergo Vertical Wireless Mouse in Black or White. These color options will match any aesthetic in your office.