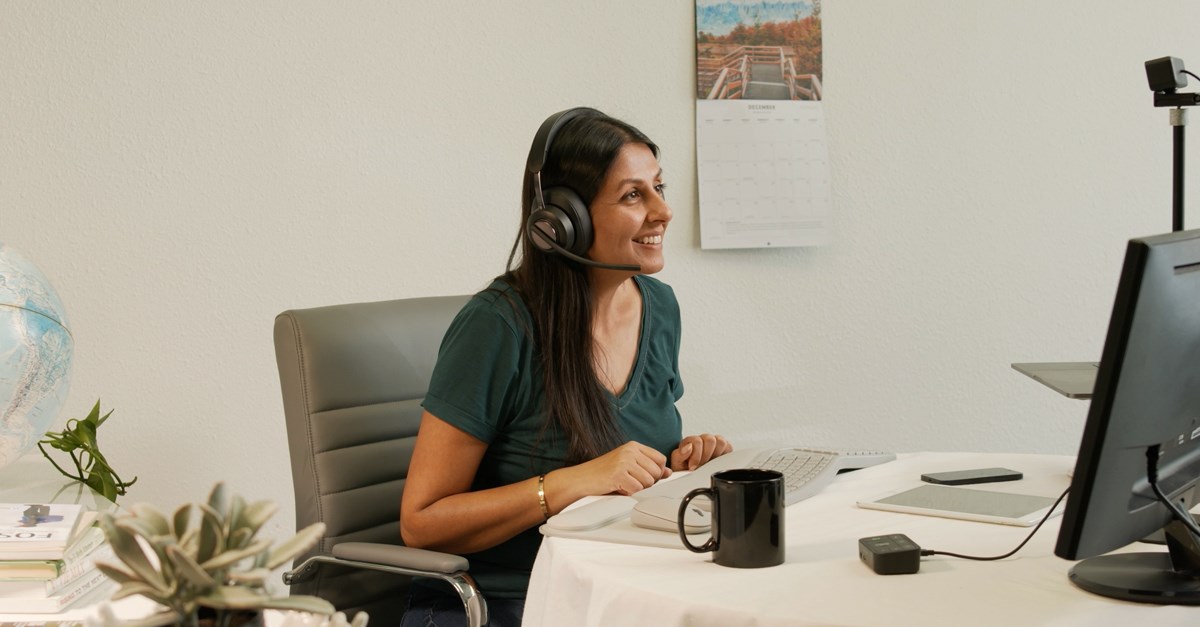 In today's hybrid and work-from-home environments, multitasking is an everyday challenge.
You spend so much time switching between different devices for video calls, phone calls, and conference calls that managing your schedule and systems feels like a job of its own. And sometimes, the extra time it takes to configure your devices, and audio burns up all of the momentum you'd been counting on to stay productive.
This probably isn't a surprise, but you aren't the only one with these problems. Two of the most common issues for professionals who work from home or on hybrid schedules are related to switching from in-office and at-home use and troubleshooting problems by themselves.
Saving Time with a Simplified Setup
Multitasking and working from home is hard enough but using multiple headsets and laptops for different clients and projects makes things unnecessarily complex and time-consuming. You need a simple and reliable desk set-up that maximizes the limited space available and makes it easy to maintain your privacy.
You need a solution that helps you take control of your environment and get things done efficiently as you switch between calls, tasks, and responsibilities for long hours each day.
Managing your audio to stay professional and productive is a huge component of working from home. You need a way to switch audio between devices seamlessly so that you can stay focused and effective on the task in front of you.
You already have enough on your to-do list – you don't have time to be the IT team too. Simply put, "getting to work" shouldn't be so much work!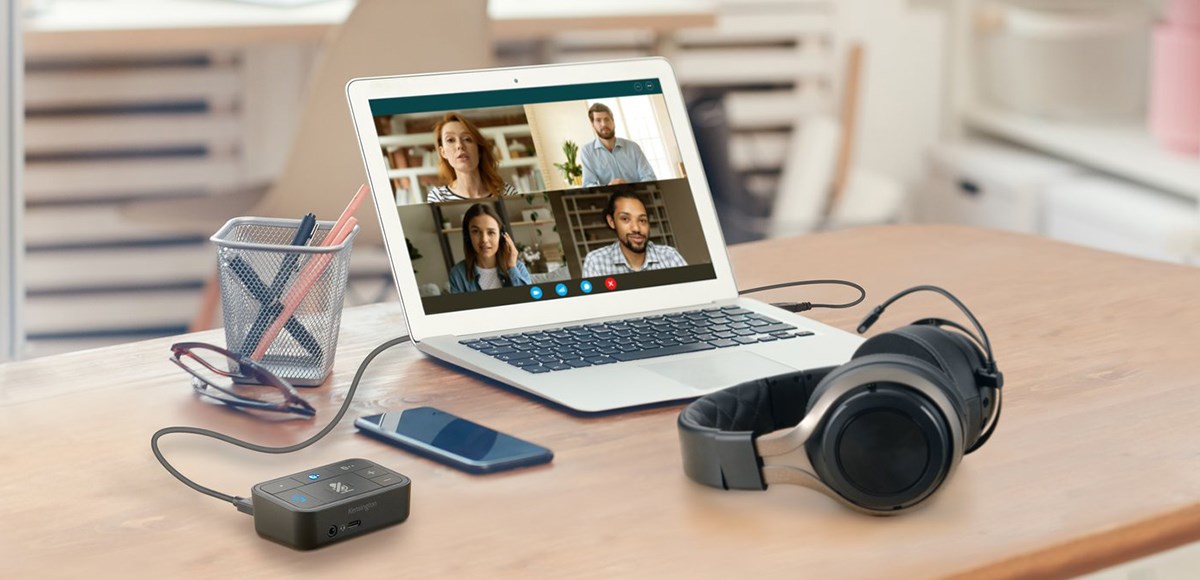 The Best Audio Switch for Busy Professionals
The Kensington® Universal 3-in-1 Pro Audio Headset Switch is transforming the work-from-home environment one decluttered desk at a time.
This little box will give you the freedom you didn't know you needed. The Audio Switch connects one headset to as many as three devices and switching between those devices is as easy as pushing a button.
If you have a ​​favorite Bluetooth®, USB-C, USB-A, or 3.5mm wired headset, you don't have to dedicate it to just one device anymore. The switch lets you connect to different devices and works with all of the major operating systems.
Let's say that your three most-used devices are your computer, smartphone, and tablet. With the Kensington Audio Switch, you can attend a video conference on the computer, call your significant other with your smartphone, and listen to a Spotify podcast or Apple Music on your tablet – all without switching to different headphones.
The audio switch provides great audio quality for popular video conferencing applications like Microsoft Teams, Google Meet, Zoom, Cisco WebEx, and more. All you have to do is set the audio switch as the input and output source within the platform you're using, and it will work without a hitch.
You can be more productive and professional with fewer products in your personal technology inventory – what's not to like?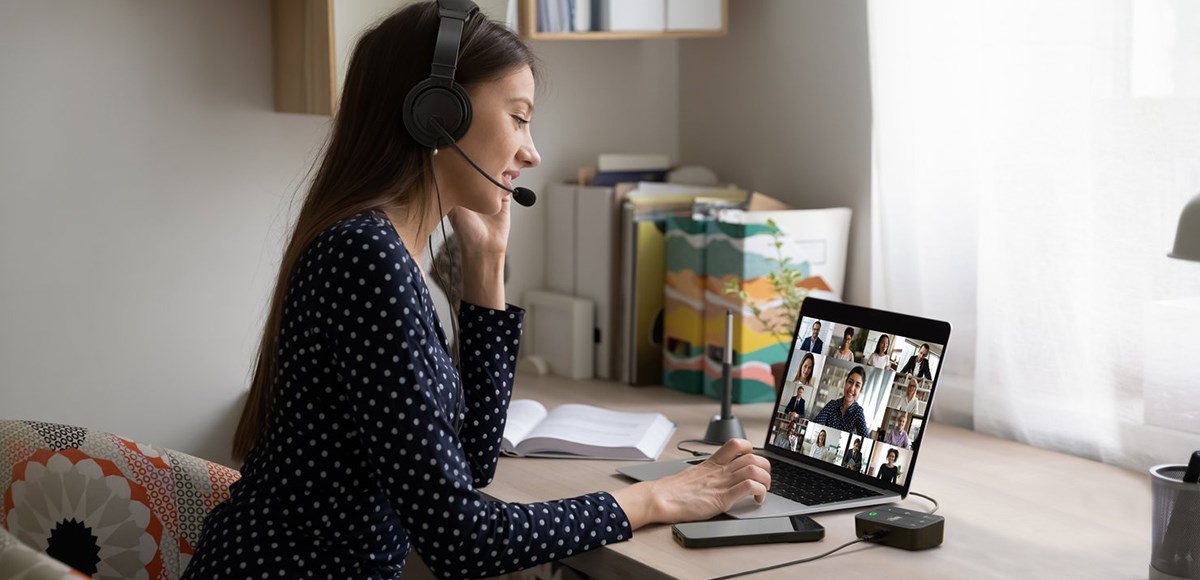 Adding an Audio Switcher to Your Work-From-Home Setup
"How does the Kensington Audio Switch work? Can I use it even if I'm not tech-savvy?"
We're glad you asked – and yes, definitely!
First, the audio switch doesn't require a power outlet. All you have to do is use the connection cord included to plug the switch into a USB-C or USB-A port on your device to power it up. When the switch is connected, it will draw power from your device and function as a wired line for your audio sources.
Then, you identify the switch as your device's audio input and output in your system settings (just like a wireless headset) and plug in or pair your headphones.
In simple terms, if you figured out how to pair your earbuds with your phone or laptop, you can figure this out too.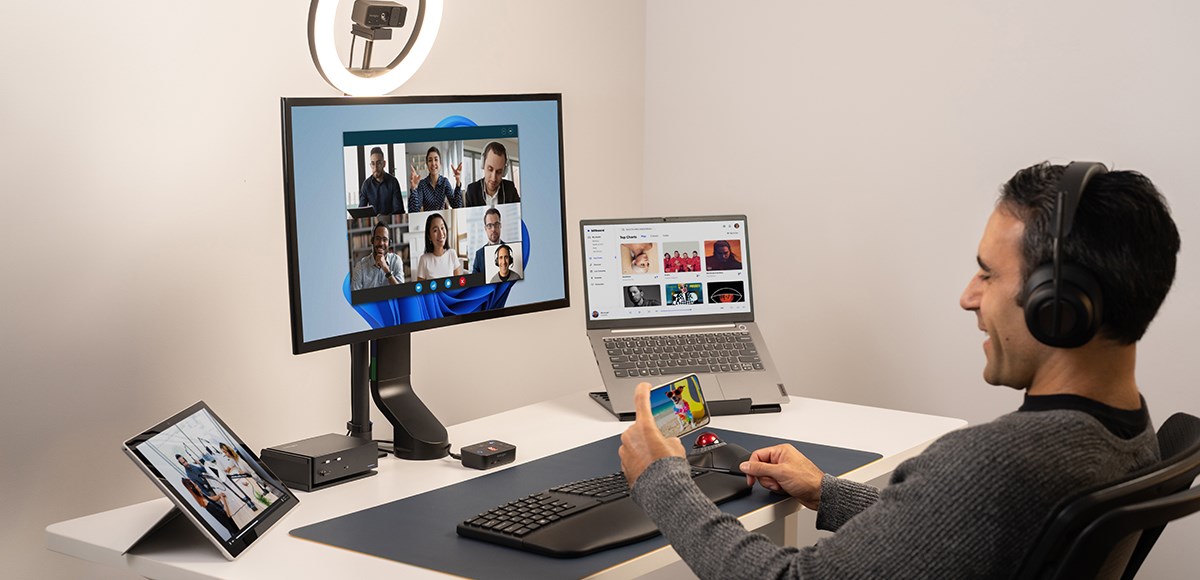 Managing Distractions Without Creating More
Once you've started using the Kensington Audio Switch, you may wonder how you functioned for so long without all of these features.
One such feature is the one-touch Mute button. It's big, so it's easy to find when your children or pets demand your attention or your neighbors' lawn care service tries to leaf-blower its way into your client conversation.
The mute button glows red when it's on, so you know for sure that you're muted before you deal with your latest interruption. And it works for wired and wireless headsets on whatever channel or device you're using, so you can feel confident that no one is listening in who shouldn't be.
Another impressive feature is the easy-to-use volume control. These simple buttons make sure that you don't miss anything important or fumble for clarification when your environment imposes itself on your professional bubble.
You'll also appreciate the dedicated channel buttons and LED lights, which provide visual confirmation of active connections, so you'll know that you're hooked up to the right source. And the three channels make it easy to connect a personal device (like your phone) without violating any work policies.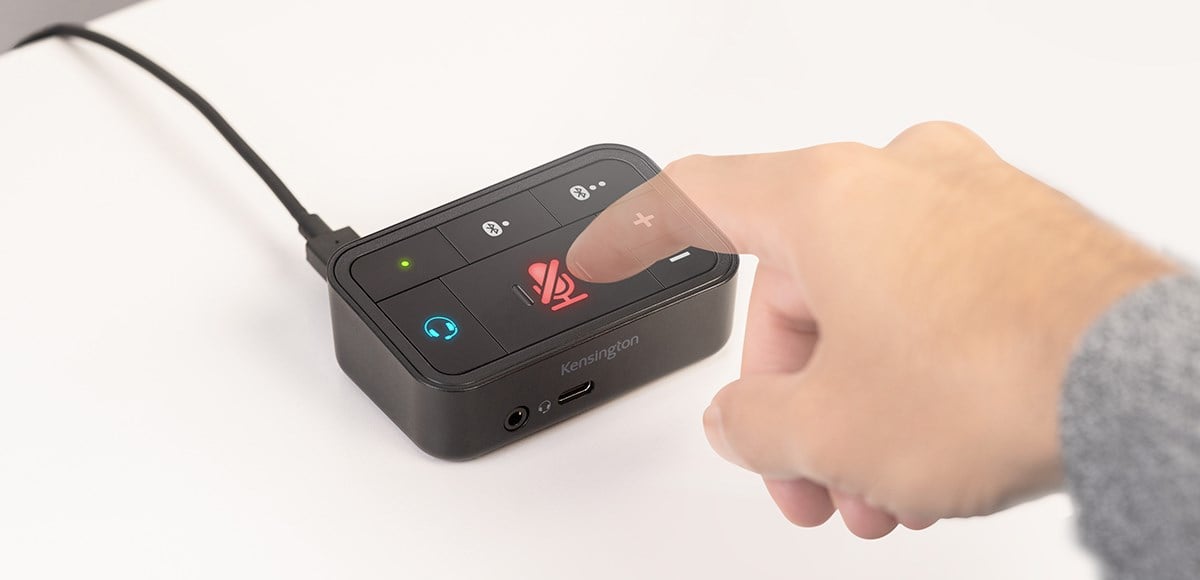 The audio switch also reconnects to your wireless headset automatically when you step away from your desk for a break or to deal with a distraction that's out of wireless range.
The adaptive Bluetooth® 5.0 connection automatically remembers your devices and wireless headsets, so you don't have to start from scratch when you plug the audio switch in.
The bottom line is that the Kensington Pro Audio Headset Switch supports any work setup and uses fewer products to connect. It helps you stay in a productive flow and minimizes disruptions without adding extra clutter or sacrificing audio quality. You'll have more space to work, more freedom to move, and more confidence in your workspace.
Work like a Pro from anywhere with Kensington Audio Headset Switch