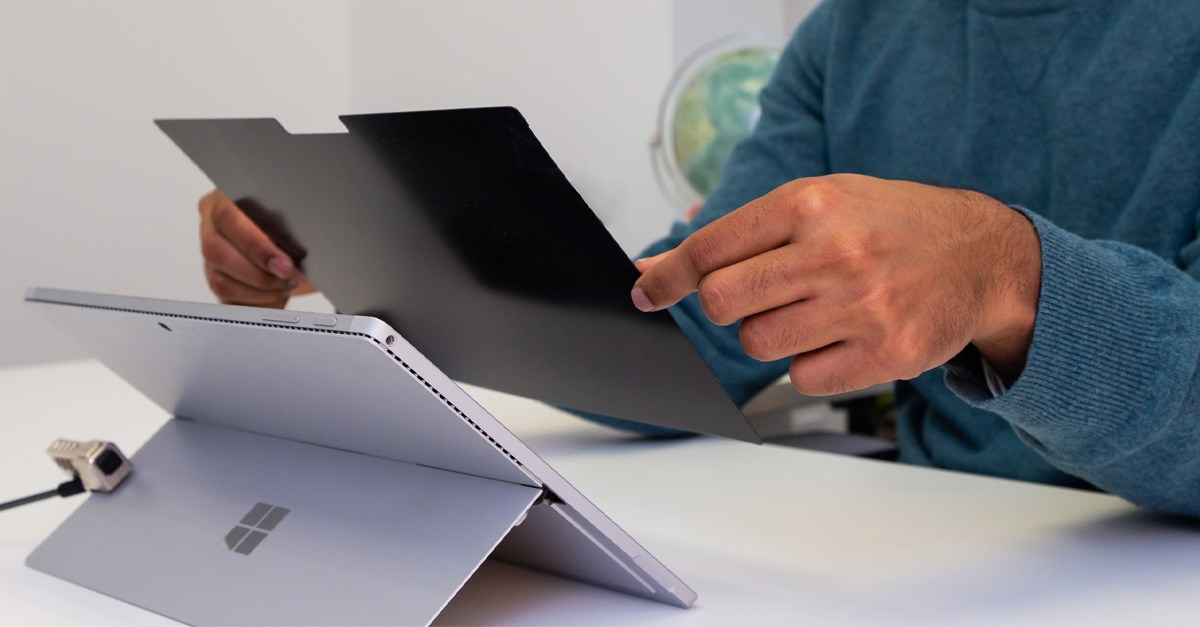 Losing your data is devastating. Whether it's business or personal, the theft of a physical device or a password can cost you everything. Today, almost everything is captured digitally, so when you purchase a device like a Microsoft Surface Go or Surface Pro 7/6/5/4, you need to protect it. It's a full-time job, especially when you're in charge of the entire office's infrastructure.
True data security requires both physical and digital protection, and we cover both ends for a true end-to-end security solution. Kensington creates the best accessories for Surface products, including the best Surface locks, the best privacy screens for Surface, the best Surface docking stations, and the best biometrics fingerprint keys for Surface. These products are developed in partnership with Microsoft and carry a distinguished "Designed for Surface" designation. This means they're manufactured to exact manufacturer specifications to support the full array of Surface features.
You can read our previous posts to learn more about docking solutions and rugged cases. Each of these product categories will extend and enhance the life and usage of your Surface investment.
Now it's time to discuss how Kensington protects Surface products like the Surface Pro X, Surface Studio, and more. Let's start by looking at Kensington's legacy of partnering with original equipment manufacturers OEMs.
Key Kensington Partnerships in History
Kensington has always worked directly with its partners on developing solutions. Our first product launch was a cooling fan/surge protector designed specifically for the Apple II in 1981. Apple's computer was a mass-market success, but it overheated easily, causing it to shut off and die early. Consumers needed a solution, and we were happy to step up.
We revolutionized physical device security when we invented the Kensington Security Slot and MicroSaver® cable locks in the 1990s. These security solutions became the industry standard by manufacturers around the world. It's now found in over 99% of laptops, meaning it outlasted standards like the floppy disk and CD drive.
As the years moved on, tech continued evolving, and Kensington keeps creating new accessories. It culminates in the introduction of Microsoft's Surface family of products. Kensington has the best accessories created explicitly for Microsoft Surface because we leverage our longstanding OEM partnerships to create the right products for our customers.
1. Find the Best Surface Locks
Just like the original laptop locks, Surface locks physically tether your device to a workstation's tabletop. These "Designed for Surface" locks are engineered to fit onto your Microsoft Surface devices, without causing any damage to them.
Take Kensington's Keyed Cable Lock for Surface Pro and Surface Go, for example. It's a Red Dot Design award-winning, non-invasive lock that protects your Microsoft Surface Go and Surface Pro 7/6/5/4. Its strong lock head has been rigorously tested for torque/pull, foreign implements, lock corrosion, and more. This ensures it functions in any environment. We have also released a combination version of our award winning lock, providing all the same great features in a keyless format.
Kensington's Dual Head Cable Lock for Surface Pro and Surface Go combines this rugged Surface lock head with a secondary MicroSaver® 2.0 T-Bar lock that fits the standard Kensington Security Slot. Like our single-head locks, our dual-head locks also use Hidden Pin™ technology, providing you the highest level of protection.
Also, consider the Locking Kit for Surface Studio to protect your Surface Studio. The Locking Bracket for 13.5" Surface Book with MicroSaver 2.0 protects your Surface Book 2. There's also a Portable Keyed Cable Lock for Surface Pro and Surface Go. Each of these carbon steel cables is resilient enough to protect your devices from theft.
2. See the Best Privacy Screen for Surface
It's not just physical security – Kensington protects your device data with a multi-layered approach. Our privacy screens are touch screen compatible, so your data is protected from visual hacking without hindering usability. Each limits the screen's viewing angle to +/- 30 degrees and can reduce blue light and glare.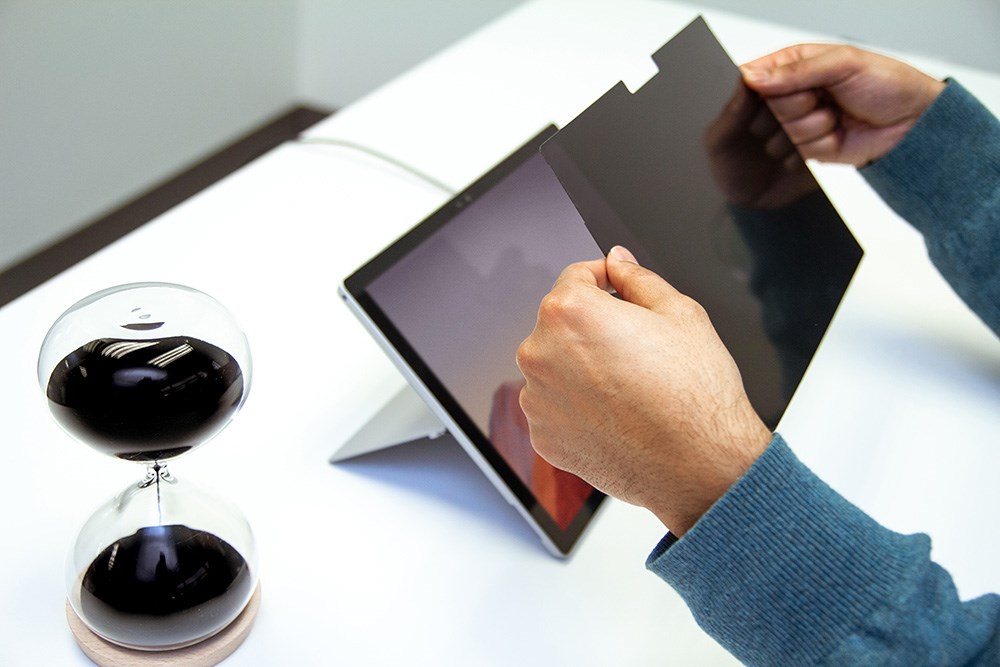 They're custom-fit to your device screen too. The FP123 Privacy Screen fits Surface Pro 7/6/5/4, while the FP10 Privacy Screen fits Microsoft Surface Go. Kensington's Privacy Screens for Laptops are the perfect solution for your Surface Laptop 3. It doesn't matter what device you're using – there's a privacy screen that will keep you safe.
Kensington's privacy screens are double-sided. One side has a smooth matte finish that reduces glare and on-screen fingerprints. The other side is glossy and provides a clearer view of your screen. This means they protect your data from visual hacking while on the go and improve your view when working in the privacy of your home or office. Try one out today to find out why Kensington makes the best privacy screens for Surface.
3. Try the Best Biometrics Fingerprint Keys for Surface
Microsoft – the developer of the Surface products, Windows Hello and Windows Hello for Business – built support for biometric authentication into its own touchscreen devices. That means Microsoft Surface products include support for fingerprint, iris scan, and facial recognition. It's all Microsoft's proprietary platform, and Kensington isn't trying to replace that.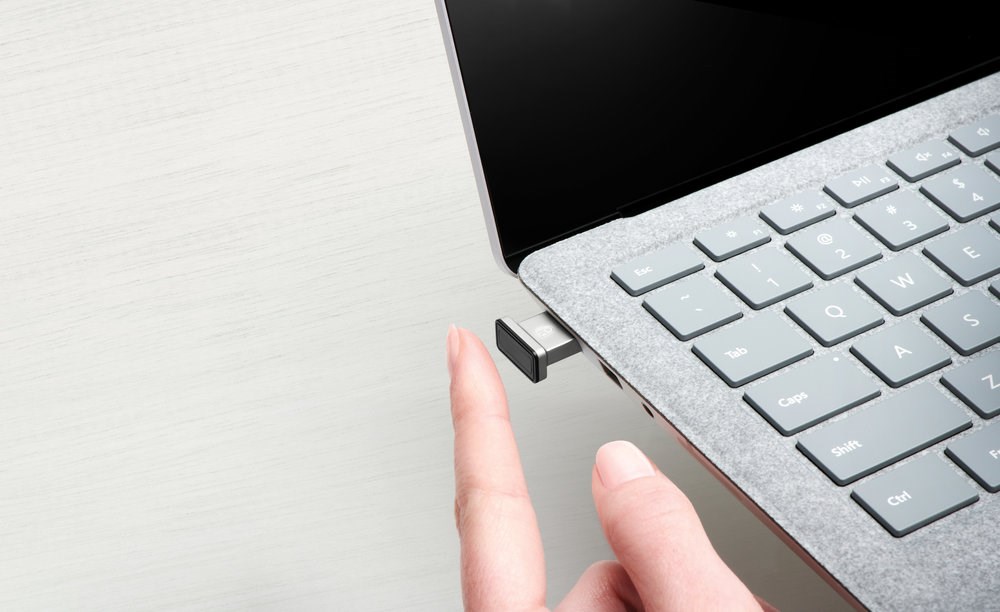 Instead, Kensington's K64707WW VeriMark™ Fingerprint Key is Designed for Surface to integrate Windows Hello with Fast Identity Online (FIDO) and Universal 2nd-Factor (U2F) authentication. The superior encryption enables 360-degree protection and is compatible with popular password management tools like Dashlane, LastPass Premium, Keeper Premium, and Roboform.
You can extend this security beyond your Surface device to all your workstations and equipment with the K67977WW VeriMark™ Fingerprint Key. Administrative access with support for Windows Hello and Windows Hello for Business, Azure, Active Directory, Office 365, Skype, OneDrive, and Outlook is provided by the VeriMark™ IT Fingerprint Key.
Peace of Mind and Compliance
Many of Kensington's Data Protection accessories are TAA compliant. They're also designed to support cybersecurity and compliance with laws like GDPR, BIPA, HIPAA, and CCPA. The world is a dangerous place, and measures like biometric authentication, privacy screens, and locks lay a solid foundation. Our products can help protect your Surface from theft or damage, whether physical or digital.
You can work with the peace of mind knowing that your product will perform better and work longer. You shouldn't have to sacrifice functionality for protection. Kensington's "Designed for Surface" products are built in partnership with Microsoft to extend the functionality of Surface devices out the box. You'll gain more power, implement stronger compliance, and obtain more flexible working options with Microsoft and Kensington.
We carry more than privacy solutions – check out Kensington's full lineup of accessories designed for Microsoft Surface products today!