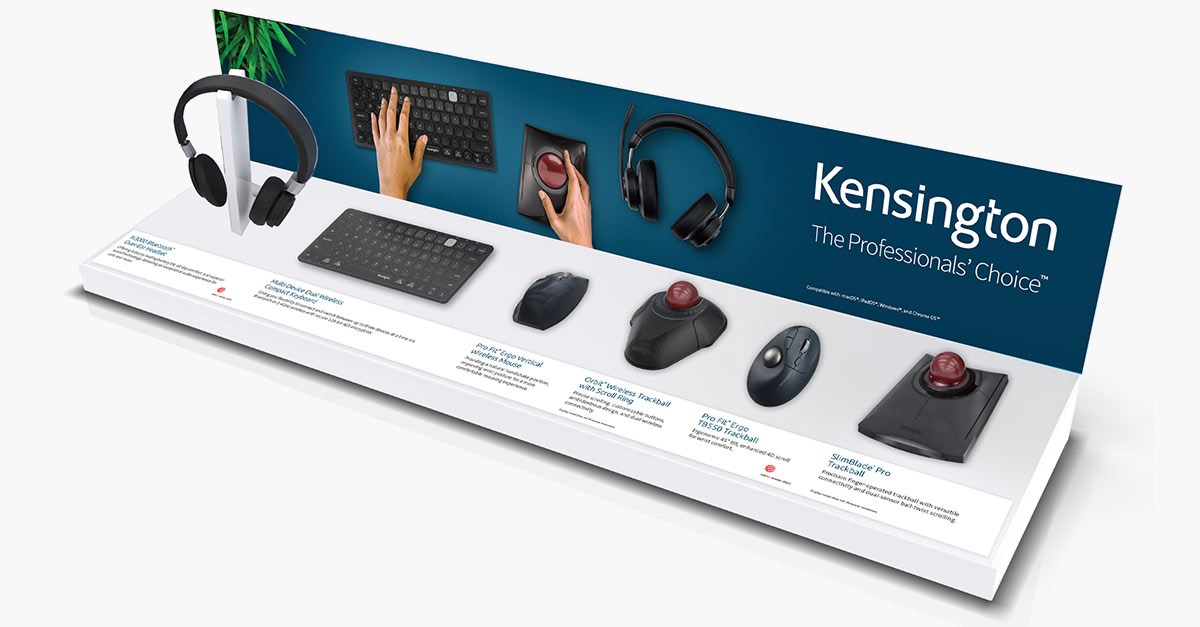 TORONTO – October 27, 2023 – Kensington, a worldwide leader of desktop computing and mobility solutions for IT, businesses, and home office professionals, announced the availability of 12 products at Best Buy Canada.
Launching at all Best Buy locations across Canada, the 12 new SKUs focus on functional options for businesses and consumers looking for better products to improve their work setup.
Items include headphones, keyboards, ergonomic products, desk space-saving devices, trackballs and mice.
"We're excited to bring these products to Best Buy Canada customers and extend our relationship with this retailer" said Yuji Wakabayashi, Global Category Manager, for Kensington.  "The workplace continues to evolve and Kensington prides itself on developing advanced products and award-winning solutions."
The new items will be available online and in stores on October 27, 2023.
Kensington Items Launching at Best Buy Canada:
H3000 Bluetooth Over-Ear Headset
Multi-Device Dual Wireless Compact Keyboard
Pro Fit® Ergo Vertical Wireless Mouse
Orbit® Wireless Trackball with Scroll Ring
Pro Fit® Ergo TB550 Trackball
SlimBlade™ Pro Trackball
Wired Bilingual KB
Pro Fit® Washable Keyboard
Pro Fit® Washable Wired Desktop Set
Universal 3-in-1 Combination Laptop Lock
A1020 Boom Arm
Universal Tabletop Laptop Riser
About Kensington
Kensington is a leading provider of desktop and mobile device accessories, trusted by IT, educators, business, and home office professionals around the world for more than 40 years. Kensington strives to anticipate the needs and challenges of the ever-evolving workplace and craft professional-tier award-winning solutions for organizations committed to providing peak professionals the tools they need to thrive. The company prides itself as the professionals' choice, and on its core values surrounding design, quality and support.
In office and mobile environments, Kensington's extensive portfolio of award-winning products provides trusted security, desktop productivity innovations, professional video conferencing, and ergonomic well-being.
Headquartered in Burlingame, California, Kensington is the inventor and a worldwide leader in laptop security locks. Kensington is a division of ACCO Brands, the Home of Great Brands Built by Great People, which designs, manufactures and markets consumer and end-user products that help people work, learn, play and thrive.  In addition to Kensington®, ACCO Brands' widely recognized brands include AT-A-GLANCE®, Five Star®, Leitz®, Mead®, PowerA®, Swingline®, Tilibra and many others.  More information about ACCO Brands Corporation (NYSE:ACCO) can be found at www.accobrands.com.
Kensington®, Orbit®, Pro Fit® and SlimBlade™ are trademarks of ACCO Brands. All other registered and unregistered trademarks are the property of their respective owners.
© 2023 Kensington Computer Products Group, a division of ACCO Brands. All rights reserved.
Media Contact:
John Settino
The iPR Group
416-662-2955