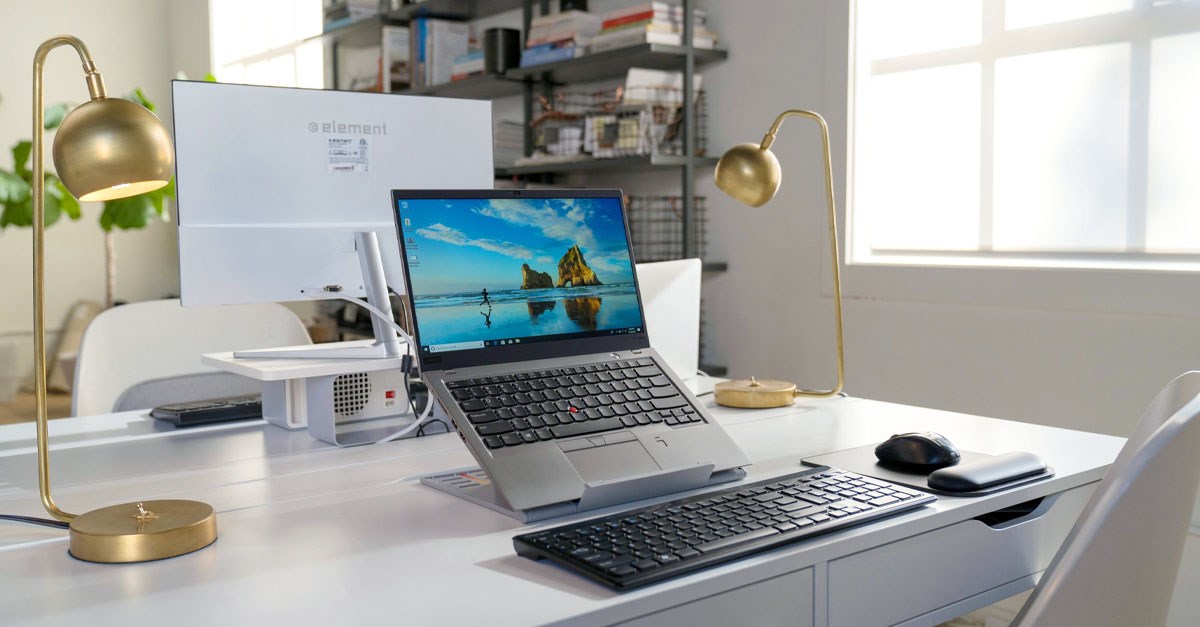 Unlike many other concepts that have come and gone, ergonomics is not just another buzzword. Some people may think that ergonomic design doesn't matter or that the way they've done things in the past is perfectly fine. The truth is that ergonomics should be a serious concern for anyone who performs any task that requires them to spend hours sitting or standing in the same position.
Issues like the coronavirus do require immediate attention, but your long-term health when working in an office is just as important. Research shows that working behind a desk for extended hours leads to adverse health effects like carpal tunnel syndrome, tendinitis, and injuries in the rotator cuff of your shoulder, as well as muscle strains.
A Refresher Course in Office and Workplace Ergonomics
The Occupational Safety and Health Association (OSHA) now considers workplace ergonomics as part of their wider mandate to keep employees healthy. Companies that do not address concerns about ergonomically correct work practices may even receive a citation.
A company may receive a citation for poor ergonomics if:
There's an ergonomic hazard in the workplace
The ergonomic hazard is recognizable
That hazard can cause (or is causing) serious physical harm
There is a feasible way to reduce the effects of the hazard
Now that you know why you should still pay attention to ergonomics, let's quickly refresh your memory about what ergonomics is, why it's important, and how you can improve the ergonomics in your workplace.
What is Ergonomics?
The primary meaning of ergonomics is to design products, equipment, and other workplace tools for the people that use them. In some contexts, it requires designing the entire job around the worker's physical needs.
Offices have employees who spend hours behind their desks. Your chair, monitor, laptop, mouse, and any other devices that you use regularly can lead to repetitive strains. Modern ergonomic design includes building products that reduce these effects and keep staff comfortable for longer. The aim is to increase efficiency and productivity while providing the necessary support for long-term health.
Why is Ergonomic Design Important?
Besides the preventative nature of ergonomics, companies gain many additional benefits. First, healthier employees take fewer sick leave. They'll also have better morale, reduced stress, and work more productively for longer.
Some organizations may think that certain barriers prevent them from implementing a comprehensive ergonomic program. Concerns about the cost, getting employee buy-in, and convincing management that it's necessary may impede a company from improving its workplace ergonomics. Overcoming these barriers isn't that hard, most ergonomic products do not cost a lot more than their counterparts while personalizing ergonomics for each employee's workstation will get staff on board.
What to Look for When Choosing Ergonomic Products
Ergonomic products need to conform to the individual's body and build. Designers of ergonomic equipment use anthropometric data to find optimized forms that reduce strains and helps you maintain a healthier posture while performing work.
At Kensington, we developed the SmartFit® System that applies to most of our ergonomically correct products.
How Does the Kensington SmartFit® System Work?
We used data from the U.S. Army to design our SmartFit System. Using the data points gathered from thousands of soldiers, we could identify four major color groups based on hand size to find the ideal ergonomic setting for our products.
By matching your hand to our SmartFit sizing chart, you'll know what the right setting is for your build and height. It's as simple as measuring your hand, adjusting your equipment, and enjoying the comfort it brings.
Choosing Ergonomic Products with Our Wellness Configurator
Now that you know how to use our SmartFit System, you can start choosing ergonomic products with our Wellness Configurator. As ergonomic solutions come in all shapes and sizes, you'll need to match your needs with the right product. If you're working from home, you can optimize your entire workstation with products that won't take up lots of space but still give you all-day comfort.
We also provide solutions for mobile work and dedicated offices. In as little as three steps, you can find all the products you need and start enjoying a healthier work environment.
Finding a Specific Ergonomic Product from our Wellness Solutions
Sometimes, you need a specific ergonomic product (like a vertical mouse or trackball) to reduce the strain you get from your current device. Kensington's wellness solutions are effective, efficient, and easy to use. You can even match multiple products or try something different like learning how to use a trackball.
Whatever you need, you'll probably want to look for solutions in these categories:
Improving your posture – Footrests, backrests, laptop risers, and monitor stands can improve your posture when working behind a computer.
Supporting your typing position – Laptop risers elevate your screen but also provides a more natural angle for your typing tasks. Another solution would be to get a wireless keyboard that also provides wrist support.
Enhancing your point and click capabilities – Vertical mice and trackballs give you a more natural position while you navigate around your screen. You can also get an ergonomic mouse that comes with support for your wrist.
Even with these solutions, you may still want to stretch from time to relieve pressure on your muscles.
Some Additional Advice for Improved Workplace Ergonomics
The Mayo Clinic provides additional guidance if you're looking to overhaul your workstation. It includes considerations for your chair, keyboard and mouse, telephone, foot and backrests, and other key objects like your phone or stapler.
With this advice, you'll know what to look for when shopping for ergonomic products. Once you know what you need, you can use Kensington's SmartFit system to ensure you find the ideal setting for your new ergonomic solutions.
Improving Workplace Ergonomics with Kensington's Latest Products
Now is the ideal time to invest in your long-term health and well-being at work. Whether you work from home, the office, or need to stay productive on the go, Kensington has a solution that will help improve your efficiency and ensure a more comfortable work position and posture.
With products that cover every aspect of workplace wellness and ergonomics, you can start reconfiguring your workstation today. Our solutions are simple to use, easily adjustable, and give you a unique fit every time.