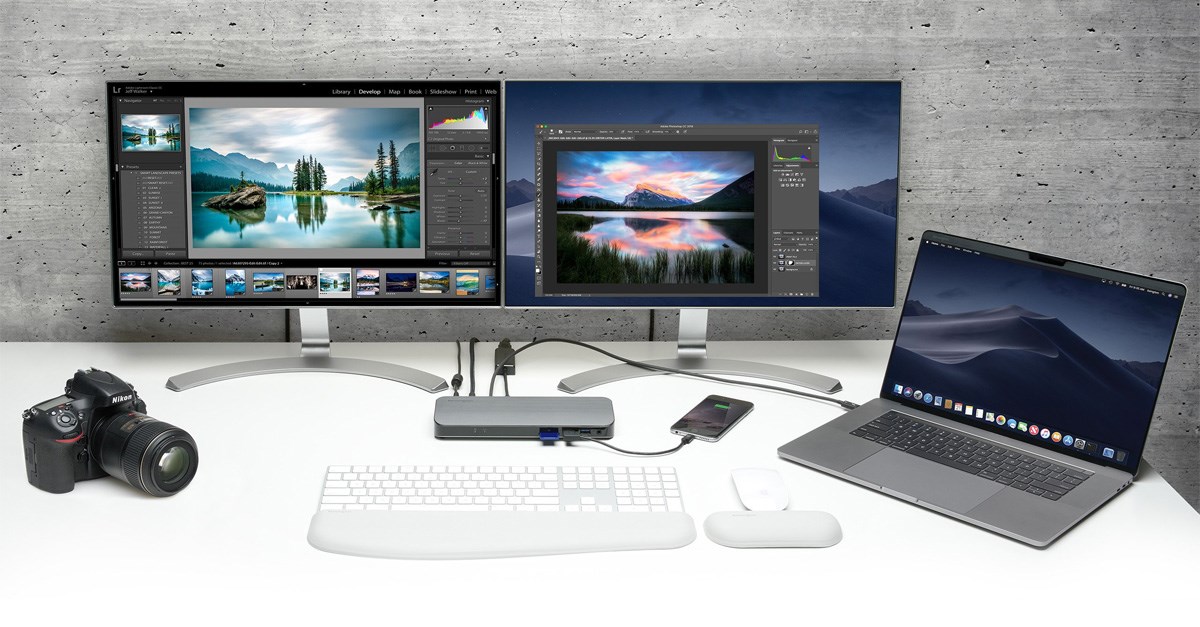 Over the years, the MacBook Pro has become much thinner, in large part by streamlining its port selection. Whereas the 2012 to 2015 models featured extensive built-in I/O including an HDMI port and an SD Card reader, its successors come outfitted only with Thunderbolt 3 ports and a 3.5mm headphone jack.
But does thinness mean you have to sacrifice a robust selection of ports? Not at all. With a modern MacBook Pro Thunderbolt 3 dock, you can harness the power of its built-in Thunderbolt 3 connectivity to create a fully portable office.
MacBook Pro Thunderbolt 3 Docks, Explained
Thunderbolt 3 docking stations connect to ports of the same name, which provide data transfer speeds of up to 40 Gbps and support dual 4K display connectivity (or one connection to a single 5K monitor), USB peripherals, and other accessories. Thunderbolt 3 ports also deliver power to the connected device, simultaneously.

The first two generations of Thunderbolt technology used Mini DisplayPort as a form factor. Thunderbolt 3 instead uses the smaller, reversible USB-C port as its physical connector. On a 2016 to 2018 MacBook Pro, these ports support Thunderbolt 3 while also working with the diverse USB-C ecosystem.
By connecting a Thunderbolt 3 dock to a MacBook Pro you can greatly expand your connectivity options and be productive from anywhere. A few of the high-level benefits include:
A full desk experience: Efficiently connect to HDMI 4K and 5K displays, SD cards, USB drives, Gigabit Ethernet, and more, all from one dock.
Superior performance: Thunderbolt 3 ports are much faster and have higher bandwidth than USB-C or Thunderbolt 1 and 2, leading to a better docking station experience.
Reduced desk clutter: Since Thunderbolt 3 has reliable power delivery alongside data transfer, a Thunderbolt 3 dock will charge your MacBook Pro, freeing up your power adapter to be used when you're mobile and minimizing cable clutter. Some Thunderbolt 3 docks can also be mounted for a smaller footprint.
Enhanced productivity: Laptop docks enable workers with a plug-and-play desktop setup, so that they can easily review documents, edit video and audio, and create content.
Overall, Thunderbolt 3 docking stations greatly extend the functionality of the thin, light MacBook Pro. At the same time, not all MacBook Pro Thunderbolt 3 docks are created equal.
What Separates the Top MacBook Pro Thunderbolt 3 Docks from the Pack
Thunderbolt 3 docking stations are like Swiss Army knives: They combine a ton of functionality into a streamlined and reliable form factor. That's the ideal, anyway.
Whether a docking station ultimately delivers on its promise depends on its design, functionality, and ease of use, all of which should be carefully evaluated when making a buying decision about a MacBook Pro Thunderbolt 3 dock. Moreover, there are several specific features and capabilities to prioritize:
SD card reader
The SD card reader was once a fixture of all Mac notebooks, even the MacBook Air. But the 2016 revision of the MacBook Pro removed it to save space and make room for the new Thunderbolt 3 ports on Apple's professional laptop line.
For photographers, videographers, and other professionals, the loss of the SD Card reader doesn't have to be a setback, though. The Kensington SD5300T Thunderbolt 3 docking station comes outfitted with an SD 3.0 UHS-I card reader for rapid, efficient data transfer. Simply connect a MacBook Pro to the dock via Thunderbolt 3 cable and it's just like having a built-in reader again.
HDMI and Thunderbolt 3 video connectivity
HDMI is a very common and versatile video port. Its ability to send high-definition video and audio over a single cable makes it ideal for connecting anything from a 4k or 5K display to a soundbar.
The Thunderbolt 3 video port is less common, but enables additional features like daisy-chaining, allowing for up to 5 additional Thunderbolt 3 enabled devices to be connected to the MacBook Pro.
The SD5300T features one HDMI 2.0 port and one 15W Thunderbolt 3 port. It also includes a USB-C-to-HDMI dongle that can be plugged into the 15W Thunderbolt 3 port if dual monitors via HDMI is preferred.
This allows for versatile multi- or single-monitor setups. More specifically, the dock can run two 4K monitors or one 5K monitor at 60 Hz.
Additional I/O
Once a MacBook Pro is connected to a docking station via a Thunderbolt 3 cable, it has access to all the ports on that docking station. Beyond SD cards and video cables, those ports can connect a broad range of other devices and peripherals. The SD5300T includes:
Gigabit Ethernet for fast wired connectivity.
Combo audio jack for headsets and headphones.
USB-A and USB-C for mice, keyboards, external HDDs, etc.
VESA holes for desktop mounting.
Kensington Security Slot and Kensington Nano Security Slot for robust physical security via a separate cable lock.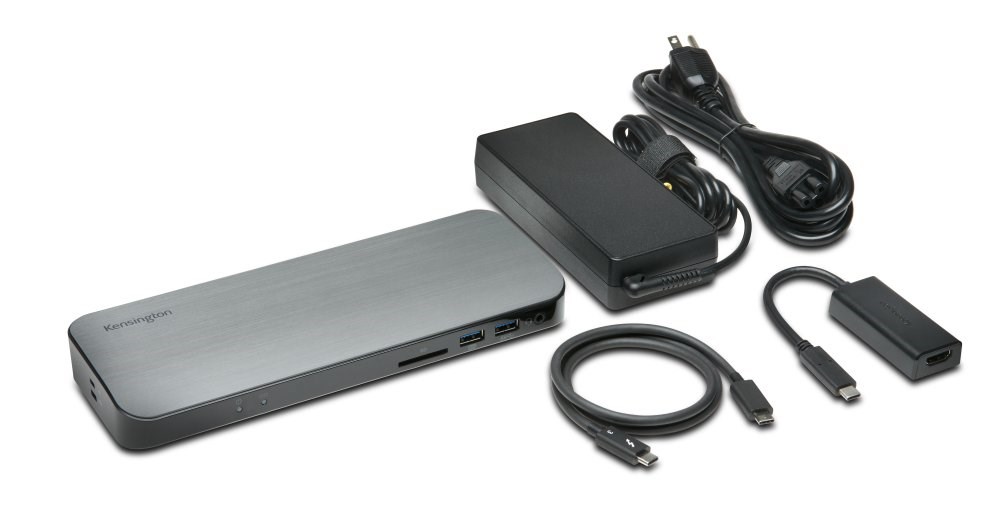 This deep selection of ports allows users to replicate a sophisticated desktop environment, while still enjoying the mobility of the MacBook Pro. For example, a MacBook Pro can be put at the center of a multi-monitor setup with multiple connected peripherals, and then easily disconnected by unplugging a single cable when someone needs to take it on the go.
Daisy-chaining
The SD5300T comes with a 15W Thunderbolt 3 port that can be used for daisy-chaining. Accordingly, an additional five Thunderbolt 3 devices can be connected to the MacBook Pro and docking station for maximum flexibility. For example, a sequence of Thunderbolt 3-equipped external storage drives could be daisy-chained along with a compatible monitor.
Power delivery and charging
One of the biggest changes in the 2016 and later models of the MacBook Pro was the elimination of its dedicated MagSafe port, in favor of charging via any of its Thunderbolt 3 ports. Thunderbolt 3 docks take advantage of the protocol's power delivery capabilities to power connected MacBook Pros and other devices.
The SD5300T delivers 60W of charging power to Thunderbolt 3-equipped laptops like the MacBook Pro, so that they can stay adequately charged even while handling demanding tasks such as video editing. For mobile devices like phones or tablets, the SD5300T's fast charging front USB 3.0 port delivers 2.1 amperes of USB power at 5 volts.
Portability and mounting options
The MacBook Pro provides desktop-class functionality in a highly portable form factor. Compatible Thunderbolt 3 docking stations can offer a similar mix of features and enable employees who work on the go, remotely, or in co-working spaces.
For example, the SD5300T's mounting options can help reduce its physical footprint. Built in VESA mounting holes combined with Kensington's mounting plate accessory allow it to be placed behind a monitor, without taking up any space on a desk. That frees up even more room and eliminates cable clutter. 
Physical security and theft prevention
Thunderbolt 3 docks are linchpins of workflows such as video editing and content creation on MacBook Pros, not to mention substantial technology investments for their owners. As such, they should be properly secured.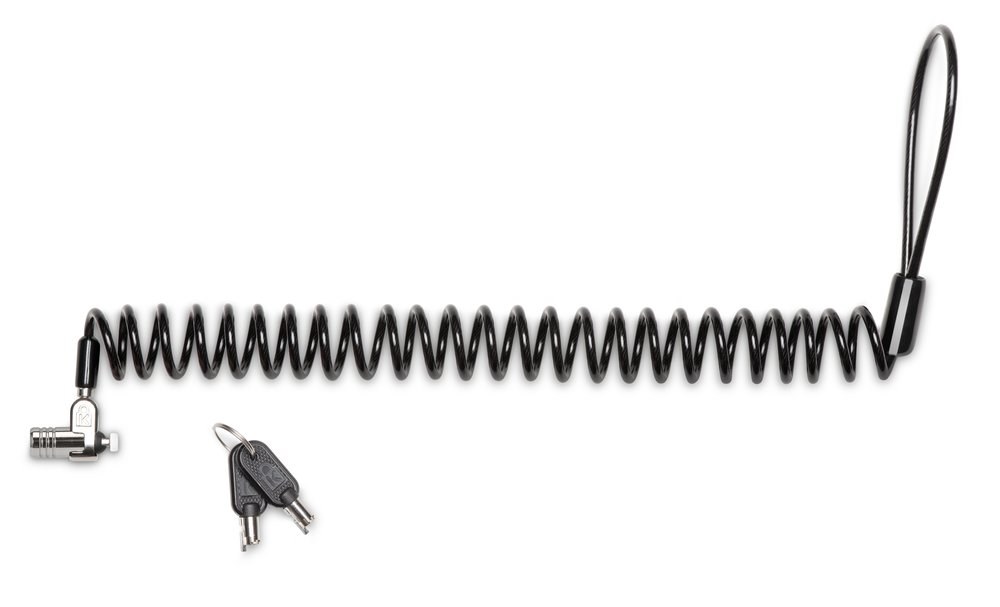 To prevent theft, the SD5300T comes equipped with both a Kensington Security Slot and Kensington Nano Security Slot. These ports support cable locks like the MicroSaver 2.0 Keyed Laptop Lock, which uses a carbon steel cable, tamper-proof technology, and pivotal hinge to provide a robust yet flexible locking experience.
Universal compatibility
Not all docking stations work seamlessly with macOS. In contrast, a universal Thunderbolt 3 dock such as the SD5300T is fully compatible with macOS, in addition to Windows. That ensures a plug-and-play experience with minimal setup time or complications such as downloading extra drivers, allowing for better productivity across environments.
Find the Right MacBook Pro Thunderbolt 3 Dock for Each Workspace
MacBook Pros are versatile, powerful devices that deserve equally capable docking stations. A Thunderbolt 3 dock unlocks the highest level of performance from the port and helps MacBook Pro users stay productive.
Beyond the SD5300T, other Mac-compatible docking stations also offer rich functionality and additional options:
Ready to explore what's out there? Learn more by viewing our selection of universal Kensington Thunderbolt 3 docks.