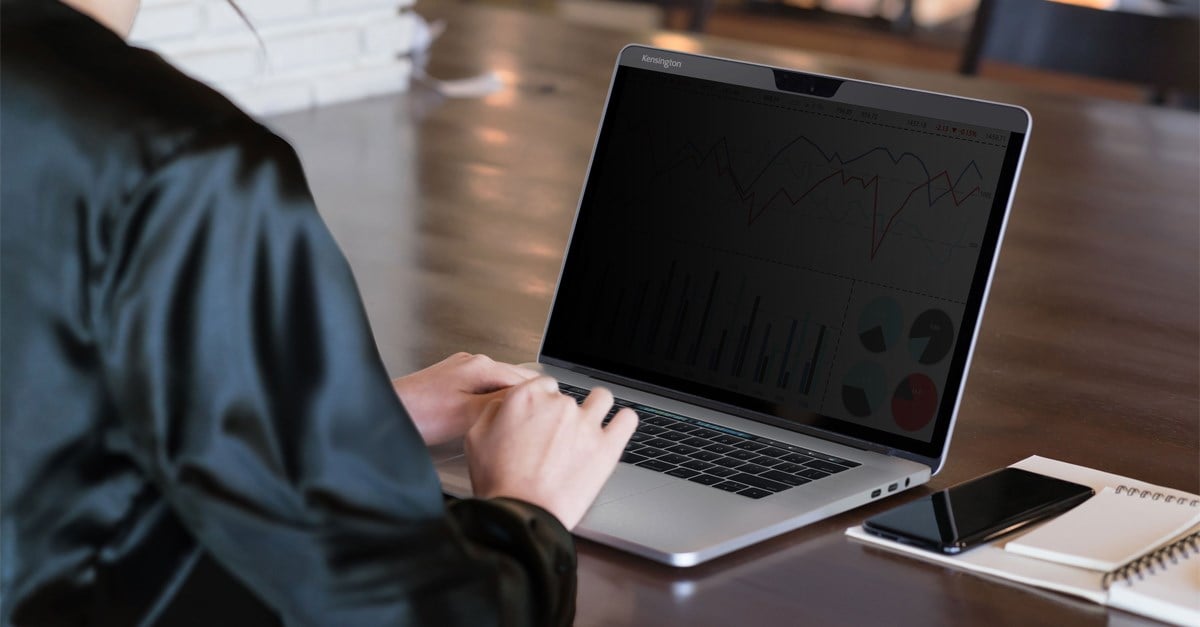 Computer privacy screens keep the person sitting next to you on the bus from seeing what you're watching. They keep your coworkers from looking at the account information you're working on. They protect employee logins from being viewed by customers. Office workers, educators, retail workers, remote workers, and more can control who sees their screen data.
In short, computer privacy screens prevent visual hacking.
A visual hacking experiment performed by the Ponemon Institute found 91% of visual hacks are successful, 68% of it goes unnoticed, and 52% of screens are at risk. That's not all.
A privacy filter also acts as a blue light filter and anti-reflective screen. They're touchscreen compatible and custom-built to fit the most popular monitors, laptops, notebooks, and tablet screens.
How do privacy screens work
A computer privacy screen is a polarized sheet placed on a screen to limit the viewing angle to approximately 30 degrees on either side. Basically, these micro louvers act like window blinds for your computer. It's the same basic technology used on polarized eyeglasses to reduce glare directly in your eyes.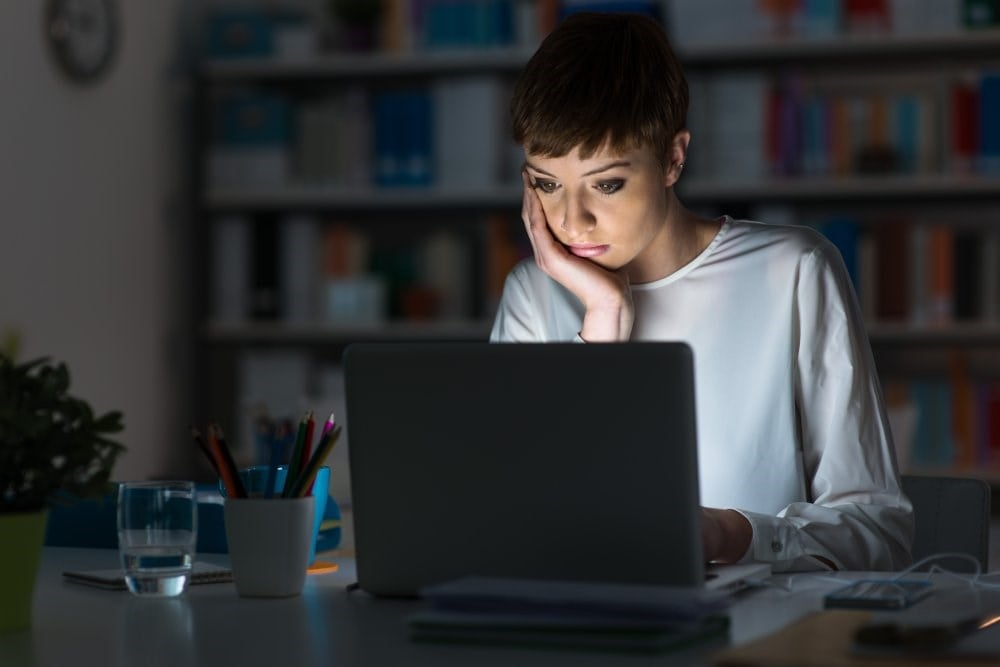 Unlike window blinds, you can find privacy screens with either vertical or 360-degree protection. This greatly reduces both vertical and horizontal viewing angles for maximum protection working in public spaces.
The micro louvers are angled to block some of the pixels on your monitor screen. The ones that are allowed can only be seen head-on. This prevents people in nearby desks or other aisles from seeing your monitor. It's also helpful for blocking a camcorder or camera from recording your screen. Think of how easy it is for someone behind you to record what you're looking at without you knowing.
Now that you understand what a privacy filter is, it's time to find one for your device.
Finding the Right Computer Privacy Screen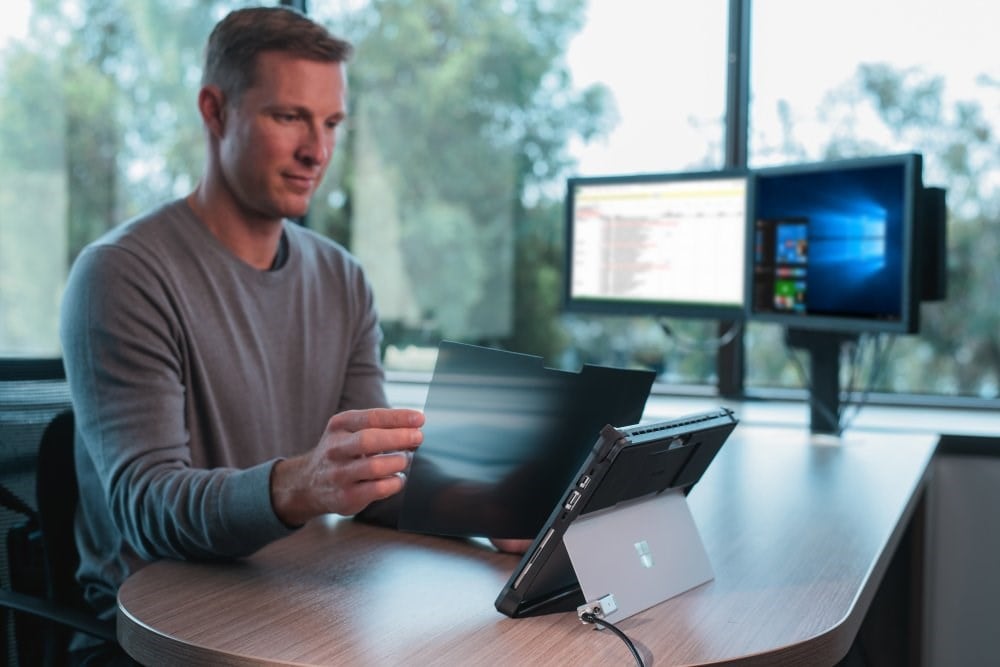 Privacy screens are custom fit to your exact device. Kensington has a privacy screen for Surface Pro and Surface Go. Whether you have the 13-inch or 16-inch MacBook Pro or MacBook Air, you're covered. There are also privacy filters to fit any laptop. 
The full range of Kensington privacy screens includes more than 150 products covering over 52,000 devices. Everyone should feel secure working on a computer.
Using a privacy filter, your screen looks blacked out when seen from outside the viewable angle. This complies with the new General Data Protection Regulation (GDPR), as it adds unprecedented levels of physical security. This indispensable tool doesn't just secure your on-screen data though. It's also beneficial to your overall health and wellness.
Benefits of a Privacy Filter
Optometrists have long recommended polarized glasses for people with or without prescription lenses. People who fish report it drastically reduces water glare, helping them see more fish. Privacy filters work the same way. They don't just block the light your monitor projects – there's also an anti-reflective coating to prevent glare from outside sources.
Most privacy screens are reversible, so you can adjust throughout the day for optimal viewing. On the glossy side, you get a clearer monitor, while the matte side provides maximum glare reduction if you're working with the sun behind you. The screen absorbs harmful UV light from reflecting off the screen directly into your eyes.
Not only that, but computer screens are notorious emitters of blue light, which negatively impacts your sleep, especially working at night. You'll benefit from a 30% reduction in blue light filtered using a privacy filter. Here are the three main benefits of privacy screens.
1. Protect Sensitive Data
As discussed above, a computer privacy screen physically protects on-screen data by obscuring the view outside of the area around you. This is the perfect solution for using any device (personal or business) outside of a secure area. Once you're in public, assume everyone and everything is recording your screen, because that's often the case.
2. Prevent Eye Strain
Reduction in blue light from the monitor and UV glare from the sun and other external lights relieves pressure on your eyes. With less harmful light hitting them, you squint less, and your eye muscles can relax. This helps you sleep better and prevents eye strain while you're awake.
3. Provide Peace of Mind
Privacy screens aren't just blue light filters and data protectors. They also protect your screen from damage. Imagine dropping your $1,000 laptop to find the only thing damaged was your much-cheaper privacy screen. They're touchscreen compatible too, so you don't have to worry about losing functionality while on the road.
A privacy screen is a smart investment that protects your device, your data, and yourself. You can extend the longevity and security of all your assets with one simple solution. Using a computer privacy screen, you're installing an important security tool.
Installing a Privacy Screen
Thankfully, as useful as a privacy filter is, it's simple to install. There are three installation methods, depending on the privacy screen you choose. Some are magnetic, which attach to your screen's frame and are easily removable. Others use the screen's natural static cling to apply directly to your screen. These are also removable.
For a permanent solution, a direct-to-screen adhesive privacy screen permanently attaches like window tinting. Care must be taken to prevent bubbles, but once applied, this solution makes privacy a permanent part of your device.
Browse Kensington's wide selection of privacy screens to learn more about the benefits of individual computer privacy screens. We're always happy to send out a sample so you can see the benefits for yourself. Once you've found the perfect screen, let us know, and we'll help you outfit your entire office.
Keep your data secure from snoopers behind your back. Install a Kensington privacy screen today.