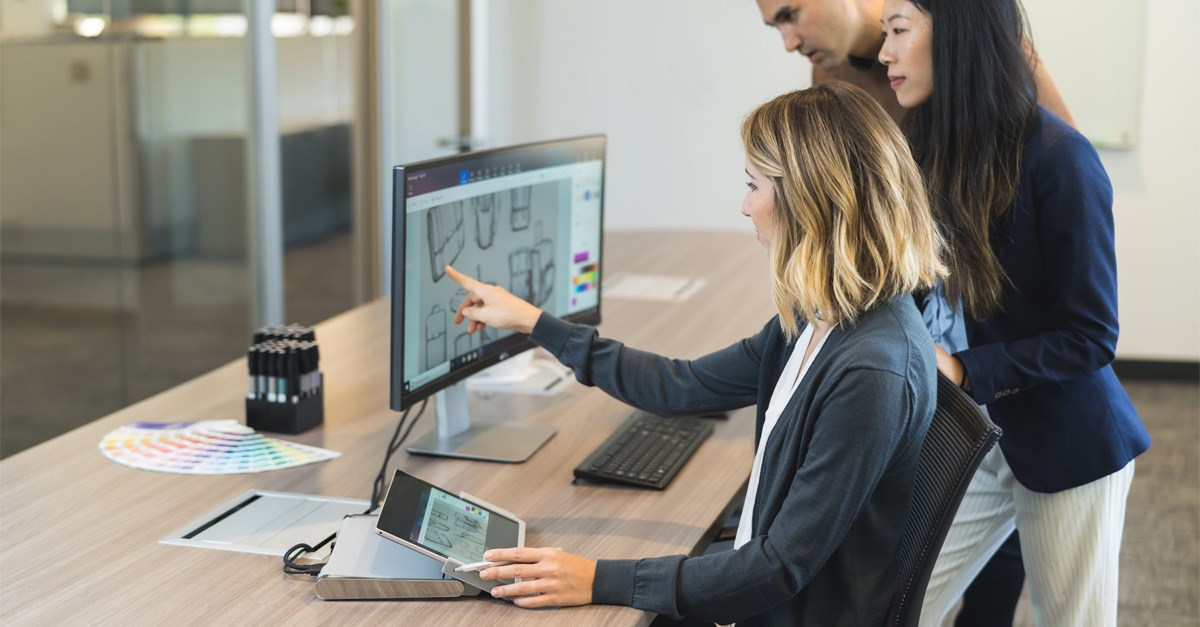 Microsoft's October 2019 Surface event announced the release of a whole new lineup to the Surface product family, including the Surface Laptop 3, Surface Duo, Surface Neo, and two new Surface Pros – the Surface Pro 7 and Surface Pro X. Each features Windows 10, the preferred OS for many educators and business professionals.
This means the Microsoft Surface Pro can function as mobile desktop workstations, in a way the competition can't. Kensington's SD7000 Surface Pro Docking Station takes things a step further, integrating Surface Connect technology for a seamless dock experience that turns your Surface Pro 4, 5, 6, or 7 into a Mini Surface Studio. It's a major win for organizations looking for ways to keep up with the fast pace of transformative technologies, while enabling users to creatively leverage their Surface device while docked.
Microsoft Surface Pro Made the Modern Workplace Mobile
Microsoft created a buzz when it released the initial Surface Pro in February 2013, four months after the inaugural Surface tablet release. What separated the Surface Pro from the pack of tablet/laptop hybrids was its support for the Windows 8 Pro desktop OS. By contrast, iPads use a proprietary iPad OS, while Android and Chrome OS power most other devices to this day.
Instead of reinventing the wheel, support for Windows meant existing apps didn't even need to be ported and extended Microsoft's enterprise usability to cover both legacy organizations using older technology and modern companies running on the latest tech.
When combined with Microsoft's (or even Google's) powerful suite of cloud-based productivity tools, the Surface lineup jumpstarted a revolution in virtual work including work-from-home and fieldwork. It also integrated well into traditional offices, retail environments, and schools, especially when Microsoft launched the Surface Hub in 2015.
Kensington's SD7000 Awarded the Best Surface Dock
Our SD7000 dock was designed specifically for the Surface Pro in partnership with Microsoft. The matching aesthetic and platinum hinges make it look and feel like a Mini Surface Studio. It's been awarded the best surface dock by tech media outlets like Windows Central, PC World, and The Verge, who point out that it's the best way to turn your Microsoft Surface Pro into a powerful workstation.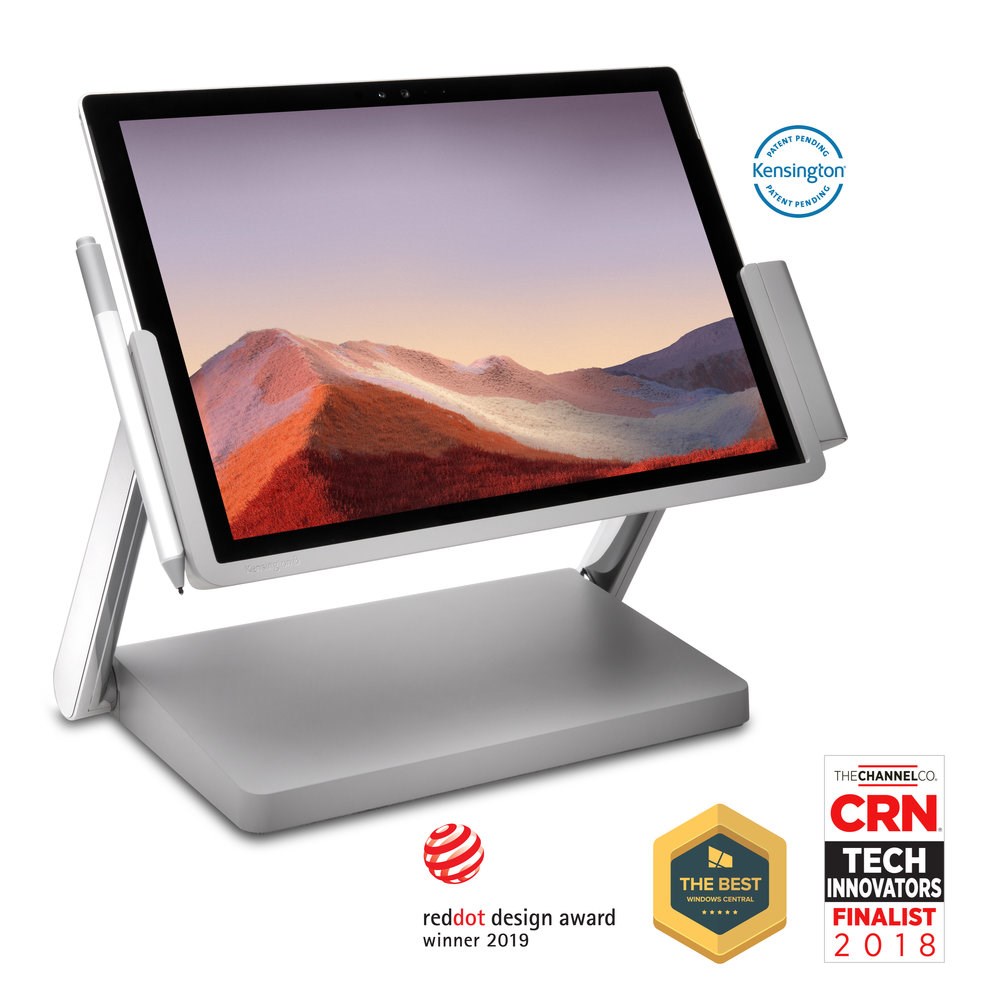 SD7000 doesn't just charge the Surface Pro – it adds an array of USB ports (four USB-A 3.1 Gen1 and one USB-C 3.1 Gen1), a headphone/microphone combo port, Gigabit Ethernet,  HDMI v2.0 and DisplayPort v1.2 ports to support dual 4K @ 30Hz video as well as offering Kensington security for not just the docking station but for the Surface Pro as well. Moreover, the SD7000 doesn't cover the existing Surface Pro headphone jack or USB-A ports, nor the USB-C port on the Surface Pro 7.
With external monitors set up, SD7000 has a hinged stand that can be adjusted between Display Mode and Studio Mode, providing the perfect angle for writing, drawing, or editing photos. There's even a magnetic connection to secure the Surface Pen. Pairing the two devices unlocks a world of productivity and creativity.
Creating a Mini Surface Studio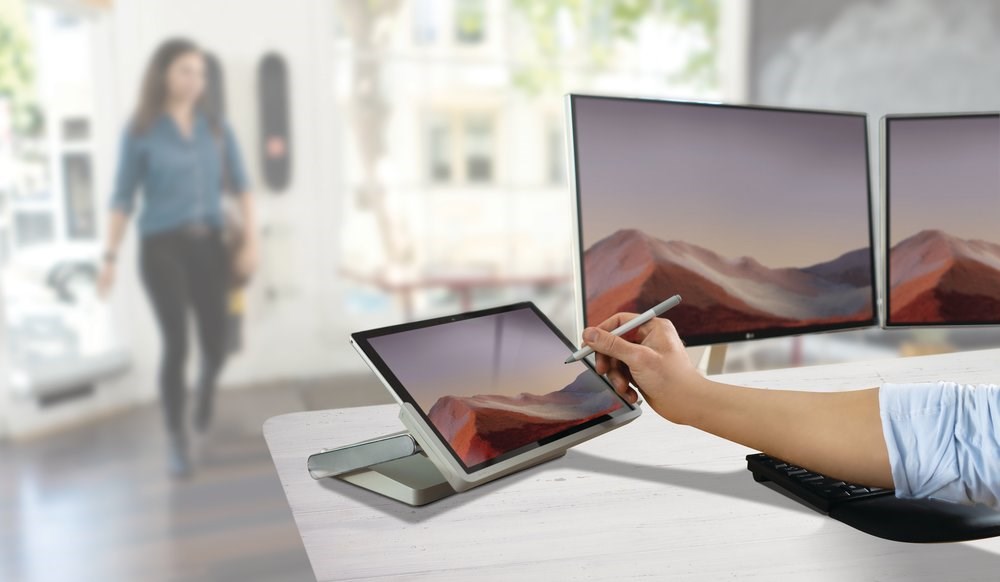 The Microsoft Surface Pro and Kensington SD7000 combo can be used alone or integrated into existing workstations. It's a versatile solution for everyone from freelancers to large enterprises. Here's how to build your own Mini Surface Studio.
1. Choosing the Right Surface Pro
There are now seven generations of Surface Pros on the market, with each model adding minor upgrades. The physical designs of the Surface Pro 4-7 remain the same and are all compatible with the SD7000. While the Surface Pro X is too large for SD7000, it pairs perfectly with our mobile SD1610P dock which was Designed for Microsoft Surface devices.
2. Docking and Securing Your Mini Surface Studio
Docking the Surface Pro into the SD7000 is as easy as sliding it in and pushing the engagement arm into position. From there, the Surface Pro automatically recognizes that it's docked and works in harmony with the SD7000. You can then secure your Mini Surface Studio, as well as the SD7000, with Kensington's K62918WW standard lock module kit or the K63251M master keyed version. This is handy when using the Mini Surface Studio in public-facing areas, or in areas where added security is required or desired.
3. Pairing Surface Pen and/or Surface Dial
Microsoft has a variety of accessories to help creative professionals be more productive on the go. New products announced at October 2019's Surface event include Surface Earbuds and a new Surface Pen, which join the Surface Dial and Surface Headphones. Pair these with your Surface Pro to create new use-case scenarios for your business.
4. Choosing External Monitors
If you're using your Mini Surface Studio for office or studio productivity, you'll want to pair it with monitors for maximum impact. With the proper software, a small business can even turn their Mini Surface Studio into a POS device, and/or a solution to host interactive video menus.
So long as the monitors support HDMI and DisplayPort, respectively, the possibilities are endless.
Here's how this setup can be implemented into different versions of the modern workplace.
Mini Surface Studio in Small Business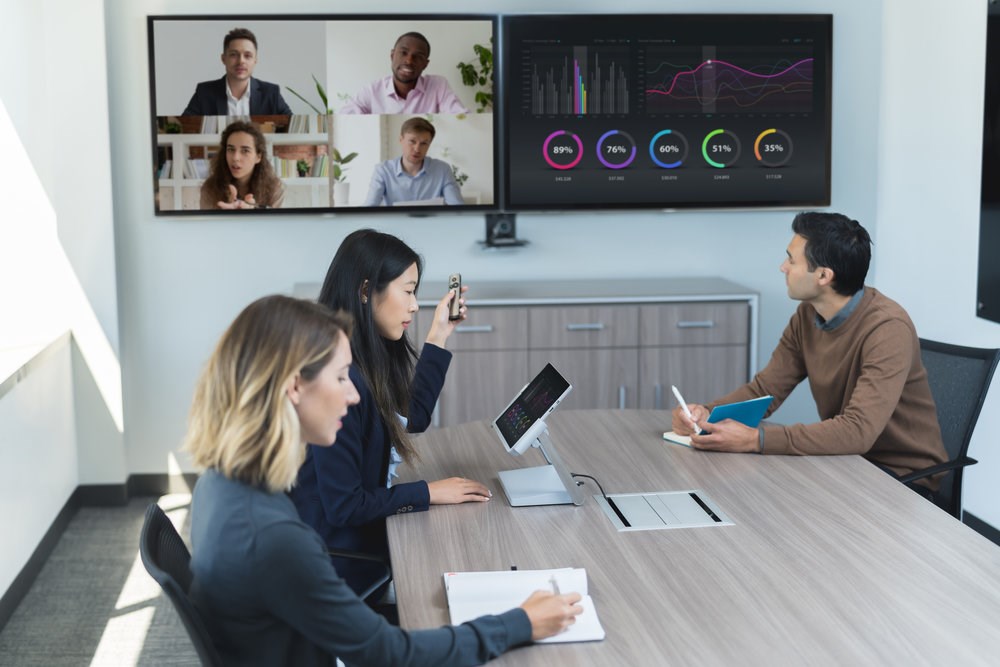 Small businesses can use this setup to remain agile without sacrificing creativity.  Virtual creative teams, for example, can use the multi-monitor setup and extra ports to match the in-house productivity of major corporations. Any small office needing POS and digital signage solutions will find the Windows 10 OS offers the most robust productivity and creative software suite in today's market.
Setting inward and outward-facing monitors within a clinical waiting room, bank lobby, or even at the reception station of a shared workspace enables virtual assistance, self-service, interactive marketing, and a plethora of other options. Single 4K @ 60Hz or Dual 4K @ 30Hz video ensures your brand always looks its best. 
Mini Surface Studio for Enterprise
Enterprise users already know the power of Microsoft's Windows platform, productivity suites, development tools, database management, and more. Many of these processes are expensive to port to mobile devices, but running a desktop OS on a portable tablet means everyone from IT to Sales and Marketing can bring their work with them in new ways.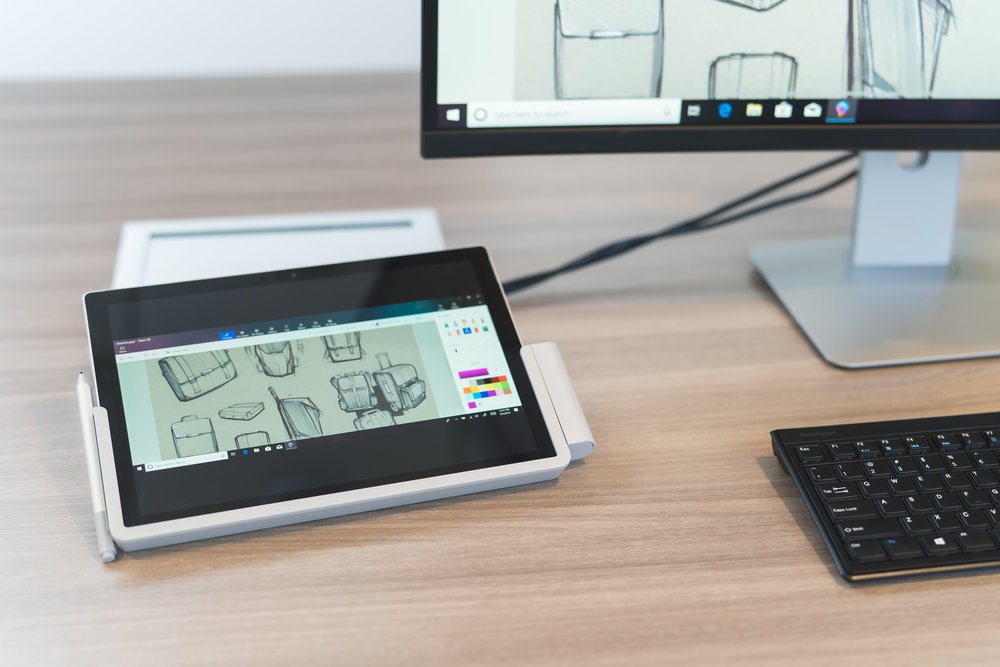 The mobile workforce is also a large part of today's global economy, and this sleek solution is as portable as a laptop but with a lot more power. When you get back to the office, dock the Surface Pro into the SD7000 to continue your productivity and creativity.
Mini Surface Studio in Education (Teachers/College Students)
The classroom is where the Mini Surface Studio can truly shine. Teachers can easily connect to an HDMI-enabled projector to clearly annotate on a personal screen that's shared with the entire classroom. College students, on the other hand, can use the Surface Pro while on the go. When they get back to their dorm room, they can then dock and leverage a full desktop setup that can be secured (via an optional kit) to prevent theft of the Surface Pro, as well as to prevent theft of the SD7000.
Mini Surface Studio for Life
There's simply not enough room to describe the many ways Microsoft and Kensington can transform your life. Regardless of where you work today, you already know the value of the Windows ecosystem. Now you know how to open new windows of opportunity for you or your business.
Ready to increase productivity in your workplace? Check out CDW or Microsoft for all the Kensington tools you need to achieve a great work environment.