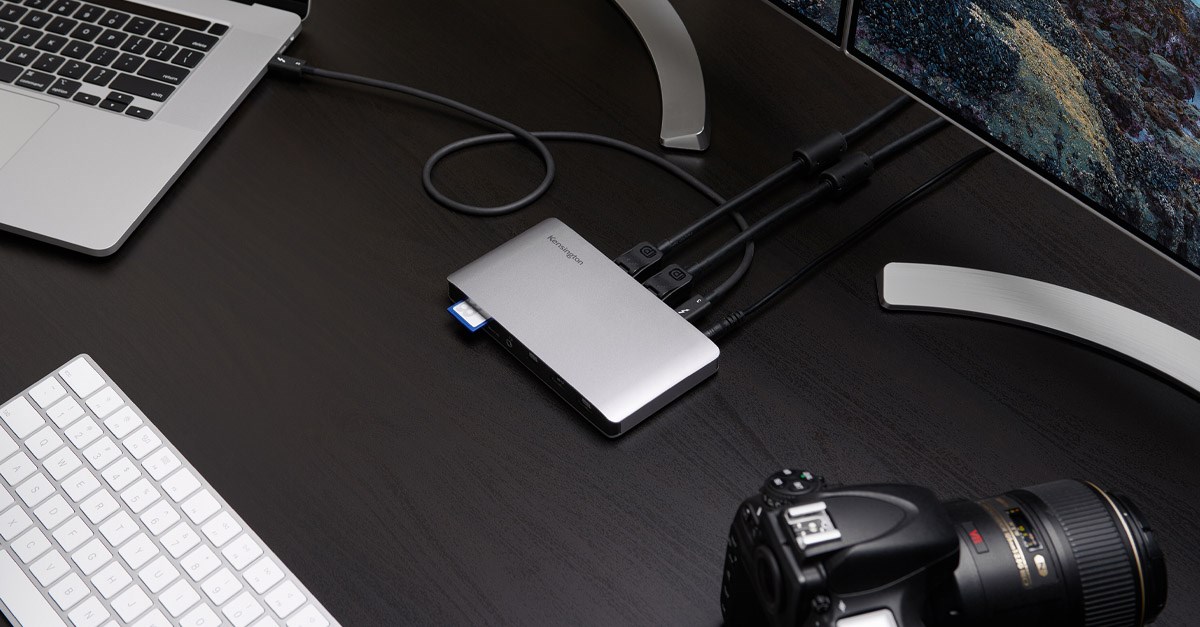 New ultra-compact Thunderbolt 3 and USB-C laptop docking station offer true universal compatibility in Kensington's smallest form factor yet.
San Mateo, CA – December 8, 2020 – Kensington®, the worldwide leader of desktop computing and mobility solutions for IT, business, and home office professionals and The Professionals' Choice, announced its most compact, full-featured Thunderbolt™ 3 docking station is available now on Amazon.com. With Kensington's smallest form factor yet, the SD2500T Thunderbolt™ 3 and USB-C Dual 4K Hybrid Nano Dock with 60W PD - Win/Mac is the ideal laptop docking station for a productive workplace.
The universally compatible SD2500T Thunderbolt™ 3 and USB-C Dual 4K Hybrid Nano Dock with 60W PD - Win/Mac (K36400NA) is the perfect plug-and-play solution for laptops featuring a Thunderbolt 3 port or USB-C port running macOS or Windows. Designed to create the ultimate Thunderbolt 3 docking station experience with the flexibility to also excel as a USB-C docking station, this laptop docking station is the ideal choice for users looking for a MacBook Pro docking station, Dell docking station, Lenovo docking station, HP docking station, or docking station for other laptops with a Thunderbolt 3 port or a USB-C port. 
Users can take advantage of their laptop's Thunderbolt 3 port to transfer up to 40Gbps of data, video, and audio (10Gbps for USBC Gen2 laptops and 5Gbps for USB-C Gen1 laptops) using the included Thunderbolt 3 cable. Extend visual productivity with the crisp resolution, contrast, and color depth of Ultra HD (Single 8K 30Hz or Dual 4K 60Hz) via two DisplayPort v1.4 ports for Thunderbolt™ 3 laptops and USB-C laptops with DisplayPort Alt Mode.
The ultra-compact laptop docking station creates a productive desktop setup with one USB-C Gen2 port (up to 10Gbps with 5V/1.5A charging), three USB-A ports [2 Gen2 @ 10Gbps on the front (one with 5V/1.5A charging) and one Gen1 @ 5Gbps port on the rear of the dock supporting 5V/0.9A], UHS II SD 4.0 card readers for ultra-fast SD and Micro SD transfer speeds, Gigabit Ethernet port, and audio combo jack. Quickly charge any Thunderbolt™ 3 or USB-C laptop with 60W Power Delivery.
Free Kensington DockWorks™ software with WiFi Auto-Switch guarantees the fastest, most reliable internet connection, while Device Connection Monitoring and MAC Address ID Pass-Through and Reset give IT managers maximum network monitoring and visibility. A three-year warranty lets users rest assured knowing they're covered by Kensington.
Compact on size, but full on features — the SD2500T Thunderbolt™ 3 and USB-C Dual 4K Hybrid Nano Dock with 60W PD - Win/Mac joins Kensington's robust suite of laptop docking stations designed to bring the full desktop experience to mobile devices. For IT gatekeepers who would prefer to test out a new dock before your organization fully invests in it, Kensington's ProConcierge program allows you to try a dock tailored to your organization's requirements, with no obligation to buy.
Resources
Follow Kensington on:
About Kensington
Kensington is a leading provider of desktop and mobile device accessories, trusted by IT, educators, business, and home office professionals around the world for more than 35 years. Kensington strives to anticipate the needs and challenges of the ever-evolving workplace and craft professional-tier award-winning solutions for organizations committed to providing peak professionals the tools they need to thrive. The company prides itself as The Professionals' Choice, and on its core values surrounding design, quality, and support.
In office and mobile environments, Kensington's extensive portfolio of award-winning products provides trusted security, desktop productivity innovations, and ergonomic well-being.
Headquartered in San Mateo, California, Kensington is the inventor and worldwide leader in laptop security locks. Kensington is a division of ACCO Brands (NYSE: ACCO), one of the world's largest designers, marketers, and manufacturers of branded business, academic, and consumer products, sold in more than 100 countries across the globe.
Kensington is a registered trademark of ACCO Brands. Kensington The Professionals' Choice is a trademark of ACCO Brands. All other registered and unregistered trademarks are the property of their respective owners.
© 2020 Kensington Computer Products Group, a division of ACCO Brands. All rights reserved.