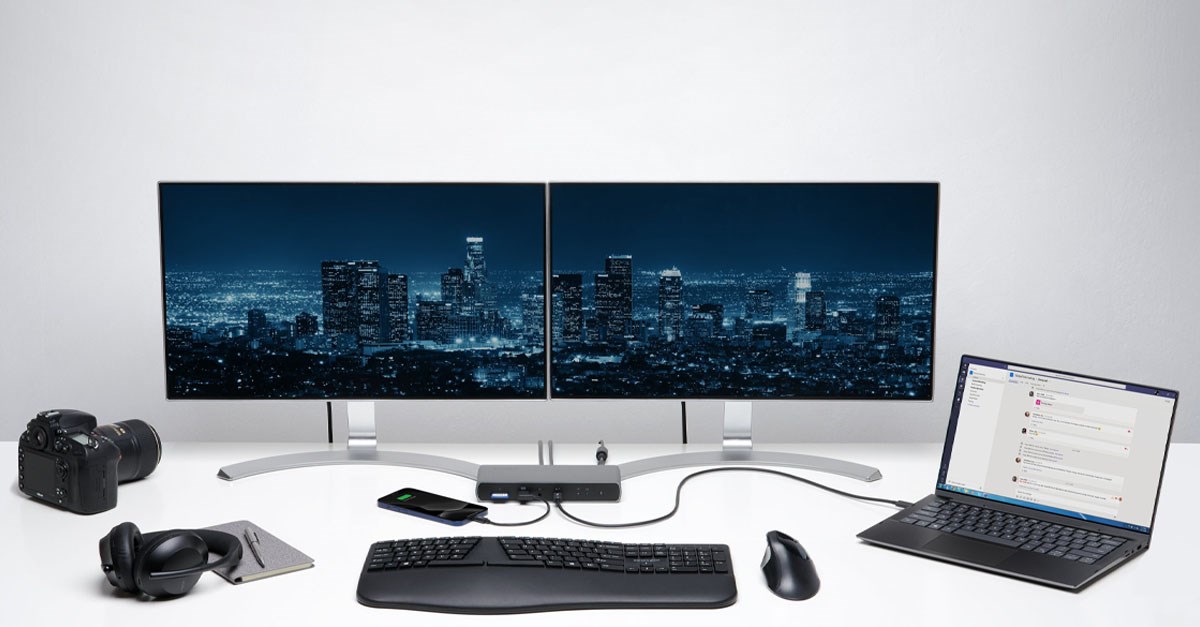 The news of another upgrade to the Thunderbolt™ family of connections brings users many questions about the new port's connection capabilities and underlying architecture. You'll want to know what it means for your previous docking solutions and whether a new Thunderbolt™ 4 device will require a new docking solution.
The quick answer is you can still use your Thunderbolt™ 3 dock with Thunderbolt™ 4 devices, but you may want to find out more about what improvements a Thunderbolt™ 4 connection brings to your docking system.
Thunderbolt™ 4 isn't the same level of upgrade that we saw with Thunderbolt™ 3, but it still brings new capabilities to device connectivity. For anyone using a Thunderbolt™ 3 or USB-C enabled docking system, there are some things to consider when upgrading your devices.
The Thunderbolt™ Revolution
Over the last decade, Thunderbolt™ ushered in a new era of data, video, and charging capabilities. While most manufacturers were working to integrate HDMI ports into their laptops, Apple quickly adopted the technology for all types of connections, including video output. With its high-speed data connections, Thunderbolt™ quickly found a home in premium devices like MacBooks.
By 2013, the 10Gbps connection speeds doubled to 20Gbps with ThunderboltTM 2. Only two years later, we saw another doubling of speeds to 40Gbps with ThunderboltTM 3. The evolution of Thunderbolt™ connectivity from Thunderbolt™ to Thunderbolt™ 3 was massive. However, one of the primary benefits of the Thunderbolt™ 3 connection ports were adopting the USB-C  form factor. This meant a unified connection port that many manufacturers could implement without having to make dramatic changes to their internal components.
Thunderbolt™ is now part of Intel's tenth generation Ice Lake CPUs. Each one of these new generation CPUs can support up to four Thunderbolt™ ports (two per side) and provide 40G USB 4 data transmission. With this single decision, Intel ushered in a new era of universal compatibility for our devices.
What Updates Are Available in Thunderbolt™ 4?
Intel clarified the initial confusion about what Thunderbolt™ 4 would bring to consumers in the middle of 2020. Once the company released the Thunderbolt™ 4 specifications, manufacturers and consumers were able to rest a little easier. While Thunderbolt™ 4 does bring some changes to the technology, it doesn't change the port configuration or require new adapters for backward compatibility.
According to Intel, the Thunderbolt™ 4 upgrade will:
Comply with USB4 specifications
Improve performance and provide universal compatibility using the 8000 series controller
Increase PCIe data transfer to 32Gbps (from 16Gbps) at 3,000Mbps rates
Include wake-up from sleep features
Strengthen security with Intel VT-d direct memory access to protect against DMA attacks
According to Intel, Thunderbolt™ 4 aims to make Thunderbolt™ accessible everywhere. The laptops with new protocols and controllers incorporated only shipped late in 2020, so we should expect to see more devices hitting the market in 2021.
What Changes Do Thunderbolt™ 4 Ports Provide?
Apart from the improvements to the architecture, Thunderbolt™ 4 aims to give you a unified, universal connection solution. Whether you use an Apple product for your workstation or a Windows based PC, with Thunderbolt™ 4 we're moving closer to the same capabilities.
Keeping up with all the port standards isn't easy. In the last five years, we've had Thunderbolt™ 3, USB 3.0, USB 3.1, USB 3.2, and now we're getting ready for USB4. Thunderbolt™ 4 already complies with the latest USB4 specifications, getting us one step closer to unified connectivity.
Additionally, the new minimum standard calls for dual 4K or single 8K video to Thunderbolt™ 4 ports. It's also reversible as Thunderbolt™ 4 uses a USB-C connector type and it offers power delivery of up to 90 watts.
What Docking Systems Work With Thunderbolt™ 4?
When it comes to docking systems, Thunderbolt™ 4 won't rock the boat. Intel made sure that the new architecture would work with previous Thunderbolt™ 3 systems, allowing you to continue using your existing docking station with a new, Thunderbolt™ 4 device.
One new feature you may want to make use of is Thunderbolt™ 4 offering four Thunderbolt™ ports (one upstream and three downstream) which greatly improves upon Thunderbolt™ 3 (one upstream and one downstream). Therefore, you can connect one Thunderbolt™ 4 port to your laptop and then connect multiple monitors as well as external SSDs directly to the other three Thunderbolt™ 4 ports on a docking station.
How Does the New Thunderbolt™ Port Influence Your Docking Connectivity?
There's good news on the docking station front. Thunderbolt™ 4 laptops will work with any Thunderbolt™ 3 docking solution without needing an additional adapter or connection type. 
With backward compatibility being one of the design criteria Intel used, you'll have the same performance as with a Thunderbolt™ 3 device. Devices that come with the Thunderbolt™ 4 technology will use the same connection ports and won't require any physical changes to your desk setup.
Kensington Docking Stations Compatible with the Latest Thunderbolt™ Connections
With working arrangements and routines changing, having a universal docking solution will help you stay productive from anywhere in the future. Moving the USB and Thunderbolt™ 4 technologies closer together means in the future, you'll be able to arrange your desk for maximum efficiency regardless of what primary device you are using.
Kensington's docks support universal connectivity with either USB-C or Thunderbolt™ technologies. If you did upgrade to a Thunderbolt™ 4 laptop, your docking system will still work. Our range of Thunderbolt™ 3 docks provide maximum data transfer (40Gbps), a variety of power delivery options (up to 100W), and support both dual 4K 60Hz video and single 8K 60Hz video outputs.
If you're looking to future proof your setup, we also offer the latest solution in our Thunderbolt™ 4 SD5700T.
Think back to 2007's MacBooks that had to make space for all the different connection types. Today, you get all the connectivity from a single, versatile, and universal Thunderbolt™ 4 port. Kensington continues to develop the best Thunderbolt™ docking stations and keeps up with innovative solutions that improve your performance in any environment.
To discover our latest Thunderbolt™ 4 docking solutions, check out this summary of the history and our new capabilities.
---
This is the third in a five-part series, view the other blogs below: