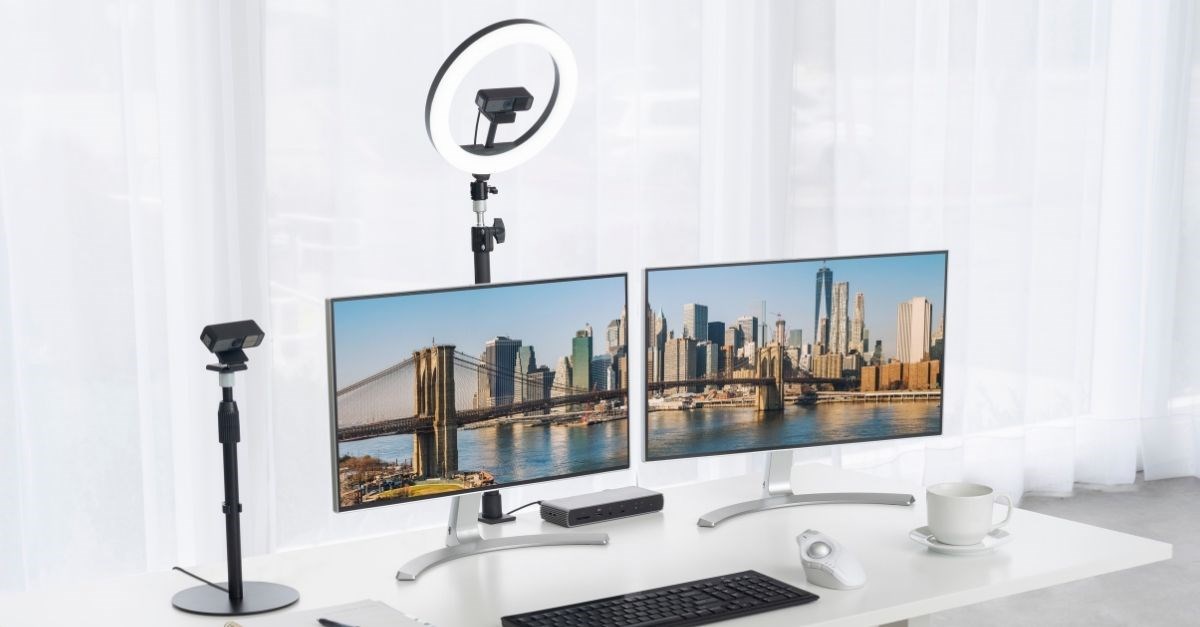 Kensington is launching a new catalog of professional video conferencing solutions to help promote more effective and streamlined conference calls wherever you work.
The Kensington Professional Video Conferencing ecosystem combines video conferencing products with integrated software to create a professional experience. That way, the nearly 4 million remote and hybrid workers can stay connected while working from home (or anywhere).
Workers can look and sound their best on every video, no matter where they happen to be working. Welcome to Professional Video Conferencing, powered by Kensington.
Simplifying the Challenges Users Face with Video Conferencing
Users often find themselves feeling overwhelmed by the breadth of products needed to optimize their video conferencing experience. With so many products on the market, it's challenging to know what they need and how to connect them.
Kensington set out to solve these challenges. They developed products and created simplified software to make understanding and implementing video conferencing solutions easier.
Once developed, Kensington wanted to test them out. Here's what they found.
In a case study, Kensington asked organizations to deploy unified Professional Video Conferencing setups to their most active video conferencing teams. They sought diverse workgroups, connecting from home offices, workplace desks, and conference rooms.
The results from the study revealed that Kensington Professional Video Conferencing increased productivity, decreased demand on IT resources, and delivered higher-quality interactions.
Meetings started on time. Impromptu check-ins were quick and efficient. Everyone could see and hear clearly, no matter where they were working.
6 New Kensington Professional Video Conferencing Solutions
These Kensington solutions for video conferencing improve sight, sound, control, and productivity. They promote focus and simplicity. With these end-to-end solutions, users get an integrated experience with quality products and simple and intuitive software.
1. W2000 1080p Auto Focus Webcam
As more workers find themselves in a permanent work-from-home situation, they realize they need to upgrade their workstations to include video conferencing solutions. A quality webcam is at the heart of any quality video conference. 
Kensington's W2000 webcam with auto focus includes a large sensor perfect for a low-light experience. Users can manually adjust their webcam 360° horizontally and 37° vertically to help them get the best camera angles. They can also electronically pan, tilt, and zoom (ePTZ) via the Konnect software to achieve the best angles for their setup. 
Additional features include:
1080p (1920x1080/30fps)
Narrow 75° field of view
Noise reduction
Integrated microphone

2. W2050 Pro 1080p Auto Focus Webcam
The W2050 Pro webcam includes the same large sensor that offers flexibility for single or multi-user presentations. Users get the same ePTZ and manual adjustment capabilities as the W2000, yet it also comes with high-precision glass lenses that deliver a vibrant video at 1080p across a wide focal area. 
Additional features include:
1080p (1920x1080/30fps)
Glass lens
Wide 93° field of view
Noise reduction
Stereo microphones

3. L1000 USB Bicolor Ring Light with Webcam Mount  
A professional video conferencing setup requires good lighting, and the L1000 USB bicolor LED right light is the perfect solution. This Kensington ring light comes with a mount to accommodate a Kensington webcam. 
Features include:
930 Lumens
Adjustable color range (cool, natural, or warm
USB-A powered (5V/2.0A)
Flexible mounting options*
*Mount sold separately

4. A1010 Telescoping Desk Stand
Workstations remain tidy with a telescoping desk stand. These stands are multipurpose and allow users to mount their webcam, light or other devices like DSLR cameras or microphones. 
The desk stand extends from 11.8" to 19," allowing users to position their webcam to get the perfect angle every time. It is stable and keeps workstations organized. 
Features include:
Adjustable height options
Cable management clip
7" non-skid base

5. A1000 Telescoping C-Clamp
Users can keep their video conferencing setup stable with this telescoping c-clamp by Kensington. Workers can also keep their workstations organized while looking professional for all video calls with this professional mount. 
The mount extends from 20" to 30" to accommodate the user's video conferencing configuration and keeps unsightly cords contained and out of the way. 
Features include:
Adjustable height options
Cable management clips
360° swivel mount (for the perfect angle)

6. A1020 Boom Arm
Users can get the right angle with the versatile boom arm mount. It's perfect for nearly any desk and helps users get the best camera angle to accommodate their environment.
Users can rotate the camera or microphone out of their way when they are not using it and ensure they remain stable when in use. 
Features include:
32" adjustable arm
360° swivel mount
Professional-grade 2.36" thick c-clamp

Streamlining the User Experience with the Best Software Solution
Another issue many users face with their video conference setup is software integration. The IT department needs employees to have a cohesive video conferencing software solution to minimize issues and unify configurations between home offices and the corporate setting.
Kensington webcams come with Kensington Konnect™. They designed this software for the everyday user to offer professional features while still supporting mass business deployment.
Organizations will no longer need to worry whether their staff has the understanding to manage their video conferencing setup. And IT professionals won't be overloaded with support tickets. 
It is a unified software experience that simplifies connection so that staff can get more done because their video conferencing accessories will effortlessly work together. The best part is, they can be personalized with the click of a button.
Look More Professional While Working Anywhere with Video Conferencing Solutions by Kensington
Workstations are more complete with a professional video conferencing setup. Workers can customize their workspace with these solutions powered by Kensington, so they can spend more time presenting and less time troubleshooting.
These accessories work together seamlessly, and the unified software streamlines connections effortlessly. Kensington builds each product on innovation, simplicity, and quality, for a more powerful and professional experience.
The videos created, the conferences attended remotely, and the interactions staff member have will look and sound incredibly vivid.