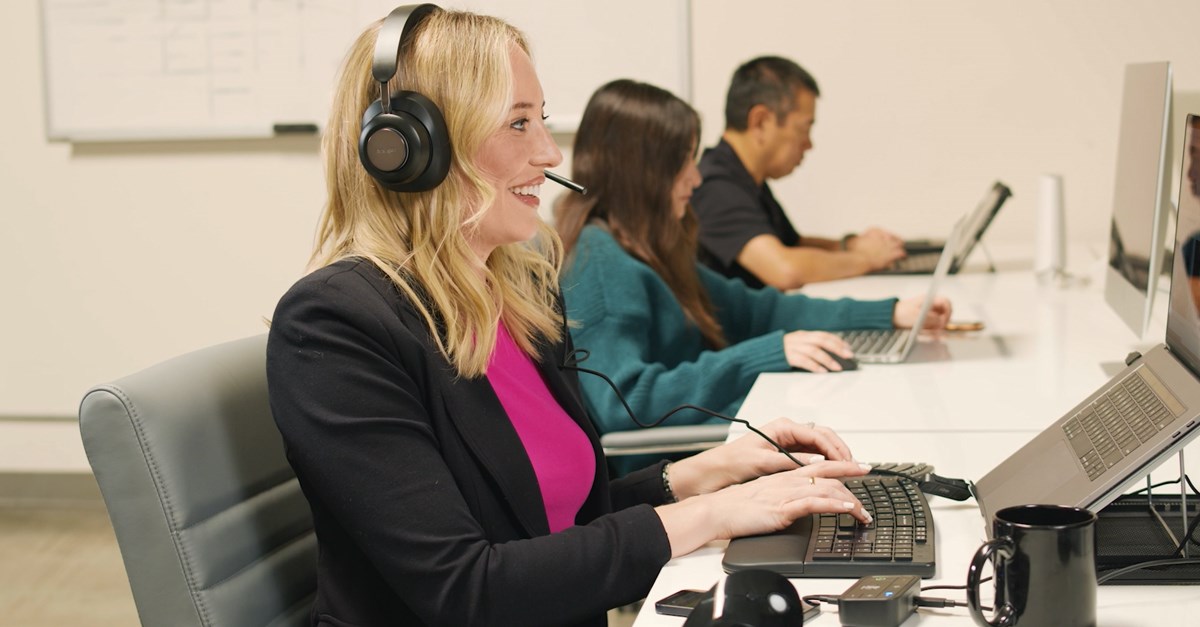 The modern office environment, with its open floor plan and collaborative atmosphere, has created new challenges for busy professionals.
One of them is finding the real estate to be productive in a variety of different locations, often with unique desk set-ups and limited workspace.
If you use both your phone and your computer throughout the day, that means you'll also need to bring all of the gear required to charge them, and you'll need to keep track of the headphones that are paired with each device.
And when you're hard at work or multi-tasking and using multiple operating systems or platforms – like an Android phone and a Mac laptop, for example –  keeping track of which headset is connected to which device can be a serious headache.
Staying Professional & Minimizing Distractions with an Audio Switcher
Dealing with interruptions in shared environments is another major issue for people who need to actually get work done during "work time."
Many busy professionals say that limited workspace and managing distractions are their biggest challenges.And when you factor in the clutter that all of your devices and audio setups create, it's a wonder that anything ever gets done at all.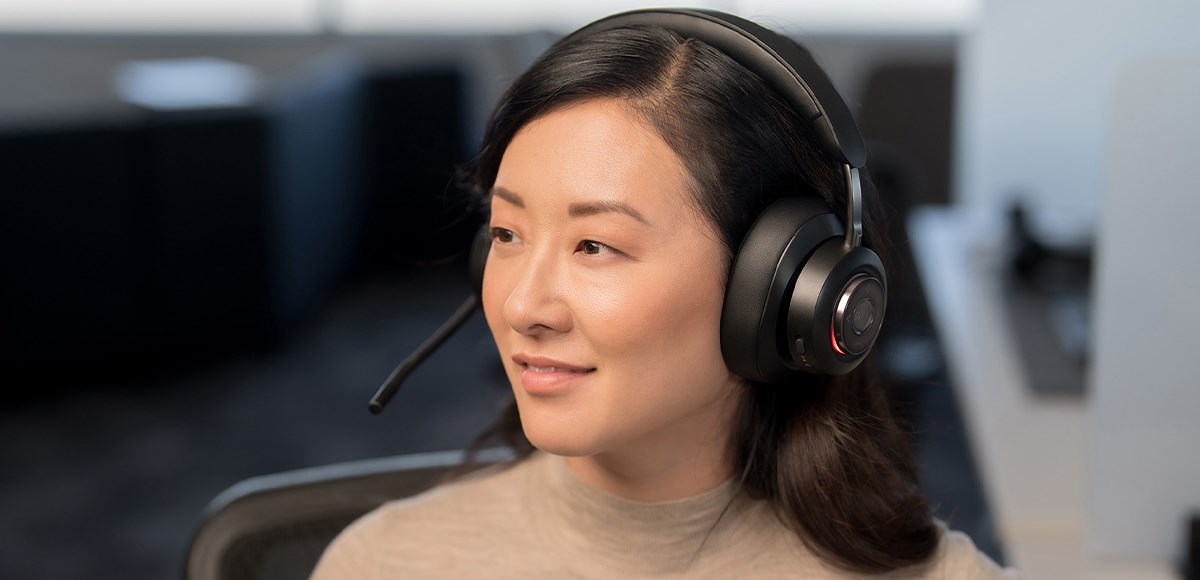 4 Ways to Increase Productivity at Work with an Audio Switch
You can increase productivity, reduce clutter, and ditch the headset-related frustrations forever with the Kensington® Universal 3-in-1 Pro Audio Headset Switch.
1. Be Productive from Anywhere
The ability to be professional and productive from anywhere is a must-have for today's do-it-all hybrid workforce.
The audio switch pairs with up to three devices, so you can plug in, pair, and be ready to work with minimal fuss. It's a professional audio product that provides seamless connections and a pick-up-and-go productivity solution.
More specifically, you can stick with your favorite headset instead of tracking down three sets of earbuds when it's time to get your workspace up and running.
2. Stay Connected
The Audio Switch has been tested extensively with video conferencing platforms like Microsoft Teams, Google Meet, Zoom, Cisco WebEx, and more, and works with all of them flawlessly.
All you have to do is choose the Kensington Audio Switch as the input and output source for that particular platform, and you're off to the races.
And when your meetings are over, the Audio Switch makes it easy to hop from your computer to a conference call on your phone, music on Spotify or Apple Music, or even watch reels on social media – all with the push of a button and without changing your headset. 
In summary, the Kensington Audio Switch can make you more productive with fewer products. And with a 2-year limited warranty, you can stay connected with confidence.
3. Easy Setup and Compact Design ​​
If finding extra power outlets for your devices is a challenge, you'll be happy to know that the Audio Switch doesn't require one.
Every Audio Switch comes with a USB-C to USB-A cable to power it and enable data transfer, as well as a USB-A female to USB-C male adapter for ease of use. Just attach it to any open USB-A port (5V/0.9A) on your Windows or Mac to power it up. This connection also serves as your master volume control and a wired line for your audio sources.
The Audio Switch itself is smaller than your average computer mouse and weighs only three ounces. The compact design integrates easily into whatever environment or desk setup you find yourself in on a given day.
Also, the Audio Headset Switch is compatible with USB-C, USB-A, Bluetooth®, and 3.5mm wired connections, which covers just about any headset you might want to use.
Setting Up the Kensington Audio Switch
When you set the Audio Switch up for the first time, you'll need to pair it with your devices as both an input and output source. You'll also need to pair your wireless headset with the Audio Switch, not the device you're using.
Note: If you want to upgrade your work setup with new headphones, too, we have some suggestions.
After that, the Audio Switch's adaptive Bluetooth® 5.0 connection technology automatically remembers previously connected devices, including PCs, Macs, mobile phones, and tablets. Just plug in and pair, and you'll be ready to work.
Before long, the Audio Switch's dedicated channel buttons and intuitive interface won't even require a conscious thought – it will just be part of your flow.
Picture your workday without going through the momentum-sapping motions of switching, pairing, and charging different audio devices and sources all the time. Isn't that a nice picture?
4. Minimize Disruptions
As we mentioned above, different environments can cause unexpected interruptions that make it difficult to stay productive and professional on work calls.
If you work at home, children or pets could demand your attention at the worst possible time, or your neighbors' lawn care service might decide to leaf-blower their way into your client conversation.
If you work part-time in a shared office or co-working space, passersby and other active noise creators can be just as frustrating and create awkward moments during what are supposed to be professional interactions. The ability to control your audio environment in these situations is essential.
If you're struggling with these interruptions, the Kensington Audio Switch is the solution.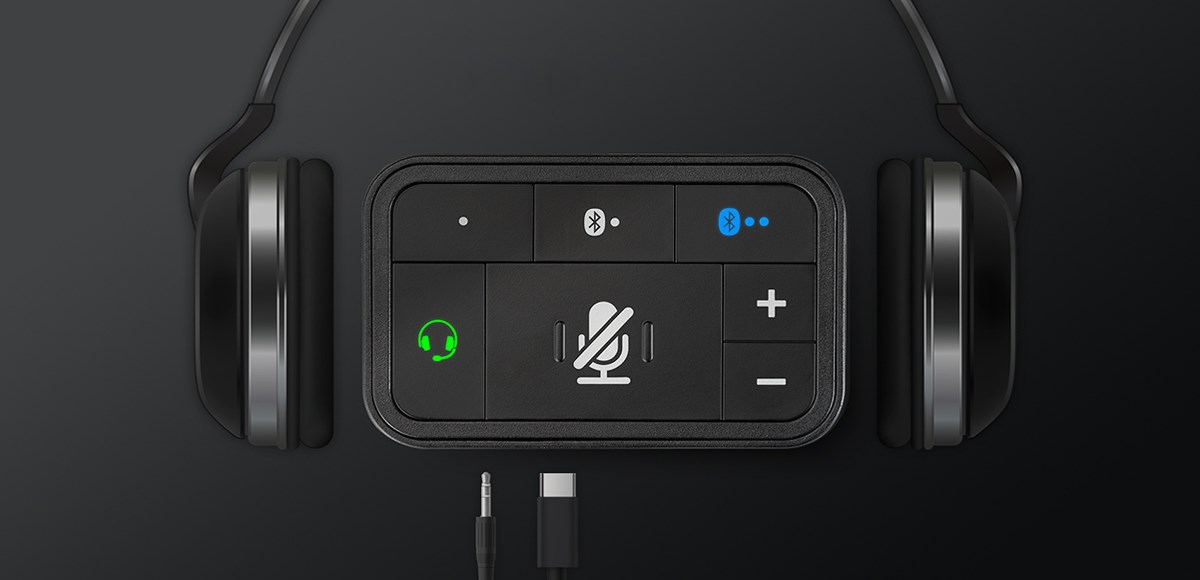 You can cut your microphone instantly by pushing the convenient Mute button on the switch to keep your virtual presence professional. And the bright-and-obvious red display light for said Mute button offers the peace of mind you need to deal with interruptions in meetings or unexpected sounds quickly and pivot back to "work mode."
Dedicated channel buttons and LED lights provide visual confirmation of active connections, and you can control the volume easily as you move between meetings, personal calls or music on different devices.
Discover the benefits of confident connections and seamless switching. Communicate like a pro with Kensington.