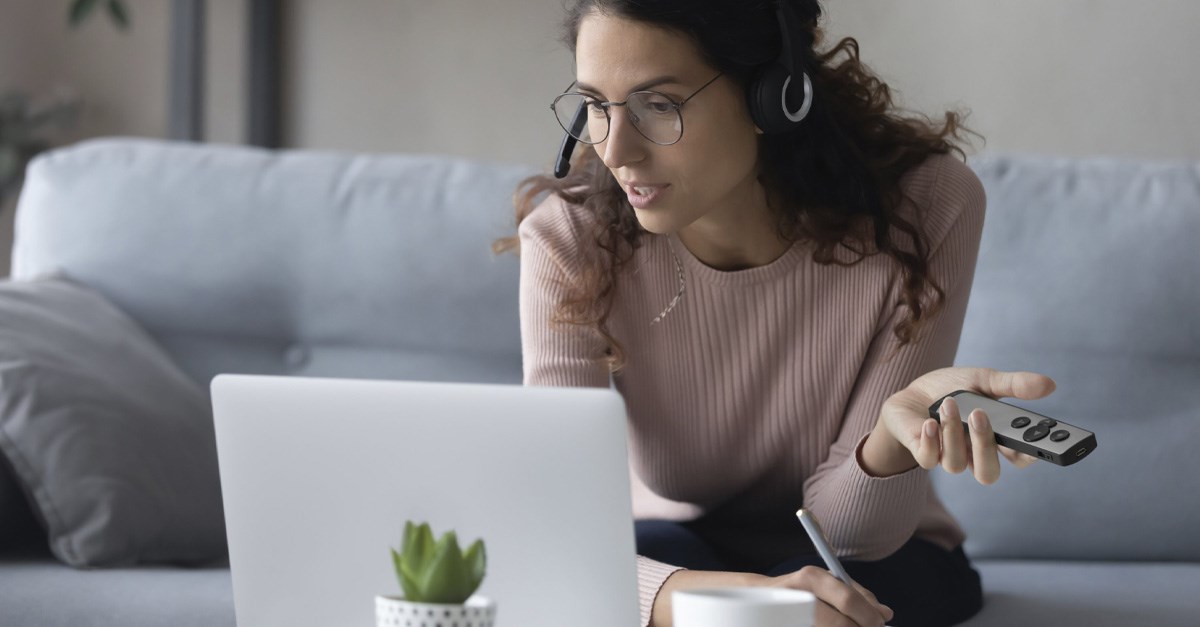 When trying to keep students engaged in remote presentations, teachers will need to utilize every tool available to them. The challenge is to ensure students are focusing on the right information from a slide or video during a session. In a face-to-face setting like a classroom or auditorium, it's easy to guide a student's attention to different elements on the screen using a laser pointer.
Moving to virtual classroom presentations may bring new challenges. It depends on what kind of software you use to broadcast your presentations to students, but often there is no way to use a laser pointer over a remote session. If learners have the ideal setup for remote learning, then teachers also need to invest in solutions that help deliver a more interactive and engaging experience for students.
Remote Presentation Tools to Help Teachers
One way to solve the problem of delivering effective virtual presentations is to use Microsoft® PowerPoint®. While a video-calling solution that provides screen-sharing capabilities is also required, the built-in tools that come with PowerPoint will ensure more engagement with your presentations from students. The integration with presenter tools and the ability to share a presentation online from your computer to any remote audience makes PowerPoint a suitable platform for virtual, synchronous teaching.
Most teachers will already be familiar with the powerful features available in PowerPoint as it is commonly used in classrooms around the world. What you may not know is how easy it is to set up a slideshow and integrate pointer tools for your online presentations. Here's how you can use PowerPoint with remote virtual pointers for more engaging presentations.
Using PowerPoint Virtual Pointers for Online Presentations
PowerPoint comes with a host of built-in features that can help with providing effective remote presentations, especially when paired with Microsoft's Office 365 solutions. With a suite of products specifically configured for educators, teachers can make their virtual classrooms a workable alternative to the in-person experience.
Whether you use another app or a service like Microsoft Teams, you can broadcast your PowerPoint presentation to remote users simply by sharing your screen. PowerPoint also has a built-in broadcast function using Microsoft's servers to host your presentations, although it doesn't support live audio.
Another one of the features available in PowerPoint is you can activate a virtual laser pointer, pen, or highlighter on the screens of your viewers. Just like in an auditorium, the virtual pointer will show on multiple screens, allowing anyone who attends the presentation to see it and follow along.
Benefits of Laser-Less Presenters in Virtual Classrooms
A virtual laser pointer allows you to emphasize the different elements of the presentation without having to navigate with your mouse cursor. The benefits of using laser-less, virtual presenters include:
Easier to direct focus to a specific diagram or piece of text while providing remote lessons.
 Provides more freedom as you can present from a comfortable position without having to hunch over your laptop.
Provides the same controls you expect with laser pointers used for in-person presentations.
Suitable for presenting to virtual and physical audiences simultaneously.
Kensington® PowerPointer™ Presentation Remote
For teachers who have to spend hours behind a computer designing slides for remote lessons, having an ergonomic setup is essential. Any amount of time that you can sit more comfortably behind your desk while engaging with your students will reduce the strain on your body. A virtual laser-less presenter like the Kensington® PowerPointer™ Presentation Remote frees you from your desk, allowing you to move as far as 15 meters (or 49 feet) away if needed.
As part of your remote teaching strategies, you have to consider issues like participation, interaction, and sharing work between students. Synchronous presentations specifically require a way for students to both take in information and engage with content when prompted. The PowerPointer Presentation Remote can help you direct these sessions productively.
Some of the features of the PowerPointer laser-less clicker are:
Easy to install and use with a USB 3.0/2.0 wireless dongle.
No additional software installations required.
Support for PowerPoint virtual pointer effects, including laser, highlighter, or pen.
Compatible with PowerPoint 2010 (or 16.09 for macOS®) and higher.
Rechargeable using a micro USB cable.
With a sleek design and intuitive controls, you'll be able to navigate your slides to a live or remote audience (or both) using meeting tools like WebEx®, Skype®, or GoToMeeting®. The distinctive forward and back buttons mean you can operate your slides easily without having to look at the remote. You can also switch between black and white screens quickly, plus you'll know when it's time to recharge with the handy LED power level indicator.
Other Solutions to Enhance Your Remote Presentation Environment
Apart from having an ergonomic desk set up with a monitor stand and laptop riser for greater comfort, a pair of USB Hi-Fi headphones with mic will ensure your students can hear you clearly while presenting. You'll also be able to hear them with the high-quality stereo sound for an exceptional listening experience. It's robust enough to handle any K-12 environment and comes with a 6-feet USB cable for maximum convenience.
To extend the connection capabilities for devices that only have a USB-C connection, use the Kensington CA1000 USB-C to USB-A adapter. Although the PowerPointer doesn't support USB-C connections, you can still use it on devices that don't have a USB-A port. The adapter has no up or down orientation, making it possible to use it in either direction. By supporting USB 3.1 technology, you can transfer data from an external drive at up to 5 Gbps.
Setting Up a Smart Virtual Classroom with Kensington
Kensington has a range of solutions that can help you build a remote classroom that's both healthy and productive. Today's teachers face a host of challenges with virtual education to keep their students going at the same pace as they would with in-person classes, making the ideal setup essential to ensure success. Kensington's products provide for a healthy, ergonomic work environment either at home, the office, or even in the auditorium.
To ensure you can keep your students interacting with your lessons and follow along with the material, the PowerPointer is a great addition to any teacher's toolbox. We are happy to add it to our family of technology solutions that drive productivity in any remote environment.
Learn more about home learning for students, teachers, and parents.