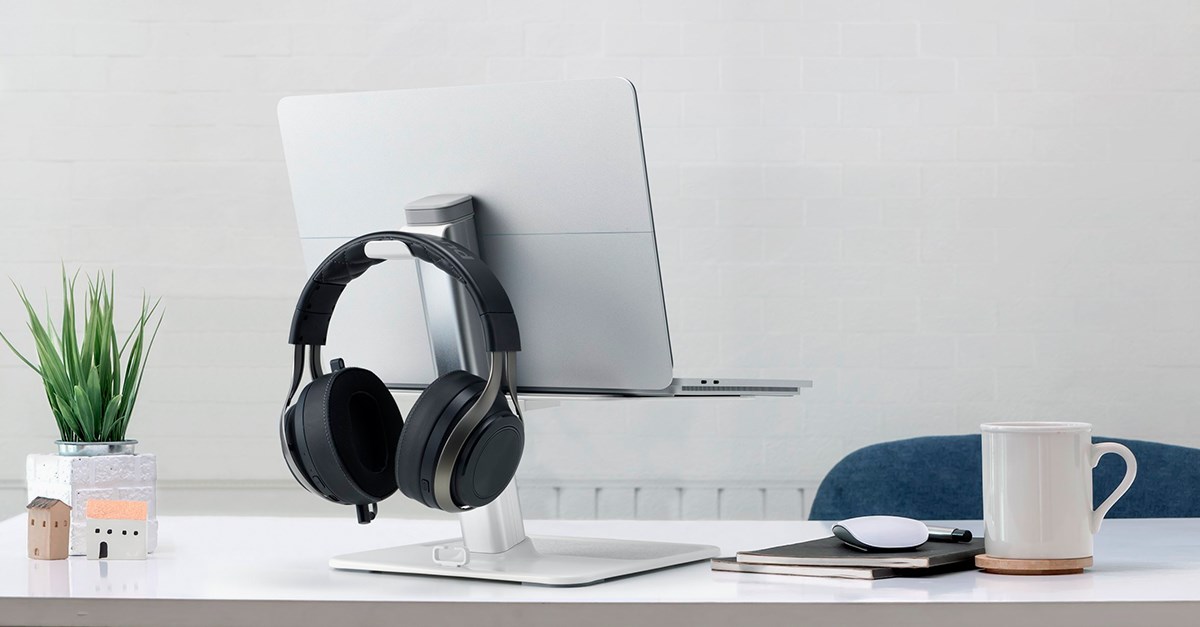 Designed in Partnership with Microsoft, the Stylish SmartView Organizing Laptop Riser Combines Ergonomics and Organization to Increase Efficiency, Minimize Clutter and Promote Proper Posture
BURLINGAME, Calif. –August 23, 2022 – Kensington®, a worldwide leader of desktop computing and mobility solutions for IT, business, and home office professionals and The Professionals' Choice, today announced the launch of the SmartView™ Organizing Laptop Riser (K50825WW), an all-in-one work-from-home solution for establishing a Surface desktop setup. Designed for Surface and developed in partnership with Microsoft for the highest quality, form, fit and function, the new SmartView Laptop Riser is compatible with Surface Laptop Go and Surface Book, or any laptop up to 16".
The sleek and contemporary SmartView Organizing Laptop Riser, a 2022 Red Dot Award winner for product design, incorporates the company's proprietary SmartFit® height adjustment system to elevate the Surface Laptop to the ideal ergonomic height to reduce back, neck and eye strain. Sturdy metal construction complements the look and feel of the Surface device and provides a solid, stable solution that enables users to maintain a clean, clutter-free workspace.  
Features and Benefits of the SmartView Organizing Laptop Riser
Five-Level SmartFit Height Adjustment – Takes the guesswork out of finding the most ergonomic height for the Surface laptop screen by simply matching the user's hand size to easily set the height to the appropriate level.
Headphone/Headset Hanger – Keeps the headset out of the way when its not needed, but close by when it is. The cable management system further enables users to minimize desktop space and eliminate clutter.
Integrated Docking Storage – A fabric-covered cutout conveniently and neatly houses a docking station (such as the Kensington SD5750T Thunderbolt™ 4 Dual 4K Dock or DFS SD4845P USB-C 10Gbps Triple Video Driverless Docking Station), phone or other accessories.
Enhanced Ventilation Optimizes Laptop Performance – Constructed of aluminum alloy and steel for maximum stability and heat dissipation, the ventilated platform promotes air circulation to optimize device performance and battery health.
Easy to Assemble – Included tools allow users to easily assemble and disassemble the riser within minutes.
The Kensington SmartView Organizing Laptop Riser (K50825WW) is backed by a two-year warranty and is available now at a MSRP of $79.99 USD through the Kensington Store and its partner sites.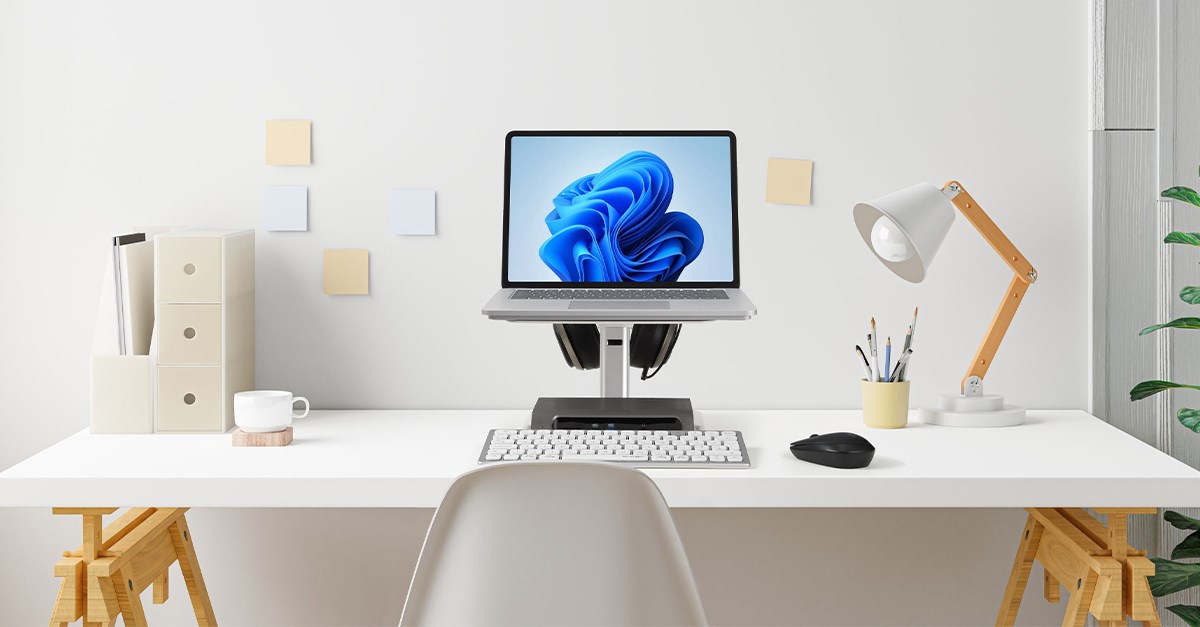 Resources:
Follow Kensington on:
About Kensington
Kensington is a leading provider of desktop and mobile device accessories, trusted by IT, educators, business, and home office professionals around the world for more than 40 years. Kensington strives to anticipate the needs and challenges of the ever-evolving workplace and craft professional-tier award-winning solutions for organizations committed to providing peak professionals the tools they need to thrive. The company prides itself as The Professionals' Choice, and on its core values surrounding design, quality, and support.
In office and mobile environments, Kensington's extensive portfolio of award-winning products provides trusted security, desktop productivity innovations, professional video conferencing, and ergonomic well-being.
Headquartered in Burlingame, California, Kensington is the inventor and a worldwide leader in laptop security locks. Kensington is a division of ACCO Brands, the Home of Great Brands Built by Great People, which designs manufactures and markets consumer and end-user products that help people work, learn, play and thrive.  In addition to Kensington, ACCO Brands' widely recognized brands include AT-A-GLANCE®, Five Star®, Leitz®, Mead®, PowerA®, Swingline®, Tilibra and many others.  More information about ACCO Brands Corporation (NYSE:ACCO) can be found at www.accobrands.com.
Kensington is a registered trademark of ACCO Brands. Kensington The Professionals' Choice is a trademark of ACCO Brands. All other registered and unregistered trademarks are the property of their respective owners.
© 2022 Kensington Computer Products Group, a division of ACCO Brands. All rights reserved.
Media Contact:
Ken Hagihara, APR, Fellow PRSA, MCM                 
Integrity Public Relations, Inc.                         
949-768-4423 ext. 101                                    
ken@integritypr.net