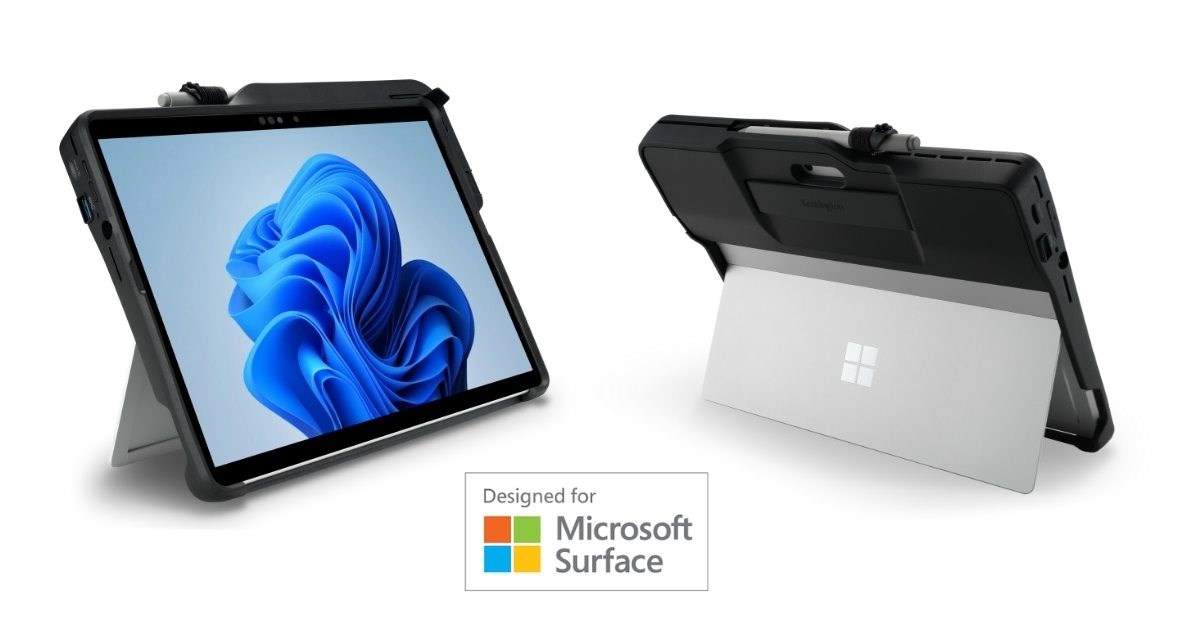 BlackBelt Rugged Case with Integrated Mobile Dock for Surface Pro 8 Combines Docking Station and Military-Grade Protection to Expand Connectivity, Productivity and Creativity.
BURLINGAME, Calif. – April 26, 2022 – Kensington®, the worldwide leader of desktop computing and mobility solutions for IT, business, and home office professionals and The Professionals' Choice, today announced the launch of BlackBelt™ Rugged Case with Integrated Mobile Dock for Surface™ Pro 8. An industry-first, the new BlackBelt case combines a full-featured docking station with military-grade device protection in a slim, sturdy design that enhances the use of Surface Pro 8 in the office and provides ease-of-mind when using the device on the go.
Kensington's BlackBelt Rugged Case with Integrated Mobile Dock for Surface Pro 8 is designed exclusively for Surface Pro and was developed in partnership with Microsoft to deliver the highest quality, form, fit, and function. In addition to providing robust drop and wipe down protection, the new BlackBelt Rugged Case incorporates a mobile dock that adds valuable connectivity capabilities to the Surface Pro 8 that enhance a user's productivity and creativity.
Features and benefits of the BlackBelt Rugged Case with Integrated Mobile Dock for Surface Pro 8:
Expand Connectivity – Two 10Gbps USB 3.2 Gen2 ports (one USB-A and USB-C) enable users to connect accessories such as USB storage and input devices. The USB-C port can also provide 60W of pass-through power for charging the Surface Pro (USB-C power supply not included).
Dedicated Video Ports – Connect a projector or two monitors via HDMI and USB-C to create a full desktop setup. Natively supports up to a single 4K output @ 30Hz and dual 1440p outputs @ 60Hz. Supports a single 4K output @ 60Hz when host device has DSC enabled.
Military-Grade Protection – Meets MIL-STD-810H Method 504.3 Contamination by Fluids and Method 516.8 drop testing to protect the Surface Pro 8 from potential damage caused by drops and enables the BlackBelt case to withstand repeated contact with harsh chemicals in cleaning agents and disinfectants.
Enhanced Functionality – Self-adjusting hand strap, a holder that supports both standard Surface Round and Classroom Pens, a TypeCover keyboard strap, and kickstand opening provide convenience and protection while retaining full access to all Surface Pro 8 functionality.
Integrated SD Card Reader – A dedicated UHS-II SD 4.0 Micro SD card reader is great for expanding Surface Pro's storage, and transferring files and folders.
TAA Compliant, Plus Industry-Leading Support and Warranty – Backed by a two-year warranty and outstanding customer support, you can rest assured Kensington has you covered.
"Kensington continues to innovate around solutions that enhance and expand the capabilities of world-class products like Microsoft's Surface Pro 8," explained Rafi Khusro, Director of Global Product Marketing. "The incorporation of a docking station into our award-winning family of BlackBelt Rugged Cases greatly enhances the functionality and connectivity of the Surface Pro 8, eliminating the cost and inconvenience of having to carry multiple adapters or dongles. This integrated solution makes a great device even better by enhancing its usability in the office, at home and everywhere in between."
Resources:
Follow Kensington on:
About Kensington
Kensington is a leading provider of desktop and mobile device accessories, trusted by IT, educators, business, and home office professionals around the world for more than 40 years. Kensington strives to anticipate the needs and challenges of the ever-evolving workplace and craft professional-tier award-winning solutions for organizations committed to providing peak professionals the tools they need to thrive. The company prides itself as The Professionals' Choice, and on its core values surrounding design, quality, and support.
In office and mobile environments, Kensington's extensive portfolio of award-winning products provides trusted security, desktop productivity innovations, professional video conferencing, and ergonomic well-being.
Headquartered in Burlingame, California, Kensington is the inventor and a worldwide leader in laptop security locks. Kensington is a division of ACCO Brands, the Home of Great Brands Built by Great People, which designs manufactures and markets consumer and end-user products that help people work, learn, play and thrive.  In addition to Kensington, ACCO Brands' widely recognized brands include AT-A-GLANCE®, Five Star®, Leitz®, Mead®, PowerA®, Swingline®, Tilibra and many others.  More information about ACCO Brands Corporation (NYSE:ACCO) can be found at www.accobrands.com.
Kensington and NanoSaver are registered trademarks of ACCO Brands. Kensington The Professionals' Choice is a trademark of ACCO Brands. All other registered and unregistered trademarks are the property of their respective owners.
© 2022 Kensington Computer Products Group, a division of ACCO Brands. All rights reserved.
Media Contact:
Ken Hagihara, APR, Fellow PRSA, MCM                    
Integrity Public Relations, Inc.                        
949-768-4423 ext. 101
ken@integritypr.net