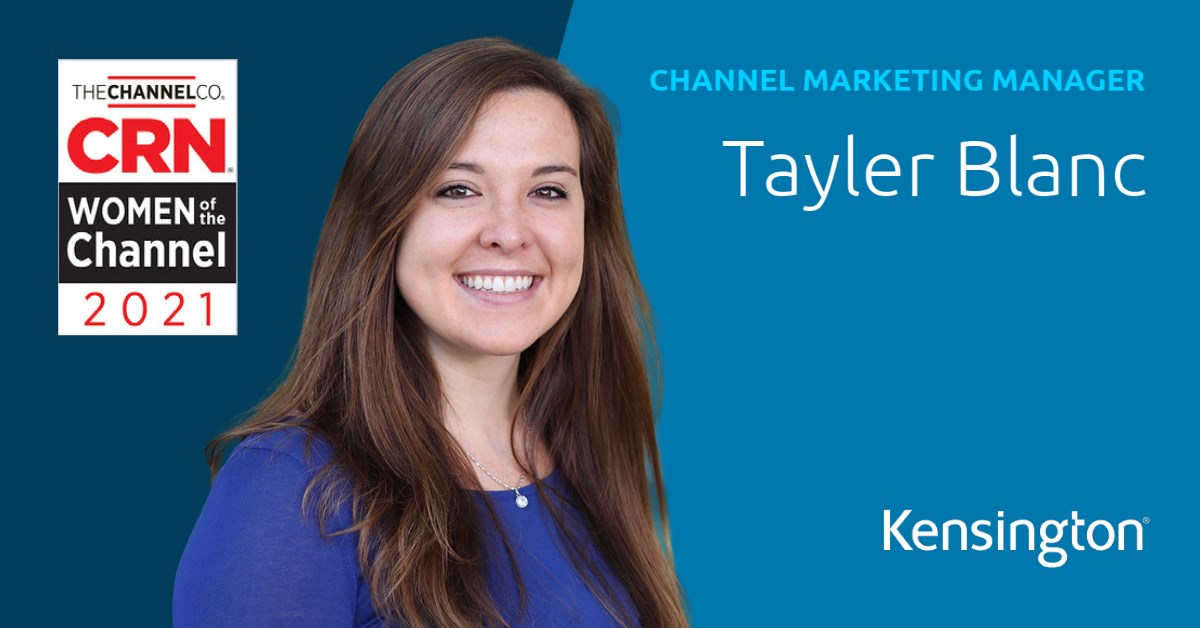 Kensington's Channel Marketing Manager Honored for her Expertise and Vision in Revamping the Advantage Partner Program to Meet the Needs of Channel Partners During the COVID-19 Pandemic
SAN MATEO, Calif. – May 17, 2021– Kensington®, the worldwide leader of desktop computing and mobility solutions for IT, business, and home office professionals and The Professionals' Choice, today announced that CRN®, a brand of The Channel Company, has named its channel marketing manager, Tayler Blanc, to the highly respected Women of the Channel List for 2021. This annual list recognizes the unique strengths, vision and achievements of female leaders in the IT channel. The 2021 Women of the Channel list acknowledges women from all over the IT channel, including vendors, distributors and solution providers.
The women honored on this year's list pushed forward with comprehensive business plans, marketing initiatives and other innovative ideas to support their partners and customers, helping them through the uncertainty brought on by the global COVID-19 pandemic. CRN celebrates these exceptional women for their leadership, dedication and channel advocacy.  
Blanc was responsible for strategizing and implementing the shift in Kensington's channel marketing strategy last year to adjust to the rapidly-emerging challenges to the company and their channel partners presented by the COVID-19 pandemic. In addition to launching a new partner portal, Blanc revamped the Kensington Advantage Partner Program, providing training, an automated bid desk, resources, and campaigns to support the emergent and changing needs of the partner community.
"CRN's 2021 Women of the Channel list acknowledges accomplished, influential women whose dedication, hard work, and leadership accelerate channel growth," said Blaine Raddon, CEO of The Channel Company. "We are proud to honor them for their many accomplishments and look forward to their continued contributions to the IT channel." 
"The rapid evolution and impact of the pandemic created both opportunities and significant challenges for the company and our channel business," explained Alana Shing, Director of US Marketing at Kensington. "Tayler's ability to quickly shift our channel marketing strategies and plans enabled us to meet the changing demands of the market and provided the tools and resources that our partners needed to keep their businesses, and those of their customers, moving forward. We are proud that CRN has chosen to recognize Tayler for her channel expertise and vision."
The 2021 Women of the Channel list is featured online at www.CRN.com/WOTC. 
Follow Kensington on:
About Kensington
Kensington is a leading provider of desktop and mobile device accessories, trusted by IT, educators, business, and home office professionals around the world for more than 35 years. Kensington strives to anticipate the needs and challenges of the ever-evolving workplace and craft professional-tier award-winning solutions for organizations committed to providing peak professionals the tools they need to thrive. The company prides itself as The Professionals' Choice, and on its core values surrounding design, quality, support, and sustainability.
In office and mobile environments, Kensington's extensive portfolio of award-winning products provides trusted security, desktop productivity innovations, and ergonomic well-being.
Headquartered in San Mateo, California, Kensington is the inventor and worldwide leader in laptop security locks. Kensington is a division of ACCO Brands (NYSE: ACCO), one of the world's largest designers, marketers, and manufacturers of branded business, academic, and consumer products, sold in more than 100 countries across the globe.
Kensington is a registered trademark of ACCO Brands. Kensington The Professionals' Choice is a trademark of ACCO Brands. All other registered and unregistered trademarks are the property of their respective owners.
© 2021 Kensington Computer Products Group, a division of ACCO Brands. All rights reserved.