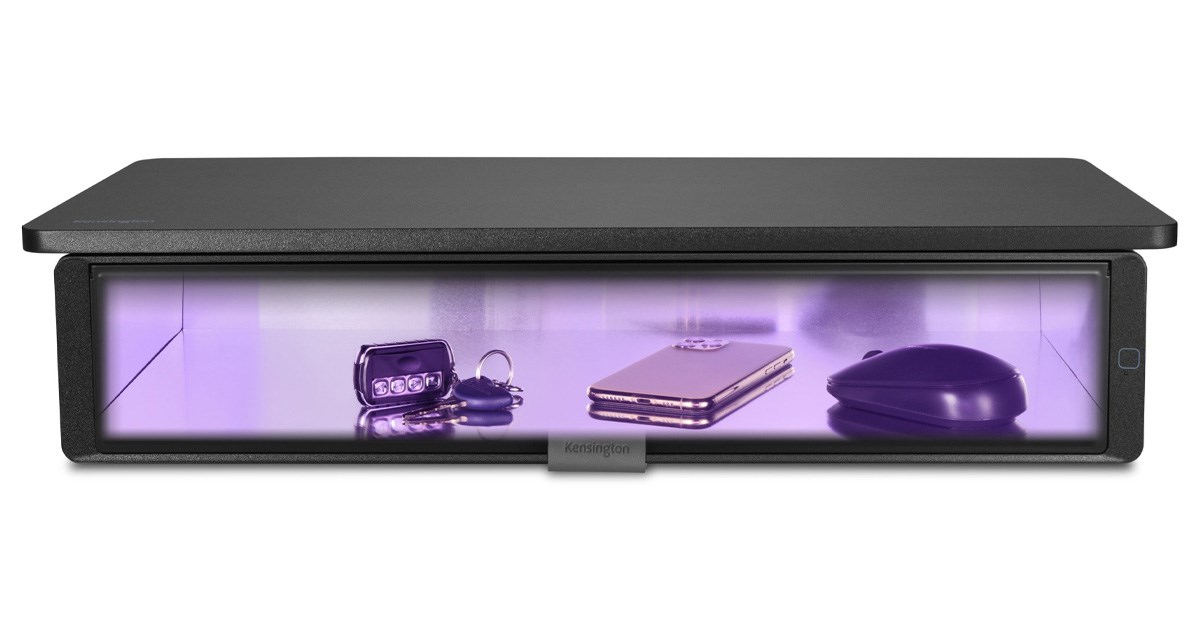 Award-Winning UVStand Features Spacious Sanitization Compartment to Eliminate Up to 99.9% of Bacteria and Viruses from Keyboard, Mice, Mobile Phones, and Other Devices
SAN MATEO, Calif. – June 8, 2021– Kensington®, worldwide leader in laptop security locks, desktop computing and mobility solutions for IT, business, and home office professionals and The Professionals' Choice, today announced the availability of UVStand™ Monitor Stand with UVC Sanitization Compartment. A CES 2021 Innovations Award Honoree, UVStand safely, easily and efficiently helps sanitize keyboards, mice, trackballs, mobile phones, and other devices, while promoting healthy posture and optimal comfort.
The innovative UVStand combines the ergonomic benefits of a monitor or laptop stand with a large sanitation compartment that easily and conveniently eliminates up to 99.9% of bacteria and viruses from any exposed surface. Ideal for use in home or office environments, UVStand provides users with a solution that seamlessly integrates the ability to sanitize frequently-touched items and devices into the desktop workstation.
Features and Benefits of UVStand:
Spacious UVC LED Sanitization/Storage Compartment – Spacious 20" x 11" x 3.5" sanitization compartment accepts most full-sized keyboards in addition to other devices and can be used to store desktop items when not sanitizing for a more clutter-free desktop.
Eliminates up to 99.9% of Bacteria and Viruses on any Exposed Surface – Fully-contained UVC LEDs safely sanitize devices within 10 minutes without the use of chemicals, liquids or wipes.
Promotes Healthy Posture and Optimal Comfort – Ideal for use as a laptop or monitor stand, UVStand supports monitors up to 40 lbs (18kgs) to elevate the user's screen to eye-level height, improving workstation ergonomics by promoting a healthy desk posture.
Safe, Easy Operation – UVStand sanitizes devices with the touch of a button and will only operate when the compartment door is completely closed.  Complies with safety standards including IEC/EN 62471 and ANSI/IES RP-27 and is UL listed.
"The COVID-19 pandemic has fundamentally changed the way in which people react to and protect themselves against the threat of the spread of disease through bacteria and viruses," explained Lisa Schuiteboer-Shuler, Ergonomics Category Marketing Manager at Kensington. "While wipes and liquids will likely continue to be the norm for sanitizing hands and large surfaces in homes and offices, the UVStand can provide an easy and effective solution for sanitizing frequently-touched computer or other personal devices without exposing them to chemicals or liquids."
The new Kensington UVStand Monitor Stand with UVC Sanitization Compartment is backed by a two-year warranty and is now available in Europe at UVStand. UVStand will be available in the United States in Q4 2021.  Please sign up here to be notified on purchase availability in the United States:  https://info.kensington.com/uvstand
Resources:
Follow Kensington on:
About Kensington
Kensington is a leading provider of desktop and mobile device accessories, trusted by IT, educators, business, and home office professionals around the world for more than 35 years. Kensington strives to anticipate the needs and challenges of the ever-evolving workplace and craft professional-tier award-winning solutions for organizations committed to providing peak professionals the tools they need to thrive. The company prides itself as The Professionals' Choice, and on its core values surrounding design, quality, support, and sustainability.
In office and mobile environments, Kensington's extensive portfolio of award-winning products provides trusted security, desktop productivity innovations, and ergonomic well-being.
Headquartered in San Mateo, California, Kensington is the inventor and worldwide leader in laptop security locks. Kensington is a division of ACCO Brands (NYSE: ACCO), one of the world's largest designers, marketers, and manufacturers of branded business, academic, and consumer products, sold in more than 100 countries across the globe.
Kensington is a registered trademark of ACCO Brands. Kensington The Professionals' Choice is a trademark of ACCO Brands. All other registered and unregistered trademarks are the property of their respective owners.
© 2021 Kensington Computer Products Group, a division of ACCO Brands. All rights reserved.