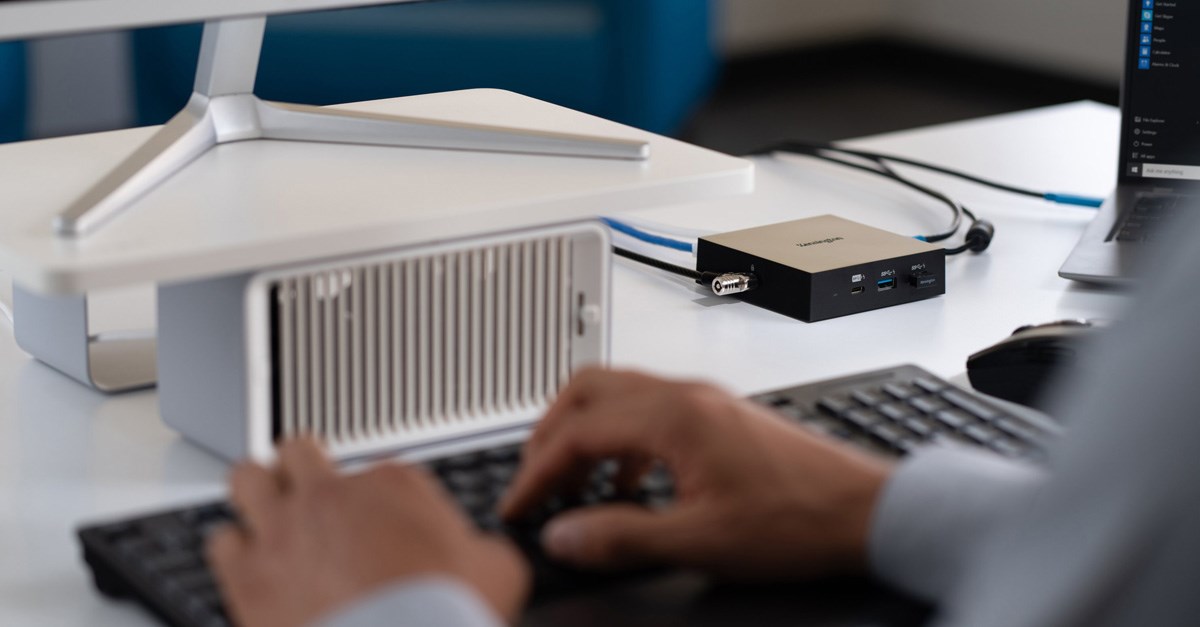 In 2020, the chance of you working from home, at least one day a week, is much more common than it was even a year ago.
Between the flu season and the rise of remote work as a strategic move to cut business expenses, more workers than ever have embraced the joys of working from home.
When it comes to remote work, the possible settings are truly endless – as long as you've got the right setup for it.
Looking into what it takes to work from home effectively? Here's everything you need to know, including the best docking stations to amplify the power and productivity of your remote workspace.
The Value of Working from Home
Whether you're working from home to avoid getting sick, feeling under the weather or just because your company has recently transitioned to a remote workforce, you're in good company.
Remote work has grown in popularity by leaps and bounds. At the beginning of 2020, there were 159 percent more remote workers in the US than there had been at the beginning of 2019.
Many companies are starting to recognize working from home as the win-win solution it is. Remote work is:
Cost-effective: It costs less for everyone if employees telecommute. For companies, that means fewer utility bills and supply usage. For workers, it cuts out gas, coffee breaks, or eating out.
Better for the environment: According to Global Workplace Analytics, remote workers took 600,000 cars off the road in 2019. That number will increase in 2020.
Effective for public safety: Especially with all the recent health concerns, having employees work from home prevents a business from shutting down while helping slow the spread of contagious diseases. 
Excellent for morale and productivity: Remote workers overwhelmingly report feeling less stressed out, more productive, and feel better about their jobs. Their bosses also confirm that remote workers are frequently more productive.
Of course, it isn't just the ability to cozy up with a cup of tea and your pet while you work that makes working from home so conducive to productivity.
Working from home also means the full customization of your workspace. You can set yourself up exactly in a way that amplifies your personal work style.
Here's one of the most powerful tools we have to help you do that. They're called docking stations.
The Top 3 Best Docking Stations for Remote Productivity
Docking stations, sometimes called port replicators in the past, are neat little devices that let you enjoy the experience of a desktop computer without needing a second device.
Simply dock your laptop and connect whatever peripherals you need – a monitor, mouse, keyboard, and more. You'll still be officially working off your laptop but using a desktop monitor and keyboard.
Docking stations are great for professionals who have a work-issued laptop, or a personal laptop that they bring to work every day. Instead of connecting each peripheral device (keyboard, mouse, monitors, etc.) to the laptop every time you're in the office, easily connect them all up to the docking station once. From then, enjoy connecting just one cable to your laptop to make your home office setup come alive.
Here are our three favorite docking stations, based on laptop connection technologies in the market today. They're built for all your remote working needs.
1. SD5300T Thunderbolt™ 3 Dual 4K Docking Station
Need a powerhouse? The SD5300T Thunderbolt™ 3 is your ideal docking station. With over 10 different ports, you can connect monitors, hard drives, mice, keyboards, audio components, SD cards, external hard drives, and more. You'll enjoy plug-and-play installation without needing drivers or downloads. Simply connect your peripherals, and you're good to go.
Designed for Thunderbolt™ 3 laptops and Ultrabooks, it plays well with both Windows and MacOS. That makes it versatile across different industries, from software developers to graphic designers and anyone else who has a Thunderbolt™ laptop.

But there are other reasons why we love this Thunderbolt™ 3 docking station. When you need to get more done faster, we think you'll appreciate:
10-Ports of productivity
40Gbps data transfer speeds – that's a 4K movie in 30 seconds or a year's worth of continuous MP3s in just five minutes
60 watts of power delivery for charging your Thunderbolt™ 3 laptop
Dual 4K video output @ 60Hz (or single 5K @ 60Hz) for true-to-life images
2.1A of USB power for charging mobile devices like your cellphone
Built-in SD Card reader
2. The SD2000P USB-C 5Gbps Single 4K Nano Docking Station
Sometimes bigger isn't better – especially when desktop real estate is limited. The SD2000P Nano Docking Station packs six different ports into a cube that fits in your palm.
If you're not in the know, USB-C is a specific type of USB connector found in many newer models of MacBooks, Chromebooks, and Windows laptops. Unlike previous USB connectors, it's capable of transmitting data and power on a single cable. It's robust, efficient, and – best of all – flippable. Say goodbye to jamming your USB connector into the port, trying to figure out which way it goes.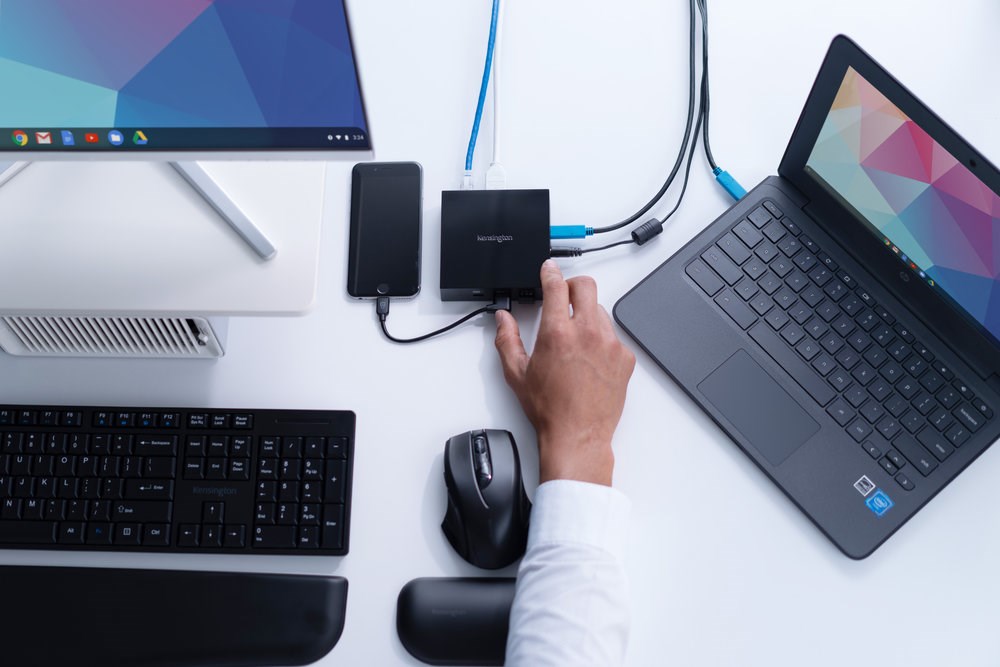 The SD2000P takes advantage of USB-C to create a more compact docking station with fewer cables. In addition, you'll get:
6-Ports of productivity
5Gbps data transfer speeds
60 watts of power delivery for charging your UCB-C laptop
Full compatibility with Windows, MacOS, and Chrome OS
Single 4K video (choose between HDMI or DisplayPort++ video connections)
Zero footprint mounting allows you to mount the dock to any 75mm or 100mm VESA-compatible external display
3. The SD4100v 5Gbps USB 3.0 Dual 4K Docking Station
For professionals working from home that need to accommodate an older laptop that's still not using Thunderbolt™ 3 or USB-C, SD4100v is the answer for a truly powerful desktop setup. With a 9.8ft USB-A host cable, you'll have the flexibility to position the docking station anywhere you need it.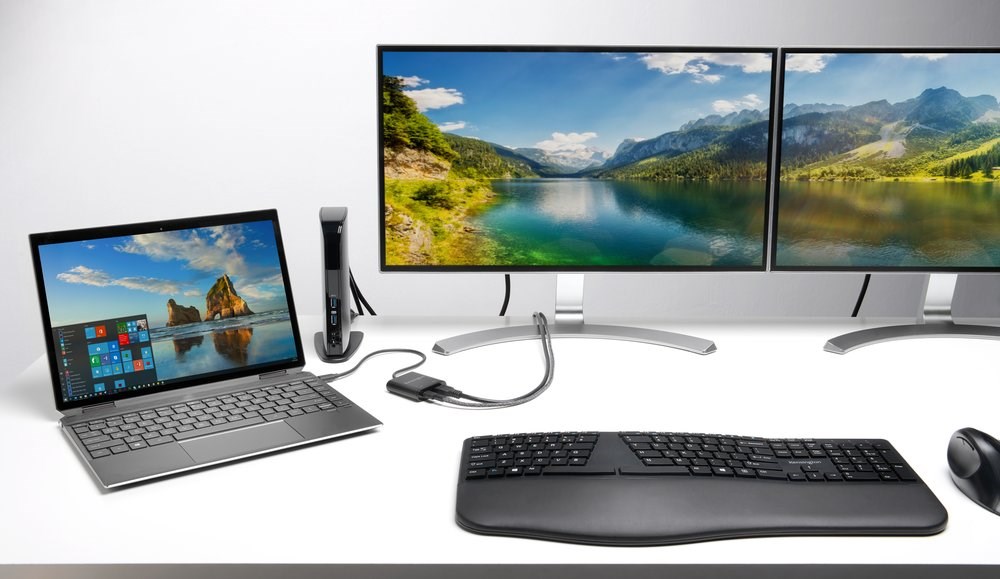 The SD4100v comes compatible with Windows 7 and above, MacOS 10.14 and above, and Chrome OS 44 and above, making it versatile if you're running any of these operating systems. Anyone running a USB 3.0 laptop, Ultrabook, tablet, or monitors that support 4K will find this docking station ideal. You can also take advantage of:
11-Ports of productivity
5Gbps data transfer speeds
An independent power switch to turn it off completely when not in use
Single or Dual 4K (4096 x 2160 @ 60Hz) monitor support
2.4A of USB power for charging mobile devices like your tablet or cellphone
Stay Connected with Solutions from Kensington
You might be out of the office, but with a docking station from Kensington, you'll stay productive. With any of our docking stations, you'll enjoy transforming your remote office into a productivity powerhouse that helps you get everything done in comfort.
Whether you're traveling or working from home, you can elevate your remote workstation with a docking station that supports all your accessories in one powerful, hassle-free device.
Looking for more suggestions for devices to support your remote work? Check out this article for our recommendations for the ultimate home office setup.