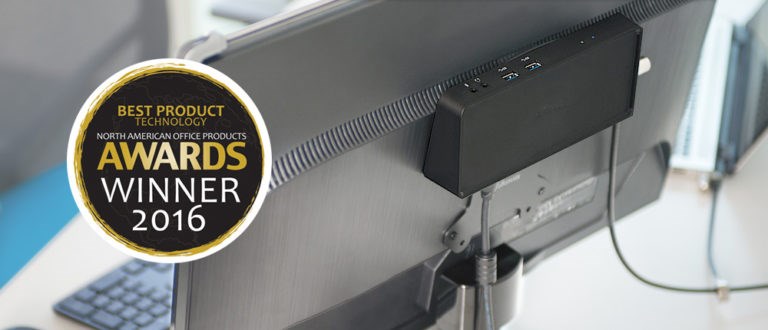 We're announcing today the great news that Kensington's SD3600 Universal USB 3.0 Docking Station won "Best Product" in the 2016 North American Product Awards (NAOPA)!
The honor, which was awarded in the Technology Product Category, validates the need in offices and home desktop environments for a hardworking solution to the challenge of using laptops comfortably and conveniently.
"We're thrilled that the NAOPA judges recognize how Kensington's new, low-profile docking station stands out in terms of product innovation, design, and functionality—the criteria that on which products were judged," said Gwen Hsu, Senior Director Global Product Management, Kensington. "What's most exciting is that the SD3600 Universal USB 3.0 Docking Station can help users quickly connect and disconnect their laptops—with their entire desktop setup—using just one USB cable."
Kensington's SD3600 Universal USB 3.0 Docking Station, which we announced in January 2016, enables you to quickly connect and disconnect your laptop with your entire desktop setup, including dual HD monitors, a mouse, a keyboard and all your other peripherals, with just a single USB cable. And because the dock can be mounted to the back of a VESA-compatible monitor, it leaves zero footprint on your desktop, helping reduce clutter.
Kudos to Kensington for another award-winning product design!